MULTIHULLS WORLD EXCLUSIVE - The latest addition to the Aquila shipyard, the 54, is aimed at both the ocean cruising market and the luxury yacht market. A development that seems logical for this major player in the power catamaran market.
Test location: Clearwater (Florida - USA)
Calm sea, 3 to 4 knots of wind.
---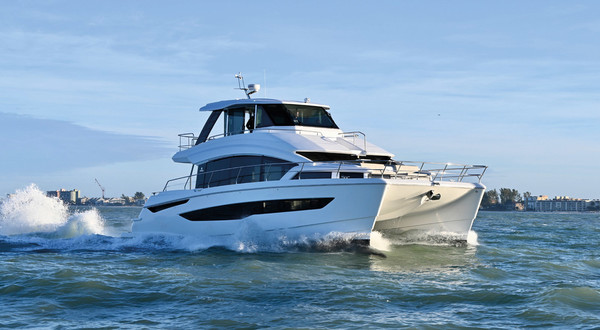 In the chop, the front bulbs are impressive, ensuring a good pitch to the catamaran and avoiding the spray.
The Aquila's profile is elegant and dynamic and a flybridge doesn't add too much weight to the lines.
Since 2012 and its first power catamaran, the Aquila 38, the Chinese-American brand has come a long way with successful models. The Aquila 44, for example, with well over 100 units sold, is on its way to becoming the best-selling power catamaran in the world. This success is due in part to one man - Lex Raas - and a clever partnership with Marine Max (the largest dealer network in North America). But Aquila doesn't intend to stop there. To meet the demand, the brand has embarked on the development of a range of yacht catamarans with the ambition to tickle the top names in the field, including those who are satisfied with a single hull. While the 44 laid the foundations for this evolution, the 54, and even more so the 70 - both presented this winter - are pushing the concept much further, at all levels.
A strategy that already seems to be paying off, since even before its official launch, the 54 h...
To read in full,
Buy the boat test
Boat Test price$5.00Inc. tax
Purchase
What readers think
Post a comment
---