After a six-year gap, Lagoon re-launched themselves onto the powercat market in 2015 with this 40 MY whose platform was directly derived from the Lagoon 39 sailing catamaran. The builder opted for low-power engines in order to favor low consumption and greater range. A choice that wasn't convincing on a commercial level. So, is the trawler atmosphere old-fashioned? Nothing could be less certain...
Almost six years ago, when the Lagoon 40 MY was launched, we were delighted by the simplicity of use and the sobriety of this model. For us, this new model looked sure to have a great future... but no! The Lagoon 40 MY, of which only about thirty examples were sold, is one of the worst commercial failures from the world leader in cruising catamarans. It disappeared from the catalog two years after it was first introduced. Why did it disappear? Most certainly because buyers were not satisfied with a powercat unable to exceed 11 knots. Indeed, a glance at the market shows that all the success stories in the world of power multihulls are reserved for highly motorized models such as the Leopard 43 PC or the Aquila 44. And yet, the desire to save energy, pollute less and even slow down the pace are more current than ever... Was the Lagoon 40 MY 10 years ahead of the game?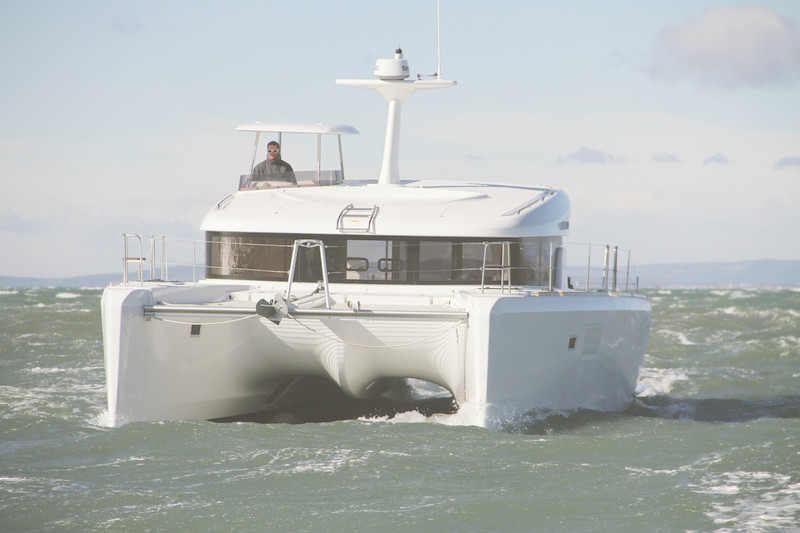 The power of the engines is limited to 2 x 75 hp - the largest sail-drives that exist.
The Lagoon 39 as a base
In 2015, Lagoon was far from new to powercats: the shipyard had produced a hundred Lagoon Power 43 (now the 44) between 2001 and 2006. For their Lagoon 40 MY, the shipyard opted for the transformation of...
To read in full,
Buy the boat test
Boat Test price$3.00Inc. tax
Purchase
What readers think
Post a comment
---