With the Seaon 96, the Baltic confirms its position as the melting pot for fast trimarans which can be dismantled and folded. The place's geography makes it particularly attractive for multihulls (despite capricious weather conditions), but is that enough to explain such creativity?
History of the Seaon
Stephan Törnblom has been designing trimarans since the middle of the 90s; their names are Guépard (8m), Gazelle (11m), T35 Nexus. This choice perfectly illustrates the attitude of Baltic sailors with respect to their multihulls: they develop trimarans for the speed and stability potential and they all fold and have daggerboards so they can be beached everywhere and to simplify transport. All of these characteristics assist road transport, packing into a container, craning and more generally, living with a multihull. Above all, they allow you to be satisfied with lightweight harbour infrastructures, which are so beneficial for the coastline, whilst enjoying a fun platform, suitable for ocean sailing. Jan Gapinski is an aeronautical engineer and an effective racer in J24s and Mumm 36s. At the time he invested in an IMX 38, he realised that he would not go any faster and turned towards a Mycat catamaran, then a Corsair F31. Attracted by their performance, he decided in 1997 to start building a superb Nexus T35 with an aerorig. This experience prefigured the Seaon adventure.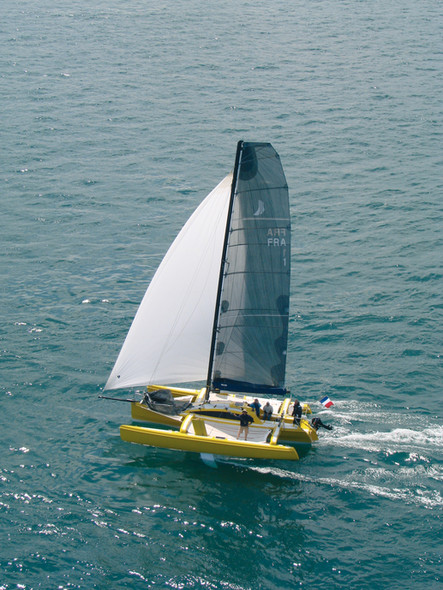 Meeting at...
To read in full,
Buy the boat test
Boat Test price$5.00Inc. tax
Purchase
What readers think
Post a comment
---