preparation
All the ESSENTIALS for your multihull VOYAGES
Published on 21 june 2017 at 0h00
1- AIS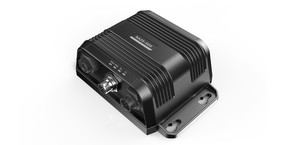 The AIS is a very useful device when blue water cruising, as it allows boats of all sizes to see and be seen by other vessels within range of VHF. Here is the new B&G AIS Class B transponder: the NAIS-500. Compatible, via NMEA 2000, this small box barely weighing 250 grams is a real guarantee of safety on board.
Price: from 878.90 euros ex-tax.
2- EPIRB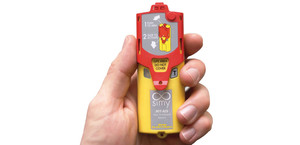 This is the smallest EPIRB available on the market. My-Ais is practical, light (95 g) and ultra-compact (11x4x2 cm). The beacon transmits the GPS position when activated, by VHF. It therefore has a range of only 5 to 10 miles. But its price is unbeatable:
199 euros.
3- WATCH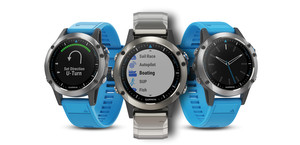 Designed for water sports activities, the new Garmin Quatix 5 GPS watch is waterproof up to 100m and can be synchronized with Garmin's onboard devices, giving you all the information you need for sailing. It can even be used as a remote control for the autopilot!
Price: 599 euros inc. tax
4- SCREEN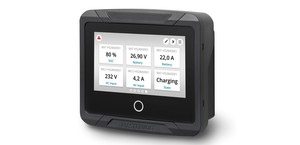 Mastervolt has just introduced a new waterproof monitor. Easyview 5 is an extra-flat color screen specially designed to be used even in direct sunlight. A way to keep an eye on every aspect of your electrical system.
Price: 295 euros ex-tax
5- CONTROL SYSTEM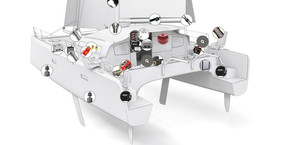 Known for their anti-capsize systems on multihull offshore racing boats, Ocean Data System offers many solutions for long-distance cruising boats such as remotely releasing sheets, load measurement on various lines or shrouds but also the possibility to combine some of the elements to give an optimized deck layout.
6- ROUTING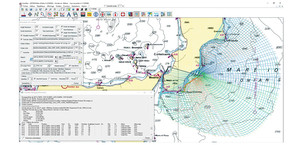 To always be perfectly at ease when sailing, you need powerful, intuitive software and charts regularly updated. This is the way with ScanNav whose latest update (17.1) can be installed on a netbook or a tablet, even a basic-level model. ScanNav also offers a new routing module.
7- BATTEN BOX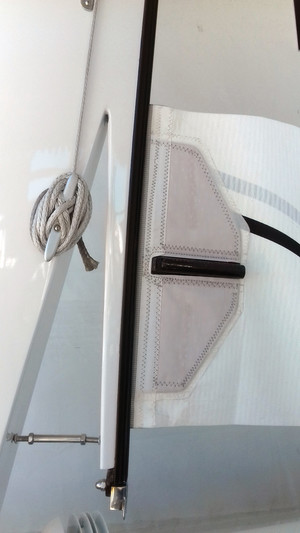 In-boom furling systems are practical, but ... batten boxes are sometimes problematic. Here is a brand new soft carbon case that guides the batten and prevents it from moving forward as it enters the feeder. Simple, convenient and ... very useful! 
8- FLYING SAILS FURLERS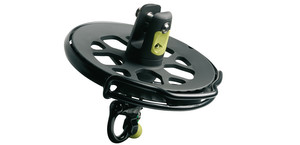 You can't really leave to head off around the world without a good gennaker. And you mustn't carry a good gennaker without an excellent furler! Profurl offers a range of 6 models of boats called NEX for boats from 6 to over 25 m. 
9- HARKEN V BLOCK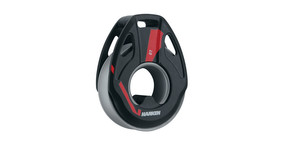 Harken have just launched two new pulleys in their V Block Line range with the 5T and 8T. With 8,000 kg of load, the 8T is particularly suitable for large catamarans and has the advantage of being as efficient and easy to handle under heavy loads or light loads. 
10- CABLE GLAND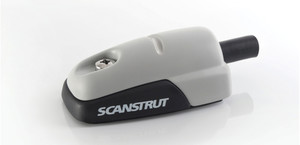 This is the SCDS-H10, the new Tecmar deck gland. Waterproof, easy and quick to install, this horizontal gland for cables of 6-10 mm does not require any additional sealant for a price of 23 euros ex-tax.
11- PADEYE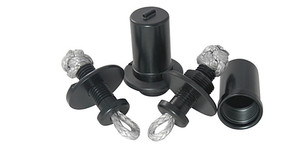 Colligo Marine has just presented its new range of padeyes equipped with a loop in Dyneema. Elegant, lightweight and very strong - they have a resistance of more than 2.2 tons - they adapt easily to all deck surfaces. 
12- PASSERELLE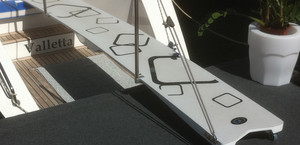 The passerelle is something all too often neglected.  It must be light, easy to install, strong and ergonomic. This is the case with this folding model from Nautex, built in composite and very easy to stow away and use. It is also floating, and fully adjustable. 
13- UPHOLSTERY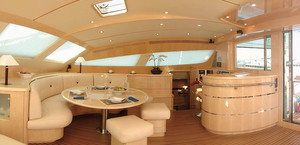 For 120 years, Ruchaud SA has been specializing in the delicate art of upholstery... Their expertise can give new life to your saloon, benches, sun bathing area and of course bunks, by offering a wide selection of fabrics designed for boating. 
14- PROPELLERS
What use is it to have a beautiful boat with powerful engines if ... your propellers are not adapted to your lovely multihull? A good propeller must be propulsive when you are under power, and be able to be forgotten about when you are under sail. With the Varifold by Bruntons, you gain more power while consuming less fuel. A propeller for real long-distance sailors
15- REGULATORS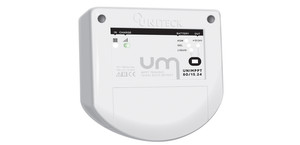 Often neglected during the design of the electrical installation, the regulator is one of the most important elements. Its role is to convert the maximum energy of the solar panels into charging current for the battery, without over or under charging ... Uniteck has just introduced a new regulator that tests the battery, checks that it is recharging to 100%, checks desulfating, and delamination, maintains its load and so improves battery lifespan...
Price: 95 euros inc. tax
16- DINGHY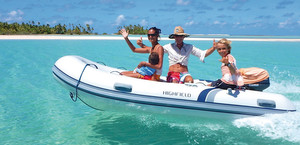 The dinghy is surely the one piece of equipment you will use most during your trip. It must therefore be strong, UV resistant, but also lightweight to easily be hoisted on the davits. With the Highfield range, you will definitely find something for you... 
www.groupe-yb.fr – www.highfieldboats.com
17- ANCRE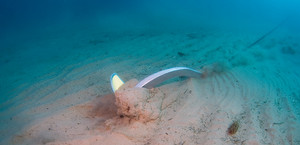 The importance of the anchor on your boat does not need to be explained. But when blue water cruising, where you spend most of your time at anchor, your choice becomes crucial. Circumnavigators know and appreciate Spade anchors which are to be found on many cruising multihulls, where their holding power is significant and above all, safe.
18- DECK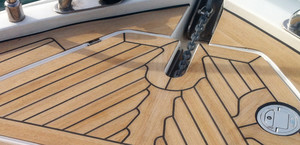 If you want to refresh your decks, here is an intelligent and aesthetic coating that looks like wood, but without the drawbacks. Assembly ensures a perfect seal and with Flexiteek the weight is reduced by 35% and the treated surface cools 30% faster in the sun than a traditional coating. So why not make the switch? 
19- SMARTPHONE SAFETY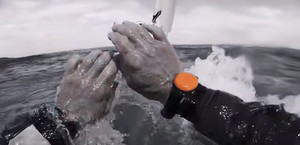 Can your smartphone save your life? Yes, with the OLAS app available on the AppStore and on Android. The principle is simple: you carry a tag that is connected via Bluetooth to your smartphone or tablet. If you move away from the phone, the app will go into "man overboard" mode and tell the crew members still on board the direction to follow you. Simple and efficient.
Price of the tag: £ 45. The app is free. 
20- KIAMA X
Here is the new range from Zhik: the Kiama X for coastal sailing, but also ideal in the tropics. The collar is lined with polar fleece and incorporates the fluorescent yellow hood to be easily spotted. The two layer fabric of this jacket is soft, waterproof and breathable.
Jacket: 365 euros. Salopettes: 199 euros. 
21- AERGIR RACE JACKET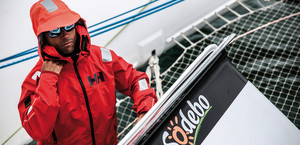 If you want to look like Thomas Coville, French sailing record holder, here is the jacket he wore during his recent round the world trip, the Aergir Race Jacket. The guiding idea of ​​this jacket is to offer a great deal of movement while giving as much protection as possible, thanks to Helly Tech® 3 technology, a laminate of composite membranes.
22- CAMMAS' GLASSES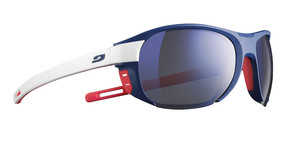 You will likely never have the chance to sail the catamarans of the America's Cup ... But you can at least sail with the same glasses as Franck Cammas. Regatta is the name of Julbo's new range of high-end sunglasses designed specifically for boating. Floating, and with photochromic and polarized lenses. The best of the best!
23- SUBMARINE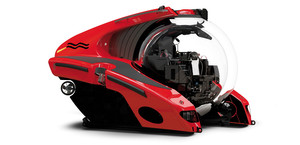 Obviously you'd need a really big multihull to carry this pocket submarine. But wouldn't it be amazing to imagine descending to 500 m with 3 aboard this exploration craft. And for extreme adventurers, U-Boat Worx offers a version capable of descending up to 2,000 meters! 
24- WATERPROOF BAG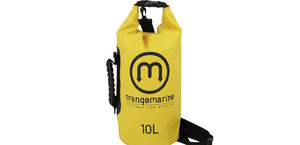 Impossible to go long-term cruising without a complete set of waterproof bags. They come in all sizes and are solid and really waterproof! Orangemarine has launched a new range of waterproof, lightweight, foldable, heavy-duty and practical bags, available in different sizes ranging from 5 to 50 liters. 
What readers think
Tell us your opinion