Cruising
Jonathan's trip around the world - At the age of 12, he set out on a catamaran with his parents! (1/3) 12 ans il part en catamaran avec ses parents ! (1/3)
I dream of beaches, animals, large plains trodden by the footsteps of elephants. I imagine immense wild expanses, the sea, and the secrets it hides. I have always been passionate about nature. I have always wanted to discover the world. I can already see myself crisscrossing all this new universe in the company of my parents, camera in hand... after finishing my home-schooling work of course!
But let's start at the beginning. I was 8 years old, and I was a happy child in New Caledonia. My parents and I were living in a rented house in the south of the island, in Plum - just 15 km east of Nouméa as the crow flies. When I come home from school, I look forward to just one thing: finding my Labrador and playing with him. We had become real New Caledonians with our 4x4 and our motorboat! My parents wanted to buy a property and settle down for good. They asked for a loan to buy some land up in the hills around Farino: after a few months of ultimately futile hope, the bank refused the operation. I remember that other rather negative events happened at around this time too; my parents were feeling overwhelmed by the system. So why not get away from it all? Find a different way to live instead of living like everyone else?
A catamaran at the end of the pontoon
In 2006, my mom was walking through a marina. She saw a catamaran at the end of the pontoon with a «for sale» sign. Out of simple curiosity she called to see if it would be possible to visit it, knowing that it would be impossible to buy it. A man answered and insisted that my parents come on board. «Follow your dreams! «he said. My parents, not surprisingly, immediately fell madly in love with this catamaran - a Catathai 40, but they concluded the visit by saying that it was not an option for them to buy it. But before leaving, the seller told them: «make me an offer». The answer from my parents was: «we will give you everything we have, and pay what's left over in a hire-purchase deal». The seller immediately said: «We have a deal!"
The purchase of this multihull was a major event for my family. Another life was beginning. It was a new start. I still struggle to remember my reaction when my parents told me the news. I didn't really understand what was going to happen. In any case I was happy. I was looking forward to discovering what life on a boat would be like.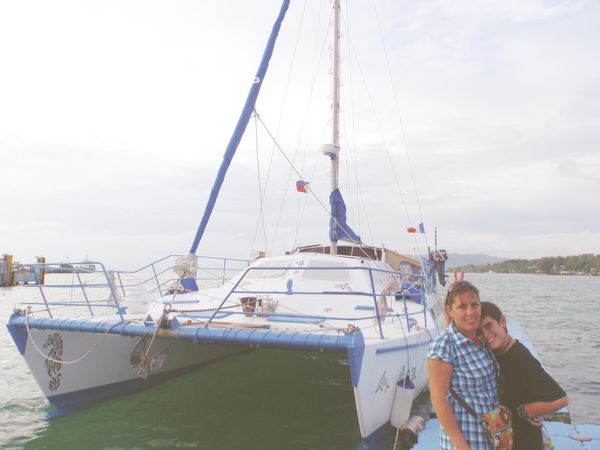 It was Magali, Jonathan's mother who first discovered the catamaran for sale.
 Within a few weeks, my parents managed to sell all of our furniture. In the meantime, we were being evicted from the house that we lived in - the owner had decided to sell it without telling us. We stayed in a hotel for more than a month until all the money that my parents had promised for the catamaran had been collected. It was a stressful and exciting time for my parents. At my age, all of this was completely beyond me. All I knew is that we were going to live on a catamaran. 
New sailors in the marina...
So, I was now enrolled in an ...
Become a member
Become a Multihulls World Community Member for free and get exclusive benefits
Become a member
What readers think
Tell us your opinion