Technical
Refit: Is it really a good idea?
You were perhaps expecting a more 'sexy' beginning, but let's be practical right from the start – if you want to get out of the port, THE ENGINES HAVE TO WORK! And for this, they have to start. Checking that the batteries are in good condition is one of the simplest actions. Whether they charge well when the engine is running is a second important action, especially if you decide to change them.

In any case, to go cruising with maximum serenity, plan on a minimum of a full service: oil change, oil, air diesel filters, impeller, belts. You can already budget for 800 Euros (inc. VAT) per engine. If your machines have run for a lot of hours, you must ideally add to this basic work the replacement of the rubber engine mounts, having the injectors and valves calibrated, and servicing the gearbox, which should lead to an extra cost of around 2,000 Euros (inc.VAT) per engine. With a bill of this size, if other work is to be carried out, it is perhaps best to make a fresh start with a replacement (reconditioned engine for around 5,000 Euros per engine) or a radical exchange for new engines, but the bill will then rise to over 12,000 Euros per engine.

On a second-hand boat, many purchasers are tempted to replace their engines with more powerful models. Even though originally the builders actually offered two engine options, the least powerful can't be completely unsuitable. In fact, not to state the obvious, but it isn't the engine which propels the boat, but- the propeller! Before launching into the perilous and costly adventure of changing the engines, we would strongly advise you to look into fitting a more high-performance propeller. For a fraction of the price of more powerful engines, you can fit a top of the range variable pitch propeller, which will give you extra power, notably astern, and lower consumption (500rpm less for the same speed is very realistic). Compared with fixed propellers, they offer much less drag under sail, and their adjustable pitch allows them to be adapted to the situation: a long crossing in flat calm conditions, or short legs against the wind in a choppy sea. At around 2,000 Euros each, this is a good investment.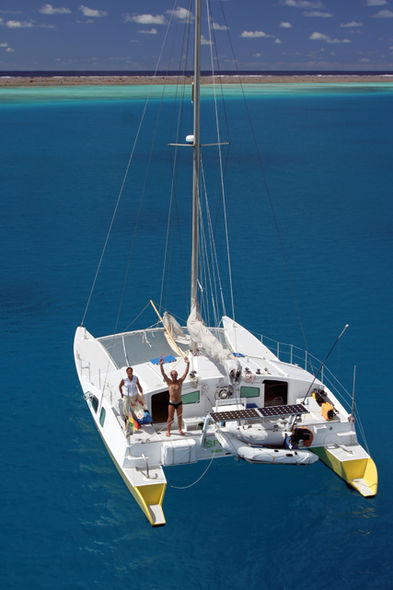 After a good service and excellent preparation, a second-hand boat could take you to the end of your dreams…
Now that we are 'out of the port', it's time to look at another 'motor' - the sails! But of course from a safety point of view, we must start with their support, THE RIGGING. A simple visual check will confirm that the spreaders are in good condition, with no cracks, and are not being pushed into the mast. If the boat is very old, you will have to change what we call the diagonals. If the shrouds are more than ten years old, you mustn't hesitate to change them. Moreover, this is often an obligation which appears in your insurance contract. Finally, if there is the slightest doubt, the forestay, which is subjected to torsion by the roller furling gear, must also be replaced. Allow a budget ...
Become a member
Become a Multihulls World Community Member for free and get exclusive benefits
Become a member
What readers think
Tell us your opinion