Technical
What sort of power will we be using in 2025?
The city of Amsterdam has announced a ban on gasoline-powered vehicles for 2025. On the French Riviera, the removal of polluting fumes in the ports is targeted for 2030. These are just two examples among so many others, but they illustrate the awakening of conscience that is seizing our decision-making. The major players in the industry are investing heavily in hydrogen production to make electric mobility viable and meet these ambitious goals. To succeed in this energy transition, solar and wind, representing only 2% and 4% of energy production respectively, are waiting to be deployed on a large scale. But if this is the case, to optimize their fluctuating production, the surpluses that would not be consumed directly could be used to produce hydrogen, by electrolysis, in order to store this clean energy. While 95% of hydrogen comes from fossil fuels, electrolysis of water currently represents only 4% of the hydrogen produced and less than 1% is from green energy (solar, wind, tidal) discharging no CO₂. We achieve a virtuous cycle by only using oil for the parts that make up the equipment.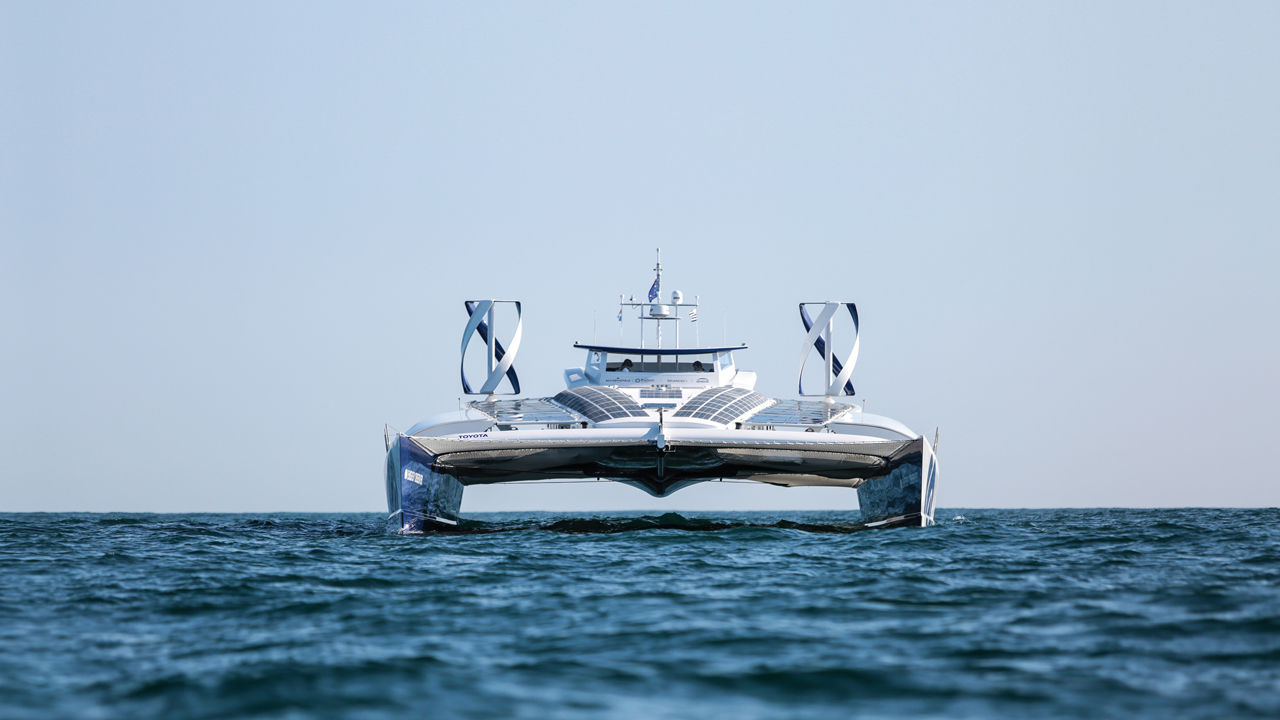 An electrolysis mill, using the flow of the river, is being experimented with on the River Seine.  The path to non-damaging energy is still very long, but it's by following the adage: "the best way to anticipate the future is to create it" that we will get there.  Victorien Erussard aboard Energy Observer, a 30-meter catamaran (former Tag Heuer and then Enza), has been inspired by this principle with the help of the AEC (Atomic Energy Commission). An electrolyzer installed on board works with the energy provided by the 130m² of solar panels, two wind turbines and propeller shafts in hydrogenation mode when it sails using a kite or a wing. The hydrogen thus manufactured is stored under high pressure in special tanks. Then, if necessary, the 2MWh at 350 bar they contain are converted back into electricity by a fuel cell before being reintegrated into the battery circuit to serve for propulsion and on-board life.  All without noise.  Certainly the yield is still very low because it takes a lot of electricity for electrolysis (about 5 kW of electricity to get 3 kW) and after a year of sailing around France, without any use of wind power, self-sufficiency at a speed of 5 knots has been reached, but only for a few days.  The goal after six years of cruising will be to achieve full autonomy at a speed of 8 to 10 knots.  The challenge is big, but Victorien says it himself "in six years' time, the boat won't look like it does today, the technologies will be updated on board as they are developed." According to him, a decade seems to be the minimum period to obtain a realistic cost / performance ratio of such a system for mainstream use. Because of their volumes, we will be dependent on land mobility markets, which alone can lower costs. But this is off to a good start since the price of Lithium batteries has been halved over the past three years. With more ...
Subscribe
Subscribe to Multihulls World and get exclusive benefits.
Subscribe
What readers think
Post a comment