Pacific Ocean
WESTERN PACIFIC: TESTING THE CORAL…
If there's one thing in particular (among many) which I loved about our trip round the world, it was the sense of accomplishment which can only come from having circumnavigated, that is to say getting back to your point of departure, having sailed through 360° of longitude. And definitely returning to the same port…! I am often asked what was the most dangerous part of our trip round the world in our catamaran, which saw us sailing as far as New Zealand, and then returning to Europe via South Africa? People suggest storms far out to sea, someone falling overboard, or even pirates. To the surprise of the audience, I always tell them that it was the powerful squalls we experienced at anchor, commonly in the latter half of the night, and most particularly in the western Pacific. It is these which left me with the worst memories. On at least three occasions, they could easily have set our sailboat on the shore, despite having been meticulous in our anchoring technique…

My little family crew and I, just us, in a far-off corner of the Ha'apai archipelago avoided one of the perils of the sea. A place I had already named the "Dangerous Archipelago". What memories…

Islands, islets, reefs just awash. Lots of reefs. Current, often strong. And breakers, ever present on the horizon, wherever you look. Inaccurate charts, but that's not really the problem, as navigation is mostly done visually round here. We're not really talking about experience here - after all, there must be some worse nautical CVs than mine, but that's not the problem here either. The truth remains that the sea is a good teacher of humility. And it's not only those who sail to far away and deserted lands who shouldn't forget it.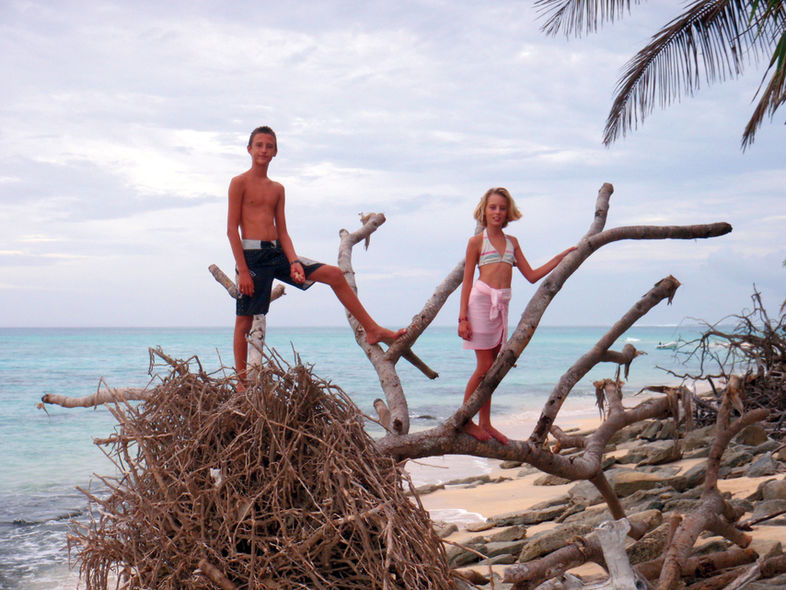 Following a short stopover in Nomuka, alone once again, we spent the afternoon anchored close to the wreck of a Korean fishing boat. The sea was breaking loudly on a nearby shoal. Atmosphere. The following day we went back to Fonuafua island, another of Ha'apai's precarious anchorages. In the late afternoon we visited the island's tiny village, chatted with the schoolteacher and answered a few of the kids' questions. The anchorage was calm that night. That is to say that I only got up two or three times for a quick look round to check, making the most of what, for me, is the end of a sleep cycle. The geography of the Ha'apai Group is complex, and you have to spend some time working out a coherent route for cruising round it. We decided to head for a solitary island, sheltered by a long barrier reef, Limu Island, located twenty-odd miles to the northeast. Fate had something in store for us, but we didn't yet know it. We zigzagged all morning between the clearly visible reefs and mid-afternoon arrived off Limu.

Everything was just right for approaching a coral anchorage: fine weather was forecast, and we were arriving at the best time (with the afternoon sun at our ...
Become a member
Become a Multihulls World Community Member for free and get exclusive benefits
Become a member
What readers think
Tell us your opinion