Buyer's guide
2020 BUYERS' GUIDE: Multihulls under 30 feet
Kanka: Inspired by Polynesian pirogues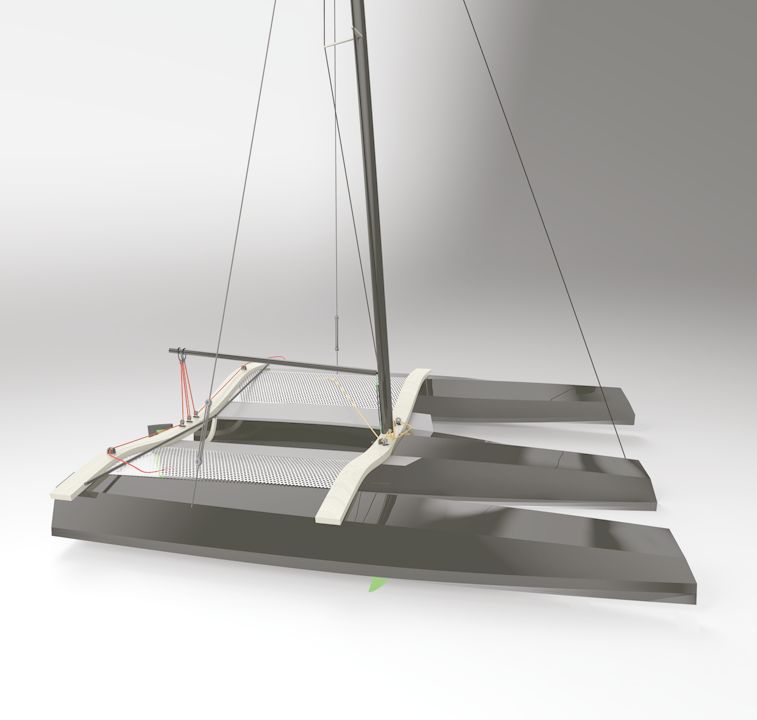 New
The specifications for this project? A small sailboat that would be quick to set up by just one person, transportable, eco-friendly and inexpensive. With the additional constraint of being sufficiently stable that you're extremely unlikely to end up in the water in the depths of winter. The trimaran formula quickly became established. Naval architects wanted to reconcile modern design and lineage with the traditional multihulls of the Pacific. Combining these two extreme inspirations, the arms are made of glued laminated wood and assembled to the central hull with lashings. Kanka is built in St Phillibert (in southern Brittany, France). Depending on the interest from boaters, it may be available in finished or kit form, as well as at various stages of construction. 
Builder: Nicolas Arnoult
Architects: Yacht Design Collective and Tanguy de Bonnières
Central hull length: 4.00 m (13'1")
Beam: 3.70 m (12'2")
Displacement: 135 kg (300 lbs)
Mainsail area: 8.50 m² (911 sq ft)
Jib: 4.40 m² (47 sq ft)
Gennaker: 15 or 20 m² (160 or 215 sq ft)
Price: € 12,500 ex-tax
ASTUS 16.5 : A day-boat signed by VPLP!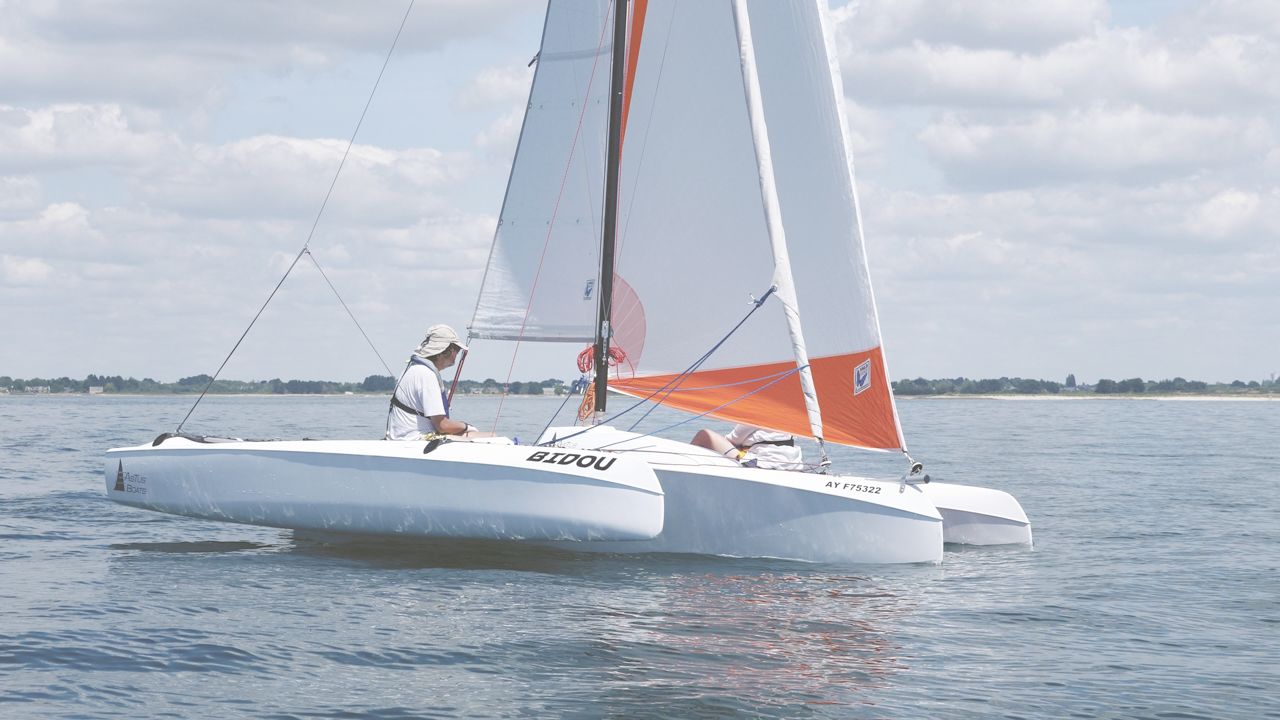 Launched in late 2015, this small trimaran is the first in the Astus range to see a prestigious signature on the plans - that of VPLP, no less! Fine-entry bows but with volume in the floats (500 liters/18 cu ft): this miniature rocket is not like a beach toy. And yet, its light weight of just 200 kg / 440 lbs makes it as easy to use as a sports catamaran. Thanks to its telescopic link arms, its beam can be reduced from 3.80 m to 2.50 m (12'6" - 8'2") in the blink of an eye. The small cabin might be considered more as a large watertight locker: if you want to spend a night on board, that'll be in the tent! Powered by a small dinghy outboard (gas or electric), the 16.5 opens the doors of coastal cruising to you. Two rig versions are available: the Sport model comes with a boom and a bowsprit. And since 2018, a centerboard has been in the catalogue - this option being chosen by 90% of recent buyers.
TECHNICAL SPECIFICATIONS:
Builder: Astus Boats
Architects: VPLP
Central hull length: 4.94 m (16'2")
Beam: 2.5/3.8 m (8'2"/12'6")
Displacement: 210 kg (462 lbs)
Draft: 0.2/1.1 m (8"/3'7")
Mainsail: 10 or 11.5 m² (108 or 124 sq ft)
Jib: 5 or 5.5 m² (54 or 59 sq ft)
Gennaker: 15 or 20 m² (160 or 215 sq ft)
CE category: C3/D5
Prices from: € 13,750 ex-tax
TRICAT 20 : Small but ambitious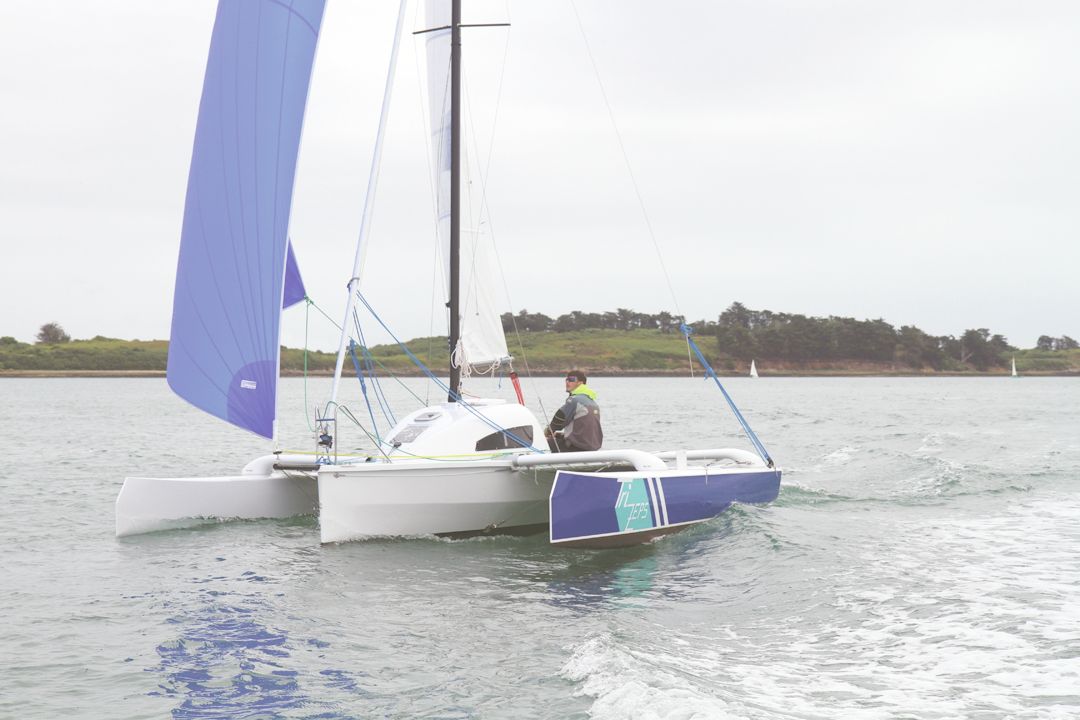 Introduced in 2018, the Tricat 20 is the smallest model in the range, and is a trimaran designed for day-sailing. But it also excels on coastal trips, where its compact size, maneuverability and performance are outstanding. The Tricat 20, with already 30 examples built, naturally reflects the success of its predecessors, including the 25 Evolution's intelligent folding system, with the advantage of offering a nice living space and irreproachable seaworthiness for its size. Inside, there is a ...
Subscribe
Subscribe to Multihulls World and get exclusive benefits.
Subscribe
What readers think
Post a comment