Buyer's guide
2020 BUYERS' GUIDE: Powercats
Castlerock Carbon Cat : A twin-hulled RIB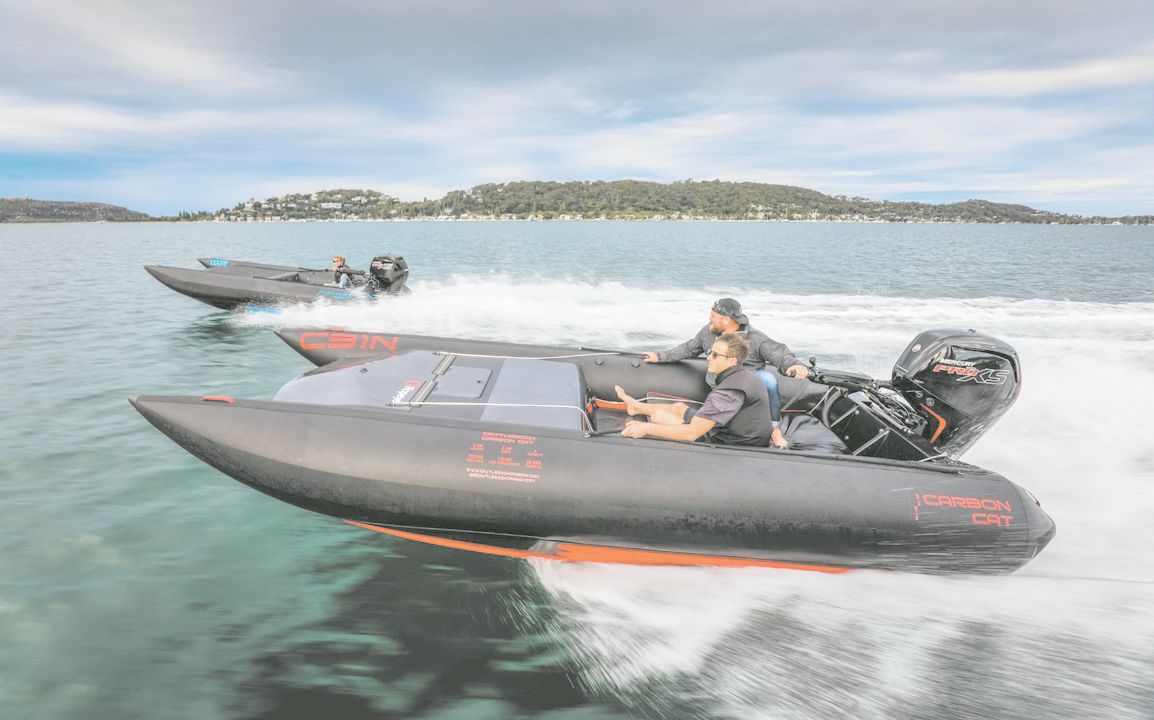 Designed in Australia and built in New Zealand, the Castlerock Carbon Cat was designed by Dan Oatley, a member of an Australian family well known in the boating world. This catamaran RIB is built from an aluminum chassis and a carbon deck. Trim is controlled by a pair of trim tabs. Although this boat's short length confines it to relatively sheltered waters, the top speed recorded with a modest 115 HP is still 60 knots…
Shipyard: Carbon Cat
Length: 5.30 m (17'5")
Beam: 2.40 m (7'10")
Capacity: 6 people
Fuel: 80 l (21 US gal)
Engines: 115 HP/135 HP outboard
Top speed: 60 knots
Price: not stated
V625 : Small all-purpose cat
This Australian powercat is very compact, but still has great seakeeping qualities thanks to its gliding hulls and generous bow volume. With a total displacement of 2,100 kg (4,630 lbs), it is easily transportable by road. The V625 is suitable for many uses: fishing, coastal meandering, family day trips... The cabin can be closed or remain open. Inside, two bunks can be converted into a double bed. This small catamaran offers different seat combinations, as well as an optional shower, toilet, sink, stove or refrigerator. For the roof, you can opt for a hard top or fabric protection.
Shipyard: Voyager Power Catamarans
Length: 7.00 m (23')
Beam: 2.35 m (7'9")
Draft: 0.4 m (16")
Displacement: 2,100 kg (4,630 lbs)
Capacity: 6 people
Fuel: 180 l (48 US gal)
Engines: 2 x 70 HP/115 HP outboards
Speed: 20/40 knots
Price: not stated
BAGOU : Open, with zero emissions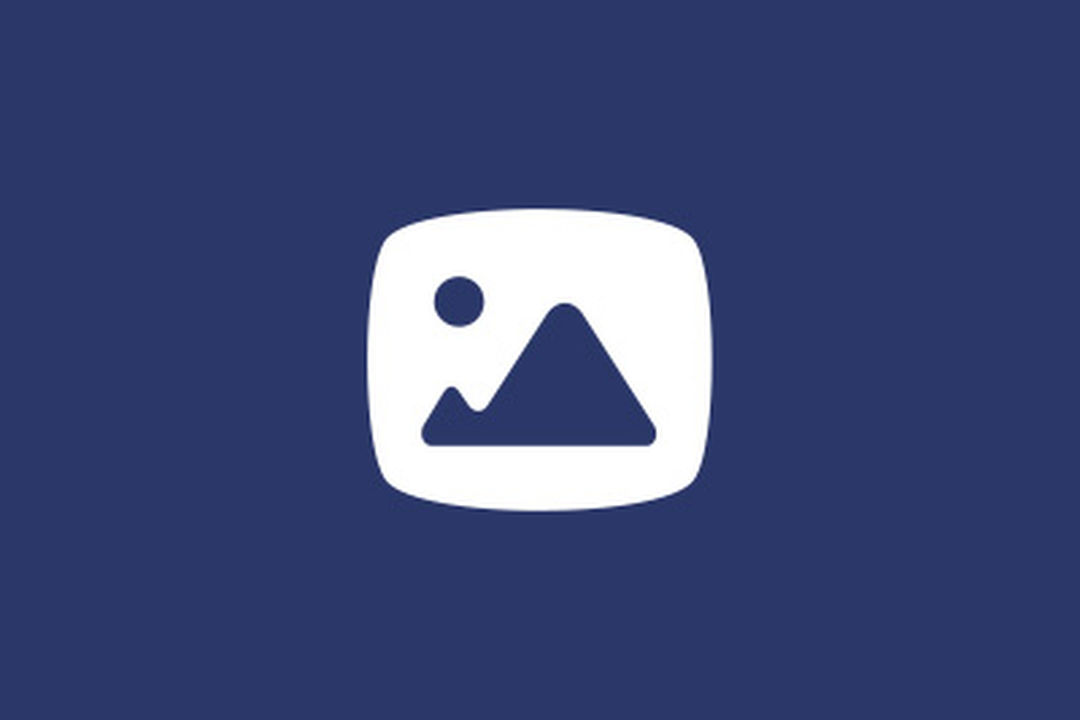 First seen in preview at the last La Rochelle Boat Show, this power catamaran is original in more ways than one. First of all, the construction is in epoxy plywood, then, it has an open deck - no cabin - and finally, it offers efficient electric motors. During our test (to be published in a forthcoming issue), we easily reached 10 knots and were able to appreciate the hull's excellent passage through the chop. The different power options will allow you to optimize speed or range. For those not so keen on this fine zero emission compromise, traditional internal combustion outboards remain an option…
Shipyard: Bagoù Boats
Overall length: 7.35 m (21'1")
Beam: 2.77m (9'1")
Draft: 0.45 m (18")
Light displacement: 850 kg (1,874 lbs)
CE Category: C/10 D/12
Electric motors: 2 x 2 kW/6k W/10 kW/50 kW
Batteries: 10 kW/h - 60 kW/h
Max internal combustion engines: 2 x 75 HP
Price: € 60,000 ex-tax
V930 S2 : Open or with wheelhouse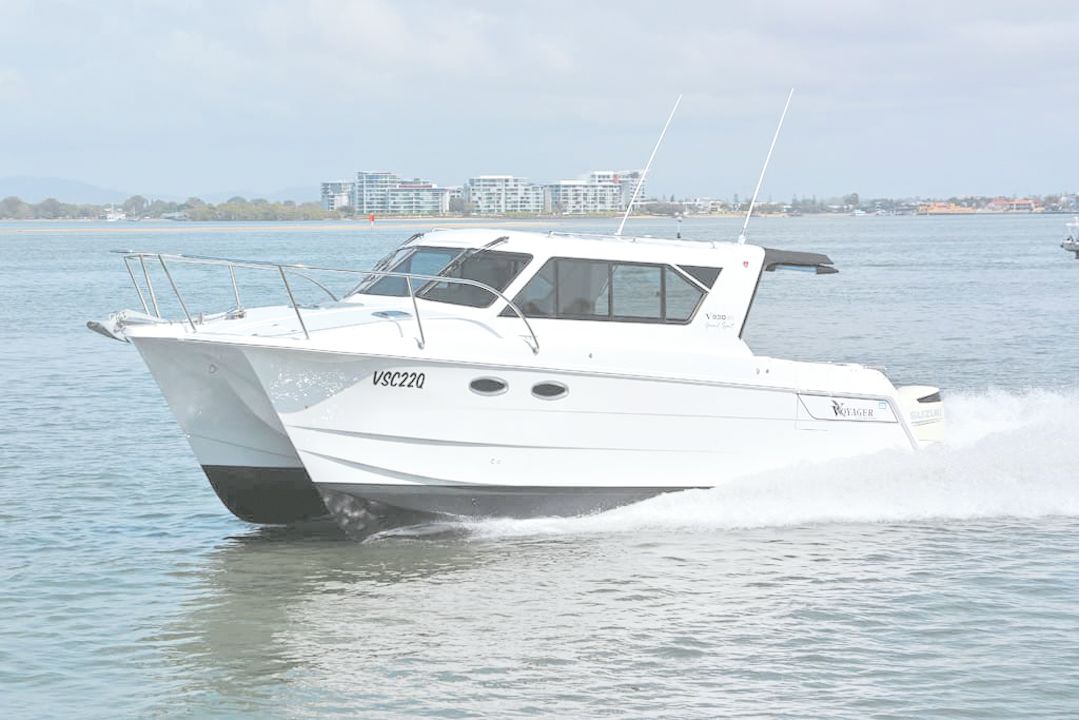 Seen from the side, you'd swear that this was a motorboat like any other... but the view from ahead or astern, highlights the tunnel - very high - that clearly separates the two hulls. With fine-entry bows and well-designed hulls, the V930 S2 is at ease at both 10 and 40 knots and can handle rough water. The layout - cockpit, helm station and galley are of course all on the same level. The 930 is available in an Open version.
Shipyard: Voyager Power ...
Subscribe
Subscribe to Multihulls World and get exclusive benefits.
Subscribe
What readers think
Post a comment