Buyer's guide
2022 Multipower Buyer's Guide - 30 to 40 feet
Aegean 30 - Dismantable, transportable
A dismantlable powercat can be transported on a simple flatbed trailer... as long as it is of reasonable length and light in weight. Naval architect Richard Woods was able to test the validity of the concept with his own Skoota 28: the Aegean 30 is a development of the Skoota 28, still for building in plywood/epoxy and dismantlable. The objective was to increase the beam - now close to that of a sailing catamaran - and the headroom while offering two additional berths in the hulls. The outboard motors make beaching easier and safer - no rudders and engine legs. Two 40 to 60 HP engines guarantee a cruising speed of 10-12 knots (16- 20 knots top speed).
Architect: Richard Woods Design
Material: Epoxy plywood
Overall length: 30'2" (9.20 m)
Waterline length: 28'5" (8.85 m)
Beam: 16'5" (5.00 m)
Draft: 14" (0.36 m)
Headroom in nacelle: 6'2" (1.90 m)
Light displacement: 5,500 lbs (2.5 t)
Laden displacement: 7,000 lbs (3.2 t)
Motors: 2 x 40 to 60 HP outboards
Cruising speed: 10/12 knots
Plans: £ 1,200 Max speed: 16/20 knots
---
 L925 Semi Displacement Power Cat - Amateur or professional construction in plywood/epoxy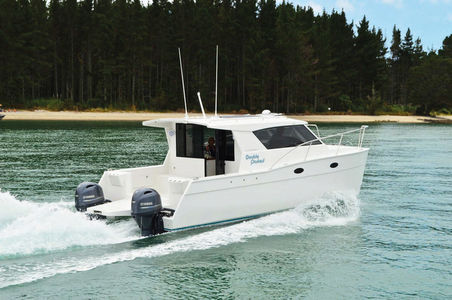 New Zealand-based naval architecture firm Dan Leech is offering a number of power multihulls from 25 to 60 feet (7.5 to 18 m) for amateur or professional construction. Among them, the L925 is the perfect choice for relaxed cruising for a couple. This model is built in ½" (12 mm) plywood - the panels can be digitally cut - with glass/epoxy reinforcements. Its limited beam will allow you access to a marina slip without any noticeable extra cost. On the other hand, the gain in habitability and stability is considerable compared to a single-hulled motorboat. This kind of construction is very accessible to an enlightened amateur (4,000 hours of work were counted for the first model) all the more so as having outboard motors for propulsion considerably simplifies the technical aspects. Despite its semi-displacement hulls, the L925 is capable of making than 20 knots with two 90 HP engines.
Construction: Amateur or professional
Architect: Dan Leech
Naval Architect
Length: 30'4" (9.25 m)
Waterline length: 24'9" (7.55 m)
Beam: 11' (3.35 m)
Draft: 19" (0.48 m) - engines up
Recommended engines: 2 x 90 HP outboards
Cruising speed: 17 knots
Max speed: 22 knots
Price: NZ$ 450, 000 ex-tax
---
 Arrowcat 320 - Luxury in under 10 meters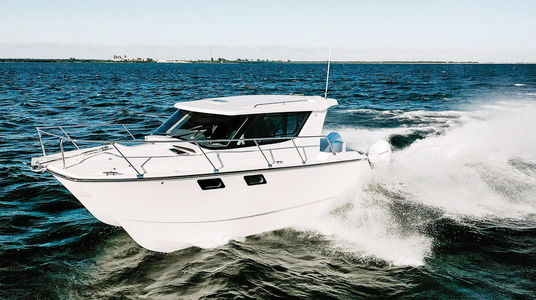 The ArrowCat 320 is a successful model - now in its third generation. The smallest of the Arrowcat range, it features a luxurious finish - rare in compact powercats - such as a wooden steering wheel, or modern, full instrumentation on a carbon-look dashboard. Inside, the manufacturer has paid particular attention to the owner's cabin. The 320 is powered by two outboard motors. The limited beam of 10 feet (3.05 m) allows the boat to be transported by road in certain countries such as the United States. The manufacturer Arrow ...
Subscribe
Subscribe to Multihulls World and get exclusive benefits.
Subscribe
What readers think
Post a comment