Buyer's guide
2022 Multipower Buyer's Guide - 50 to 60 feet
Euphorie 5 - Simply waiting to leave
Test in MW#162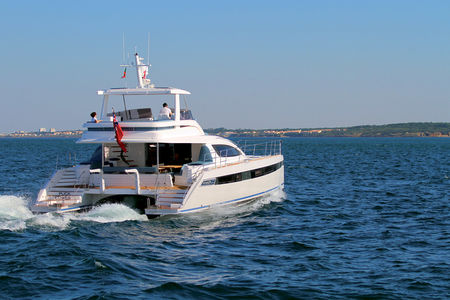 The objective for builder Privilège and architect Marc Lombard was to design a power version of the very successful Série 5. The bet paid off, as the elegant Euphorie 5 has irreproachable seakeeping qualities and a luxury level of comfort. With the exception of a few details, particularly in the cockpit, it naturally follows the same layout plan - the gigantic owner's cabin still occupies the full width of the central rostrum. As usual in the Privilège world, customization is possible and high-end quality is present in every detail. A real invitation to head off further afield!Constructeur : Privilège Marine
Builder: Privilège Marine
Length: 50' (15.24 m)
Beam: 26'2" (7.98 m)
Light displacement: 44,100 lbs (20 t)
Draft: 3'7" (1.10 m)
Cabins: 3 / 4
Range: 883 nm
Cruising speed: 9 knots
Max speed: 20 knots
Fuel: 288 US gal (1,090 l)
Motors: 2 x 220 / 320 HP
Price: € 1,090,000 ex-tax
---
Iliad 50 - Mission: blue water cruising
Test in MW#169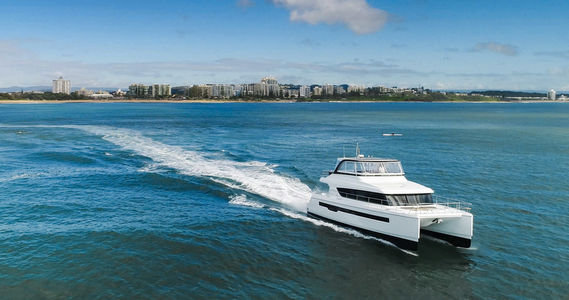 The Iliad range is built in China and distributed in Australia. This 50-foot boat, designed for ocean crossing, is complemented by three other models that are even bigger. The Iliad's program is much more adventurous than that of most of its competitors: the possibility of covering 2,500 miles without refueling and being able to take the ground, on a beach or slipway proves it from the outset... However, comfort has not been neglected, quite the contrary: the Iliad 50 offers three levels of living space and a particularly neat finish.
Builder: Xinlong Yachts
Architect: Riccardo Bulgarelli
Length: 50'11" (15.51 m)
Beam: 24'1" (7.35 m)
Draft: 4'1" (1.25 m)
Displacement (light): 52,900 lbs (24 t)
Standard motors: 2 x 370 HP
Fuel: 713 US gal (2,700 l)
Water: 185 US gal (700 l) 
Max range: 2,500 nm
Price: AU$ 2,500,000
---
Leopard 53 PC - A motoryacht design
2020 Multihull of the Year Winner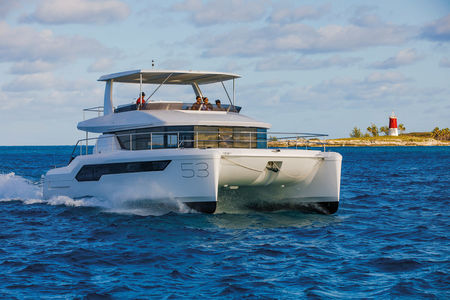 This boat features real motoryacht lines, with a solid foredeck, pronounced topsides and an impressively sized flybridge. A very clear effort has been made in terms of design: the coachroof is visually lighter than on previous models. Inside, moving around is easy: a wide central passage connects the aft cockpit to the foredeck saloon - accessible thanks to the famous front door, dear to Leopard. Outside, there's no shortage of space for relaxation, and access to the sea and the dinghy has been given priority. Our test demonstrated the good handling of the 53 PC and her speed possibilities – up to 22 knots.
Builder: Robertson & Caine
Overall length: 53'1" (16.19 m)
Beam: 25'2" (7.67 m)
Draft: 3'2" (0.97 m)
Air draft: 26'3" (8.00 m)
Displacement: 41,075 lbs (18.6 t)
Motors: 2 x 370 HP
Fuel: 581 US gal (2,200 l)
Water: 185 US gal (700 l)
Speed: 17.5/22 knots
Price: € 939,000 ex-tax
---
Horizon PC52 -Semi-custom offshore boating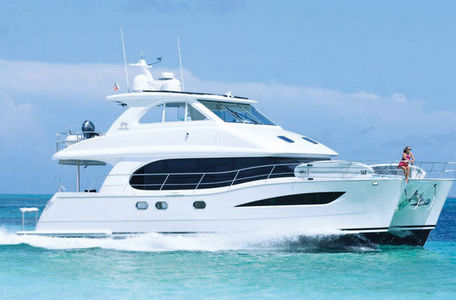 If you think you can see experienced ...
Subscribe
Subscribe to Multihulls World and get exclusive benefits.
Subscribe
What readers think
Post a comment