Buyer's guide
2022 Multipower Buyer's Guide - 60 to 70 feet
GR60 - Wind, sunshine, and fuel cells
Behind GR are the initials of Gilles Reigner, the owner of Catathai - who wants to validate a second brand that is both green and high-end. With a doctorate in physics, this Frenchman living in Thailand is well placed to manage a 100% electric powercat project whose energy production is ensured by wind generators and solar panels. The GR60 guarantees a cruising speed of 7 knots and a top speed of 18 knots thanks to a pretty wide range of technical solutions - fuel cells (4 x 5 kWh), high efficiency wind generators (2 x 10 kWh), a large surface area of solar panels (totaling 15 kWh), powerful electric motors and, of course, a large battery bank (between 100 and 200 kWh). The design of this powercat calls for a careful lightweight sandwich construction associated with very fine hulls and optimized aerodynamics. The interior layout and the deck plan are customizable according to the wishes of the owner.
Builder: GRE Yachting Co. Ltd
Architect: Fortabat Yacht Design
Design: Gilles Reigner
Length: 60' (18.30 m)
Beam: 30'2" (9.20 m)
Draft: 4'1" (1.25 m)
Light displacement: 55,000 lbs (25 t)
Motors: 2 x 40 / 100 kWh
Water: 264 US gal (1,000 l)
---
60 Sunreef Power - Luxury ocean passagemaker
Test in Special Issue #17
2022 Multihull of the Year Nominee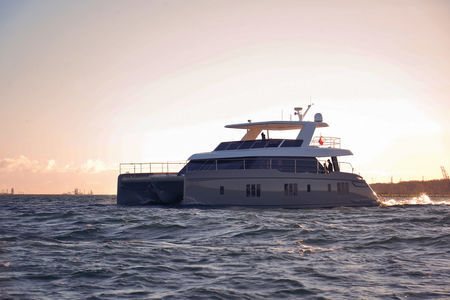 This may be the "smallest" powercat in the Polish shipyard's Power range, but it already has all the attributes of an ultra-modern multiyacht. Easy to handle, this luxury catamaran can be sailed with or without crew. Thanks to its large beam, the 60 Sunreef Power offers an extremely spacious saloon. On the same level as the aft cockpit, this large semi-open space is fully customizable and bathed in sunlight thanks to a skylight and panoramic glazing. The large volumes of the lower deck can be customized to suit the sailing program and lifestyle of the individual owner. The hydraulic platform offers a relaxation area close to the water, perfect for watersports. The figures are of course a little out of the ordinary, with more than 3,000 miles of range, or a 345 sq ft (32 m²) flybridge equipped with a jacuzzi…
Builder: Sunreef Yachts
Length: 60' (18.30 m)
Beam: 35'1" (10.70 m)
Motors: from 2 x 300 / 850 HP
Range: + 3,000 nm
Fuel: 1,585 to 2,640 US gal (6,000 to 10,000 l)
Price: on quotation
---
MC59P - Full carbon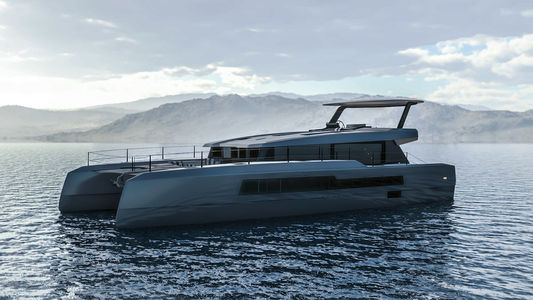 The hulls of this upcoming MC59P are reminiscent of those of the sailing catamarans produced by the shipyard, and the material is the same (carbon), so the performance will undoubtedly be just as flattering - 26 knots announced. The nacelle extends significantly forward here: a cockpit replaces the trampoline. The layout is very much inspired by the MC55 sail, in particular the huge saloon largely open, aft, which makes it possible to do away with the cockpit itself. But it is forward that the big change is taking place, with the addition of a central owner's cabin. The view over the water ...
Subscribe
Subscribe to Multihulls World and get exclusive benefits.
Subscribe
What readers think
Post a comment