Buyer's guide
2022 Multipower Buyer's Guide - Over 70 feet
LEEN 72 - A boat that can take you anywhere!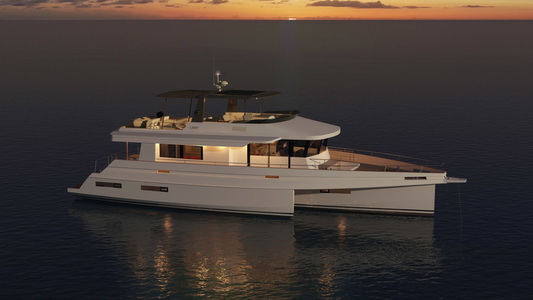 The interest of these new ocean-going multihulls is their very low drag. The Leen 72, like her smaller sistership, the 56, retains the principle of a vast platform sat above the three hulls, but adopts smaller and more aft-set floats than those of the NEELs, so that the deck plan, seen from above, is reminiscent of that of a monohull – a very wide one! Maximum habitability, panoramic view from the pod, low consumption, good behavior in rough seas: the 72 promises to be an ideal craft for long cruising or even exploration missions.
Builder: Leen Trimarans
Architects: Nivelt and Frutschi
Overall length: 71'6" (21.80 m)
Beam: 29' (8.85 m)
Draft: 4'6" (1.37 m) 
Light displacement: 32 t
Water: 264 US gal (1,000 l)
Fuel: 1,320 US gal (5,000 l)
Motor: 330 HP
Cabins: 4 to 6 
CE Certification: A
---
Serenity 74 - Internal combustion or electric?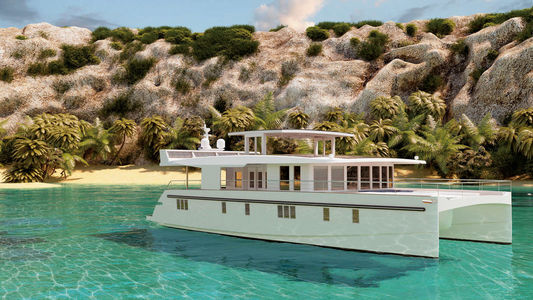 This catamaran in now in build: this model, the big sister to the Serenity 64, will be powered by solar energy thanks to its 1,200 sq ft of panels and two electric motors of 25 kW, or more traditionally by two 435 HP diesel engines. The cruising speed in electric mode will be 6 to 8 knots compared to 10 to 12 knots with internal combustion - expected peak speed is over 20 knots.
Builder: Serenity Yachts
Length: 74' (22.55 m)
Beam: 34'11" (10.65 m)
Draft: 33" (0.85 m)
Light displacement: 32 t
Water: 530 US gal (2,000 l)
Motors: 2 x25 kW or 2 x 435 HP
Cabins: 6/8
Price: €5,000,000 ex-tax
---
Long Island 78' Power - The oceans are her playground
Test in MW#176
2022 Multihull of the Year Nominee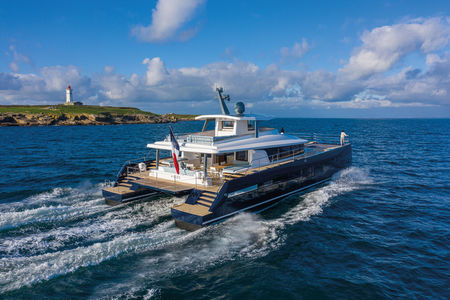 Barely a year ago, JFA Yachts launched their very first Long Island 78 Power. The hulls designed by Marc Lombard are made of aluminum, while the deck, superstructure and wheelhouse use composite materials. With its two 500 HP Cummins engines, the 78 Power cruises at 12 knots, with six more knots to reach top speed. The objective, thanks to this moderate engine size, the large tank capacity and the extensive work that's gone into controlling the displacement, is to offer transatlantic range. The deck layout presents some interesting innovations: the wheelhouse on the flybridge is an enclosed space intended for navigation but also for relaxation with a bench seat and a desk. This semi-custom range of motoryachts now features a new model, the Long Island 86 Power.
Builder: JFA Yachts
Architect: Marc Lombard Yacht Design Group
Design: Darnet Design
Overall length: 77'10" (23.72 m)
Waterline length: 75'8" (23.06 m)
Beam: 36'8" (11.17 m) Draft: 4'1" (1.24 m)
Displacement (light): 54 t
Motors: 2 x 500 HP Cummins
Generators: 2x 17.5 kW Onan
Cruising speed: 12 knots
Max speed: 18 knots (half load)
Material: aluminum and composites
Price: by quotation
---
80 Sunreef Power Eco - Unlimited range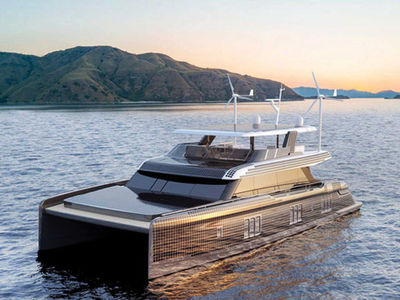 Sunreef have launched a new range with five models – 40, 60, 70, 80 and 100 feet – which are fully ...
Subscribe
Subscribe to Multihulls World and get exclusive benefits.
Subscribe
What readers think
Post a comment