Buyer's guide
2022 Multipower Buyer's Guide - Under 30 feet
Overboat - (Electric) foiling for anyone
Test in MW#176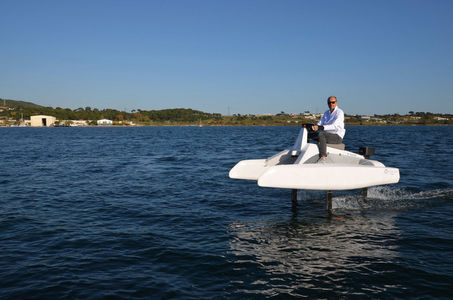 This modern and futuristic pocket catamaran allows anyone to fly above the water thanks to its four electronically controlled and automatically adjusted foils. These retractable appendages make it easy to leave from a beach or a pontoon, and return to your starting point. The Overboat is capable of a top speed of 15 knots thanks to its 4.5 kW electric motor in the single-seater version. At 12 knots, there's enough power for 2 hours. The Overboat, which is classified under category D, passes very well through an 18" (0.5 m) chop, which is quite rare for a boat of this size. A "Classic" version, without foils, is also available.
Builder: Neocean
Length: 10'2" (3.10 m)
Beam: 4'7" (1.40 m)
Max. draft: 2'7" (0.80 m)
Weight: 220 lbs (100 kg)
Motor: 4.5 kW
Max speed: 10 or 15 knots
Classic version price: € 12,500 ex-tax
Overboat 100-Foiler price: € 26,900 ex-tax
---
 Ballistic 5000 - A cat for fishing and day trips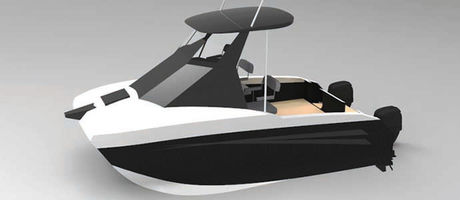 This mini catamaran designed for fishing - and of course day trips – is offered by Australian builder Spirited Designs, a specialist in multihulls in kit form. Delivered at any stage of completion, the Ballistic 5000 is very light thanks to its Divinycell/epoxy foam sandwich construction. As a result, this little catamaran can be powered by smaller engines, and is easily transported on a trailer. The deck layout is clever: the entire surface area has been exploited, thanks to a full deck at the bow and a platform at the stern. The helm station and cockpit are perfectly protected, and the superstructure houses a mini-cabin.
Builder: Spirited Designs
Length: 16'5" (5.00 m)
Construction: Epoxy sandwich
Motors: 2 x 50 HP outboards
---
 Powercat 525 - Small but tried and tested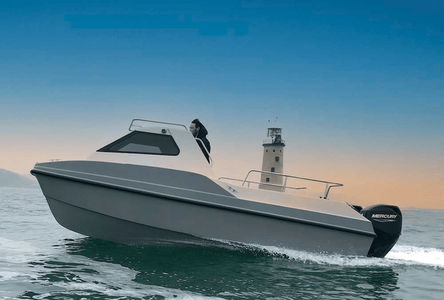 The test videos of this pocket powercat leave no doubt about its seakeeping qualities: the machine jumps from wave to wave and always seems to be at ease, whatever the sea state. For all that, the designers are not looking for power overkill - 2 x 30 to 2 x 120 HP. The maximum speed quoted by the builder, subject to the chosen drivetrain, ranges from 16 to 30 knots. The deck layout comes in several versions - open, central passage, cabin - and can accommodate 7 people.
Builder: Powercat
Length: 17'3" (5.25 m)
Beam: 7'5" (2.25 m)
Draft: 11" (0.30 m)
Light displacement: 1,300 lbs (590 kg)
Motors: 2 x 30 to 2 x 120 HP
CE Category: C
---
 Castlerock Carbon Cat - The temptation of a rib
Designed in Australia and built in New Zealand, the Castlerock Carbon Cat was designed by Dan Oatley, a member of an Australian family well known in the boating world. This catamaran RIB is built from an aluminum chassis and a carbon deck. Trim is controlled by a pair of trim tabs. Although this boat's short length confines it to relatively sheltered waters, the top speed recorded with a modest 115 HP is still 60 knots… We can only imagine ...
Subscribe
Subscribe to Multihulls World and get exclusive benefits.
Subscribe
What readers think
Post a comment