Buyer's guide
2022 Sailing Special Buyer's Guide - from 20 to 30 feet
Astus 20.5 - Such success, now a one-design class
Test MW171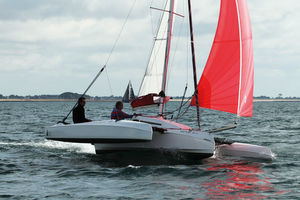 This model has seen remarkable success, with 60 units already built since its launch in 2018. Our test revealed that this VPLP designed multihull is as fun to sail as it is practical and easy to operate. The most active owners have been working together with Astus Boats to establish a one-design class. The 20.5 is particularly exciting in the Sport version, as it offers 260 sq ft (24 m²) upwind for a weight of less than half a ton. Enough to have fun and sensation, especially when the gennaker is out! Like the other models in the range, it adopts a telescopic link system for the arms. The interior layout is compact, but still offers a mini saloon and a double berth. The strong points of the 20.5 for coastal cruising: pivoting appendages and a large 172 sq ft (16 m²) sailing platform.
Builder: Astus Boats 
Architect: VPLP 
Length: 19'6" (5.95 m)
Beam: 8'2"/14'9" (2.48/4.50 m)
Light displacement: 1,036 or 1,080 lbs (470 or 490 kg)
Draft: 10"/4'1" (0.25/1.25 m)
Upwind sail area: 226 / 260 sq ft (21 / 24 m²)
Downwind sail area: 366 / 452 sq ft (34 / 42 m²)
Gennaker: 215 / 280 sq ft (20 / 26 m²)
CE category: C5/D7
Motor: 2 to 6 HP outboard
Price: € 23,166 ex-tax (Leisure version)
---
CORSAIR PULSE 600 - Radical and incredibly efficient
Test MW148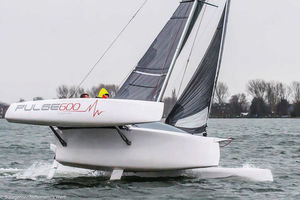 As its name suggests, this sub-500-kilogram (1,000 lb) machine is designed for racing, and small fleets have appeared - notably in Australia. Though the Pulse 600 is the smallest of Corsair's trimarans, it is still very attractive! Its three sharp and inverted bows give it a great look... a design as radical as it is efficient because on the water, you're immediately won over by the potential of this machine. The cockpit is large enough to accommodate three people – and you can quickly hike out onto the floats to give the Pulse even more power. The removable coachroof houses a large watertight locker. No fitting-out or berths: it's simply a shelter that can be used at anchor. The Pulse 600 is of course transportable and foldable.
Builder: Corsair Marine 
Length: 19'52'' (5.95 m)
Beam: 8'/14'9" (2.45/4.50 m) 
Displacement: 992 lbs (450 kg)
Draft: 9"/4' (0.22/1.20 m) 
Mainsail: 205 sq ft (19.10 m²)
Jib: 76 sq ft (7.10 m²) 
Spinnaker: 345 sq ft (32 m²)
Price: US$ 38,800 ex-tax
---
TRICAT 20 - Perfect for rallies and performance
Test MW163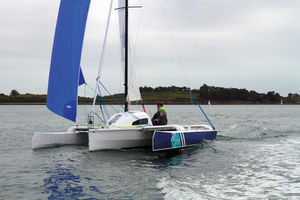 This is the smallest model in the range: first presented three years ago, this trimaran was designed primarily for day-sailing, it also excels on coastal trips, where its compact size, maneuverability and performance are outstanding. The Tricat 20, with over 50 units already built, naturally reflects the success of its predecessors, including the 25 Evolution's intelligent folding system, with the advantage of offering a nice living space and irreproachable seaworthiness for its size. Inside, there is a double berth for the parents and two bunks for the ...
Subscribe
Subscribe to Multihulls World and get exclusive benefits.
Subscribe
What readers think
Post a comment