Buyer's guide
2022 Sailing Special Buyer's Guide - From 30 to 40 feet
CORSAIR 970 - The DNA of the Corsair 31 is plain to see…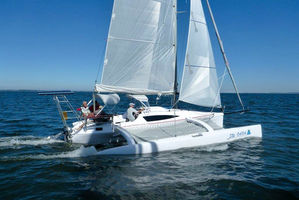 The Corsair 970 – also known as the Cruze 970 - took over from the Corsair 31 ten year ago. Fans of folding trimarans know how much the Corsair 31 left its mark on people's minds. With more than 300 units built, it is one of the yard's best-sellers. The Corsair 970 didn't take any unnecessary risks: it was really an evolution of the Corsair 31, but with greater comfort on board, more in line with the Corsair 37. On board the 970, there's about 15% more space than on the 31 and notably, much better headroom, as you can now stand upright in the saloon... But this comfort in no way hinders the seakeeping qualities of the Cruze 970, which remains a true Corsair trimaran. The Sport, and especially the Carbon, versions are obviously higher performing. It goes without saying that the 970 is foldable, using the system so highly prized by the yard.
Builder: Corsair Marine 
Length: 31'10" (9.70 m)
Beam: 22'7"/8'4" (6.88/2.55 m)
Construction: glass/polyester/PVC sandwich 
Light displacement: 4,800 lbs (2.18 t) 
Draft: 18"/6'11" / (0.45/2.10 m)
Mainsail: 382/452 sq ft (35.5/42 m²) 
Genoa: 188/247 sq ft (17.5/23 m²)
Asymmetric spi: 872/925 sq ft (81/86 m²)
Motors: 9.9 to 15 HP outboard
US$ 196,890 ex-tax
---
DRAGONFLY 32/DRAGONFLY 32 EVOLUTION - Long live those wave-piercing floats!
Test MW167
2019 Multihull of the Year Winner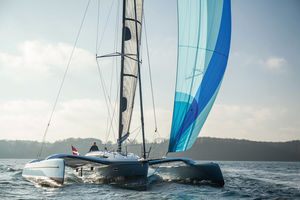 The first-generation Dragonfly 32 marked the history of Quorning Boats with more than 50 units built. The Evolution replaced the Supreme version in 2019, with 20% larger floats and a more powerful rig. The stretched underwater hulls of the floats, the higher volume and the inverted bows are a real plus with a cross-sea or for sporty sailing. Admittedly, at the same price, the Dragonfly 32 Evo offers a third of the living space of an honest 40-foot catamaran, but what are we looking for when we choose this boat? A multihull that can limit her beam to 12'7" (3.85 m) but above all a sporty craft that conceals a wonderful temperament under the pretty exterior and provides a lot of pleasure when sailing.
Builder: Quorning Boats 
Length: 32'2"/32'6" (9.80/9.90 m)
Beam: 11'10"/26'3" (3.60/8.00 m) or 12'7"/27'1" (3.85/8.25 m)
Light displacement: 7,500 lbs (3.4 t) 
Draft: 22"/6'3" (0.55/1.90 m)
Mainsail: 520 or 625 sq ft (48/58 m²) 
Genoa: 280 or 310 sq ft (26/29 m²)
Spinnaker: 1,025 sq ft (95 m²)
Berths: 5/7
Water: 32 US gal (120 l)
Fuel: 18.5 US gal (70 l)
Motor: 21 HP 
Price: € 265,000 ex-tax
---
AVENTURA 34 - Compact and homely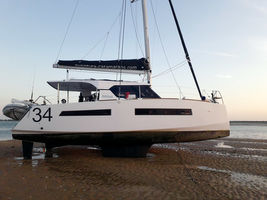 Large production runs of catamarans are uncommon below 40 feet. A multihull of less than 33' (10 m) in length has many advantages, however, starting with an attractive price: the new Aventura 34 is no more expensive than many used 40-foot catamarans that have been refurbished... The design of the 34, designed by Lasta Design studio, is successful: the deck layout is also much better than that of the ...
Subscribe
Subscribe to Multihulls World and get exclusive benefits.
Subscribe
What readers think
Post a comment