Buyer's guide
2022 Sailing Special Buyer's Guide - From 40 to 45 feet
MAVERICK 400 - With all the comforts of home…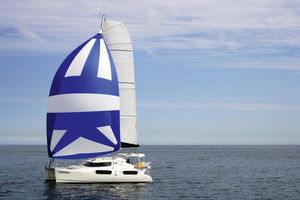 The objective of the South African builder Maverick Yachts with this 400 is clearly to offer maximum comfort - worthy of that of a house - on board a 40-foot catamaran. The hull shapes are designed above all to be safe in bad weather and capable of taking a large payload. The 400 is easy to manage short-handed and has been optimized for easy maintenance. The finish of the fittings is absolutely meticulous. This model is available in a three or four-cabin version.
Builder: Maverick Yachts
Architect: Phil Southwell
Length: 40' (12.20 m)
Beam: 24'5" (7.45 m) 
Draft: 2'11" (0.90 m) 
Displacement: 21,950 lbs (9.5 t)
Mainsail: 640 sq ft (59.4 m²) 
Genoa: 350 sq ft (32.6 m²) 
Motors: 2 x 30 HP
Fuel: 2 x 105 US gal (2 x 400 l) 
Water: 2 x 132 US gal (2 x 500 l)
Price: US$ 648 720 ex-tax
---
DRAGONFLY 40 - Three hulls, two steering wheels
Test MW173
2021 Multihull of the Year Winner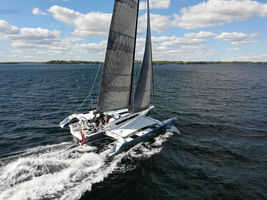 Since its first presentation at Düsseldorf in 2020, this folding trimaran has become the flagship of the Dragonfly fleet - the last model in this size was the 12 M, whose production stopped several years ago. The program assumed by Jens Quorning, its architect-builder, is offshore cruising - with the emphasis on ease of handling, high average speeds and optimized size for berthing or storage ashore anywhere in the world thanks to a width contained to 13 feet (4 m) when the trimaran is folded. Note that there are two steering wheels. During our test in Denmark back in June, we appreciated the performance of the 40, but also its comfort and the extremely meticulous finish.
Builder: Quorning Boats
Length: 40'8" (12.40 m)
Beam: 13'1"/27'7" (4.00/8.40 m)
Draft: 2'4"/7'3" (0.70/2.20 m)
Light displacement: 12,790 lbs (5.8 t)
Mainsail: 700/805 sq ft (65/75 m²)
Genoa: 355/410 sq ft (33/38 m²)
Asymmetric spi: 1,185/1,505 sq ft (110/140 m²)
Berths: 6/8 
Fuel: 40 US gal (150 l)
Water: 58 US gal (220 l)
Motor: 40/57 HP 
Price: € 607 000 ex-tax
---
SEAWIND 1260 - Really neat folding door!
Test MW172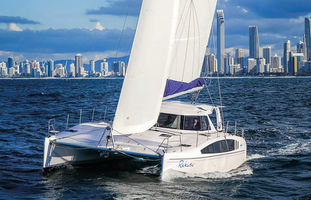 The 1260 adopts a famous Seawind specialty: the door separating the saloon and cockpit folds away into the roof in good weather, freeing up XXL-sized living space at anchor or while you're sailing. Within the Seawind range, the 1260 is clearly oriented towards blue water cruising and remains a classic – a bit more dated, it does not adopt the modern design seen with the 1600 and 1370. The choice between different layouts is possible: galley 'down', or more traditionally, in the saloon. The 1260 can be delivered in three or four double cabin versions.
Builder: Seawind Catamarans
Length: 40'10" (12.45 m)
Beam: 22'4" (6.80 m)
Draft: 3'10" (1.16 m)
Displacement: 18,100 lbs (8.2 t)
Mainsail: 710 sq ft (66 m²)
Jib: 258 sq ft (24 m²)
Gennaker: 710 sq ft (66 m²)
Motors: 2 x 29 HP
Fuel: 127 US gal (480 l)
Water: 185 US gal (700 l) 
Price: US$ 469,000 ex-tax
---
ASTREA 42 - A great ...
Subscribe
Subscribe to Multihulls World and get exclusive benefits.
Subscribe
What readers think
Post a comment