Buyer's guide
2022 Sailing Special Buyer's Guide - From 45 to 50 feet
LEOPARD 45 - The essential lounge version
Test MW156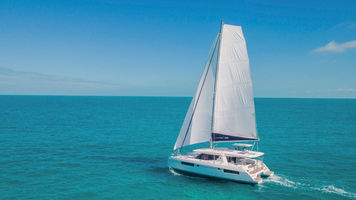 In 2017, with their 45, Robertson and Caine offered an attractive catamaran: this model satisfies the expectations of charterers or owners who are sensitive to the concept of open spaces. A successful model that continues to evolve: the brand-new Lounge version with a fitted-out flybridge appears very popular, to the point of eclipsing the original configuration During our test, we appreciated the design of the hulls and the seakindly behavior under sail. The forward cockpit, accessible from inside, has become emblematic of the Leopard range: a definite asset for hedonistic sailors - and for all a must at anchor to enjoy life on board. The forward door is also an excellent way to ventilate the saloon in the tropical sun.
Builder: Robertson & Caine 
Length: 45' (13.72 m)
Beam: 24'2" (7.36 m)
Draft: 4'11" (1.50 m)
Light displacement: 32,850 lbs (14.9 t)
Mainsail: 829/817 sq ft (77/75.9 m²)
Genoa: 500 sq ft (46.5 m²) 
Spinnaker: 1,505 sq ft (140 m²)
Cabins: 3/4 + port forepeak
Water: 206 US gal (780 l)
Fuel: 185 US gal (700 l)
Motors: 2 x 45 HP
2023 Price: € 549,000 ex-tax
---
BALI 4.4 - A forward door and maximum deck area
The next Bali, the 4.4, will replace the 4.3 and the older 4.5. In the current range, it will sit between the 4.2 and the 4.6. This new model will feature all the innovations specific to the brand: rigid foredeck, opening windows, tilting saloon/cockpit door and fixed aft platform to optimize the available deck area of 946 sq ft (87.9 m²). The 4.4 also adopts a forward door and a flybridge with a significantly lowered helm station. Inside, 3 or 4 cabins, a large L-shaped galley and a saloon that can accommodate ten people.
Builder: Bali Catamarans
Length: 45'1" (13.75 m)
Beam: 24'3" (7.40 m)
Draft: 3'9" (1.20 m)
Light displacement: 28,200 lbs (12.8 t)
Mainsail: 818 sq ft (76 m²)
Code 0: 797 sq ft (74 m²)
Solent: 452 sq ft (42 m²)
Fuel: 211 US Gal (800 l)
Water: 211 US Gal (800 l)
Motors: 2 x 40 or 57 HP CE Category: Cat A (Pending)
Price: € 483,800 ex-tax
---
NAUTITECH 46 OPEN - Even more attractive!
Test MW170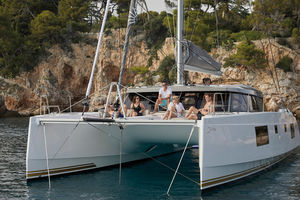 Just over two years ago, Nautitech presented a totally redesigned version of their 46 Open, and also their 46 Fly. Usually, manufacturers undertake light restyling fairly often on their models, but it's a different story here, with the 46: apart from the Marc Lombard hulls, which remain identical - even though the topsides will now feature larger openings - everything else has been redesigned and redrawn. The accommodation and deck layout are therefore new. The rig is now a little more powerful, gaining 2 m² (21½ sq ft) of sail area.
Builder: Nautitech Catamarans
Architect: Marc Lombard 
Length: 45'3" (13.79 m)
Beam: 24'9" (7.54 m)
Draft: 4'9" (1.45 m)
Displacement: 23,800 lbs (10.8 t)
Mainsail: 820 sq ft (76 m²)
Jib: 410 sq ft (38 m²)
Motors: 2 x 40 HP
Fuel: 2 x 79 US gal (2 x 300 l)
Water: 2 x ...
Subscribe
Subscribe to Multihulls World and get exclusive benefits.
Subscribe
What readers think
Post a comment