Buyer's guide
2022 Sailing Special Buyer's Guide - From 50 to 60 feet
ST FRANCIS 50 MK2 - Ready to face every ocean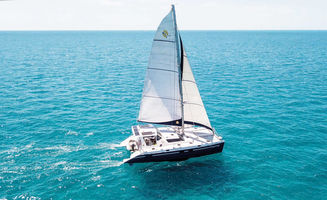 Building on their experience with the St Francis 44 and 48, the South African manufacturers have launched an even more comfortable and recently improved 50-footer under the name MK2. Though the design might seem quite traditional and the nacelle rather low compared to what is being built in Europe, the St Francis 50 proves to be a very seaworthy catamaran, robust and able to face the worst of the gales. For the interior, the shipyard can meet all the wishes of its customers and ensures an excellent level of finish.
Builder: St Francis Marine
Length: 50' (15.25 m) 
Beam: 26'3" (8.00 m)
Draft: 4'1" (1.25 m) 
Displacement: 27,600 lbs (12.5 t)
Mainsail: 943 sq ft (87.6 m²)
Genoa: 570 sq ft (53 m²)
Fuel: 232 US gal (880 l) 
Water: 355 US gal (1,350 l)
Price: $ 995,000 ex-tax ready to sail
---
MC52 - Saloon and cockpit revisited
Test MW164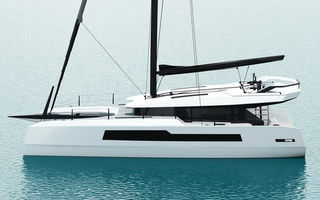 When she was first presented in 2018 at La Grande Motte, the McConaghy 50 - now the 52 - surprised, impressed, and bewildered. The notions of saloon and cockpit have been revisited in the nacelle: the latter, totally flush at the back, is entirely glazed on the other sides. The elevated navstation is pleasantly surprising by its great ergonomics and efficiency. Congratulations are due for the high-end sailplan and the solution of pivoting daggerboards, an alternative to fixed skegs. Architectural choices used and weight-saving characterize this futuristic model.
Builder: McConaghy Boats
Architects: Ker Yacht Design
Length: 50'2" (15.30 m)
Beam: 26'3" (8.00 m)
Draft: 4'11" or 4'5"/12'4" (1.5 or 1.35/3.75m)
Upwind sail area: 1,615 sq ft (150 m²)
Water: 122 US gallons (460 l)
Fuel: 122 US gallons (460 l)
Motors: 2x57 HP
Price: $ 1,648,000 ex-tax
---
LEOPARD 50 - The flybridge is a must!
Test MW161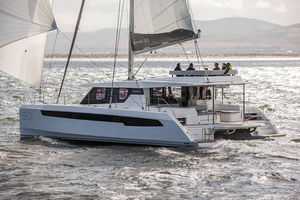 Forerunners with the idea of a forward cockpit, which has since become almost a must-have over the past ten years, architects Simonis & Voogd have optimized the concept and the space aboard this cat which can accommodate up to 5 cabins plus crew. Initially, she was available with or without a flybridge – Leopard 50 L or S. The "with" option constituted 95% of sales, and as a result, the Sport version is no longer offered. The coachroof on the 50 extends forward, protecting the passengers in the forward cockpit – another Leopard feature. This is a successful catamaran that's comfortable and easy to handle. And has proved to be a commercial success too, with over a hundred examples built so far.
Builder: Robertson & Caine 
Length: 50'6" (15.40 m)
Beam: 26'5" (8.04 m) 
Light displacement: 45,400 lbs (20.6 t)
Draft: 5'3" (1.60 m) 
Mainsail: 972/1,028 sq ft (90.3/95.5 m²)
Genoa: 688 sq ft (63.9 m²)
Motors: 2 x 57 HP 2023
Price: € 689,000 ex-tax
---
NEEL 51 - High performance and fun to helm
Test MW156
2018 Multihull of the Year Winner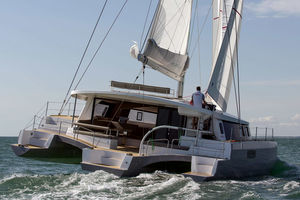 The result of a long reflection and several ...
Subscribe
Subscribe to Multihulls World and get exclusive benefits.
Subscribe
What readers think
Post a comment