Cruising
Blue Water Cruising on Multihulls - The Sailing Youtubers
YouTube content reveals a whole world, from the most extravagant to the simplest... The content is instructive or amusing; you can find absolutely everything on it - including subjects about sailing, the nautical world and multihulls in particular, which is what inte- rests us here! Because YouTube channels of blue water multihull cruisers are now popping up everywhere. Today, it is certainly easy to create content and share it. In absolute terms, the quality, the time spent editing, or the time spent filming doesn't really matter. There are no rules, YouTube is first and foremost an entertainment platform, where people learn, dream, laugh, and of course share on social networks. Some may use it to simply share their adventure with friends and family, but for others, YouTube has become a full-time job. Here is a topic that is creating a lot of discussion: welcome to the world of the YouTuber sailor!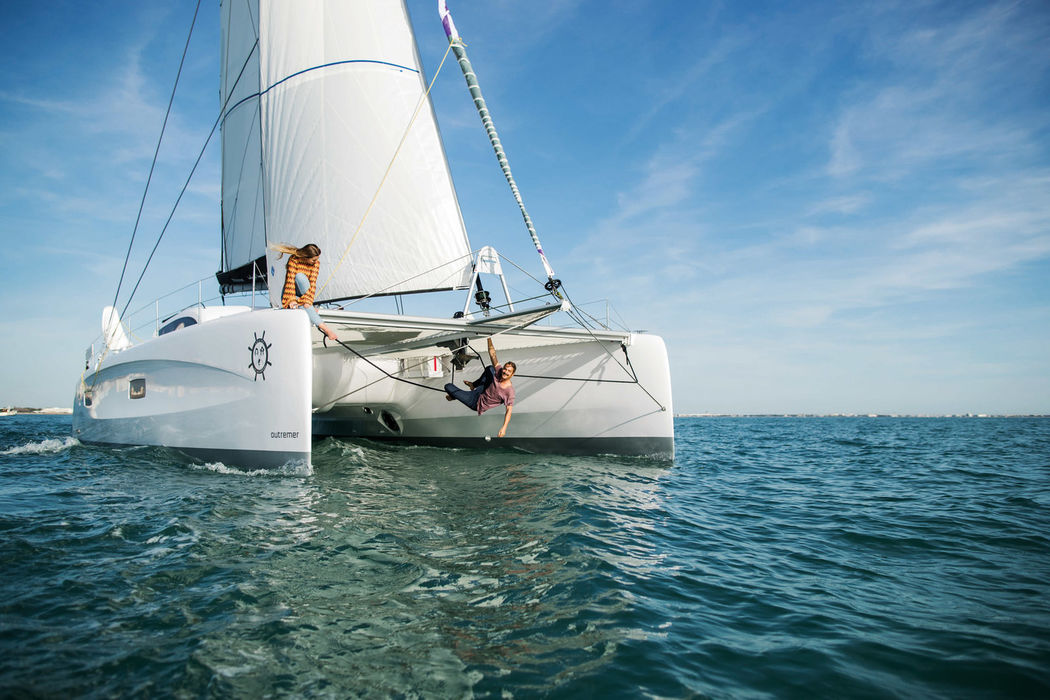 Riley and Elayna, from Sailing La Vagabonde, are role models: their YouTube channel is by far the most followed in the field of multihull sailing.
Sailing La Vagabonde, the one to follow
There are still a lot of questions about YouTube, especially "How is it possible to make a living from it?" There's nothing to hide in this business (yes, it's a real business). You become a videographer, editor, actor and many other things besides. As with any job, it's your skill set that will determine how you are able to differentiate yourself from your competing channels. Sharing sailing videos, mainly in the travel vlog niche, really started about 7 years ago. It was still the early days of YouTube, when videos of any kind rarely exceeded one million views. Among the very first were Riley Whitelum and Elayna Carausu. The young couple started a long journey aboard a monohull, La Vagabonde, and shared their videos every week (or so) on the YouTube channel Sailing La Vagabonde. Riley and Elayna are beautiful, their content is educational. The images are stunning, and the editing is neat... in short, the channel exploded, and the couple graduated to catamarans when they settled aboard an Outremer 45, logically named La Vagabonde 2. The birth of their son Lenny did not harm the success of the channel. It was quite the contrary in fact! And Riley and Elayna have recently had a second child, who they've named Darwin, and are soon to buy a Rapido 60, La Vagabonde 3. Such a success obviously creates vocations: But is it really possible, by cruising and making small videos, to afford a new 45-foot catamaran - or at least to repay a loan?
---


The Youtuber equipment
Today, a good smartphone, editing software and an internet connection are sufficient tools to generate video content on YouTube. A remote microphone protected by a windscreen considerably improves the sound quality. For the more demanding YouTubers,the "big" cameras have given way to versatile, much more compact-bodied units that can ...
Subscribe
Subscribe to Multihulls World and get exclusive benefits.
Subscribe
What readers think
Post a comment