charter
Charter: key data
The BVIs really are a paradise for multihull cruising: there's wind but the sea stays relatively calm; an easily accessible selection of different islands and warm, clear waters… There will be a full report on this unmissable charter destination in our next issue.
Top 5 Destinations Dream Yacht Charter
1)    Martinique
2)    Mainland France
3)    The Seychelles
4)    Corsica
5)    Croatia
Top 5 Destinations Sunsail/The Moorings
1)    The Seychelles
2)    Thailand
3)    French Polynesia
4)    Belize
5)    British Virgin Islands
Top 5 Destinations Globe Sailor
1)    Croatia
2)    Greece
3)    France
4)    Italy
5)    Spain
The Lagoon 450: The catamaran charterking!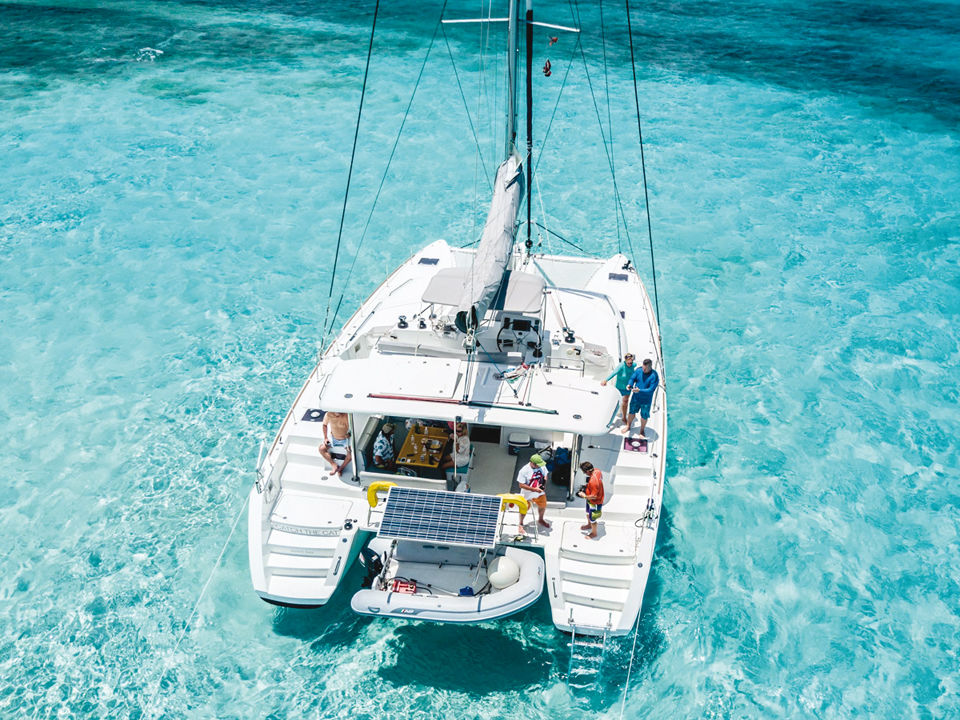 Globe Sailor's figures are unequivocal: multihull charter today represents 38% of all reservations. Last year, catamaran charters increased by 42%. Lagoon produces the top 3 models: the 450, the 380 and the 400 S2.  
Jeanneau Sun Loft 47: The return of the monocat?

So many clients now want cats… but the shipyards are struggling to keep up with the demand. Some builders have waiting lists of over two years. All the while the monohulls are stuck at the dock, despite their cost being markedly cheaper (purchase price, dock space, and maintenance) …The solution? To try and offer the same level of comfort that you will find on a catamaran. This obviously reminds us of Dufour's Atoll range. It's the same architect (Philippe Briand) and the same program for the Sun Loft 47, and it is destined exclusively for the chartermarket. They wanted an XXL cockpit with two tables and an integrated galley. So, on the 47 the saloon has been eliminated and replaced with berths only: six doubles beds and four bathrooms! Obviously, it's a slightly more "intimate" set up, and monohulls do heel… However, the ...
Subscribe
Subscribe to Multihulls World and get exclusive benefits.
Subscribe
What readers think
Post a comment