charter
Chartering a multihull: the price of happiness!
You have less than 300 euros per person per week
Is it impossible to go on holiday and enjoy the lagoons on the other side of the world with a budget of 300 euros per person for a week's charter (not including the air fare – let's not get carried away!)? Let's see...
We found a superb Lagoon 380 available for charter in Martinique from Punch Croisière, for 2390 euros per week, off season (from 7th May to 21st December). A catamaran equipped with 4 double cabins and two bathrooms, which will allow you to go and discover the Grenadines, leaving from Le Marin, with no problems. The price per person: 298.75 euros, less than 50 euros per night. Who can do better for a week?
Another solution which is just as attractive - Greece in October: the end of the season is often superb and the anchorages are completely deserted. For 7 days in the middle of October, you can charter an Orana 44 capable of accommodating up to 10 people for 2681 euros, from Kiriacoulis – 268 euros per person for the week. When you realize that during this period, the air fare to Athens is also quite frankly cheap (125 euros per person return from Paris, with Easy Jet), it really would be a shame to deprive yourself...

For whom?
Those who have a lot of friends and/or a large family.
Where?
The West Indies or the Mediterranean, or even the Bahamas, but you must leave off-season (which is fortunate, as air transport is often cheaper then).
When?
The West Indies from May until the end of November (excluding the months of July and August), the Mediterranean in March, April, May and October, November.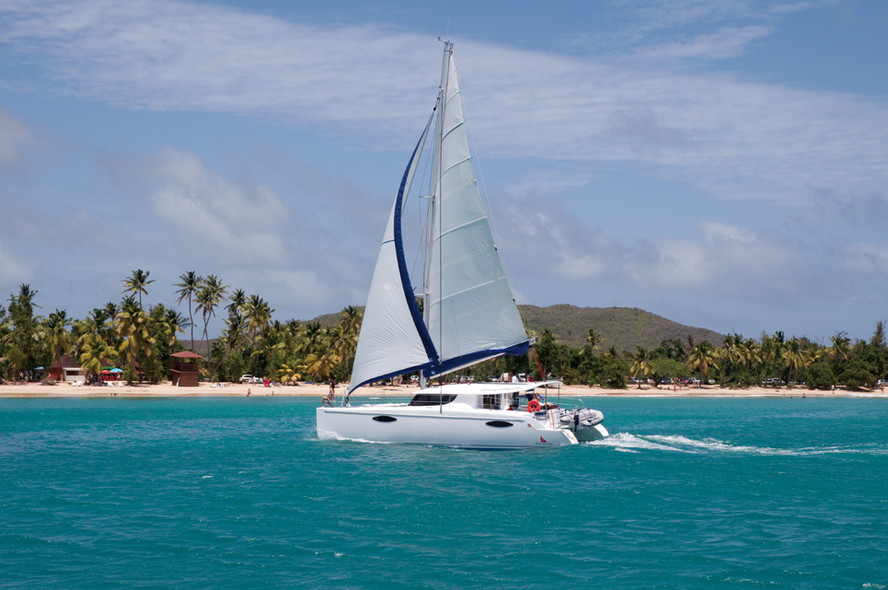 You have between 300 and 500 euros per person per week
The budget is greater, and you are ready to discover a number of destinations, especially if there are a lot of you sharing the boat. For example, you could go to the Bahamas in October aboard a Sunsail 444 for 3670 euros. The Sunsail 444 offers 4 double cabins and as many bathrooms (plus two forepeaks). 8 of you will therefore be comfortable, which will allow you to discover the wonderful Bahamas for 458 euros per person for a full week.
Another dream destination, the Seychelles. The millionaire's destination par excellence is however not completely inaccessible. The proof, with Dream Yacht Charter, which is offering a Lagoon 450 Premier from 13th to 20th of next December for 4672 euros inclusive (with redemption of the excess, cleaning and the starter pack). With 10 of you aboard, it will only cost you 467 euros per person for the week, and you will be able to discover some wonderful islands and above all, the Seychelles' fantastic underwater life. A dream!

For whom?
Ideal for two families who get on well, a group of friends or your basketball team...
Where?
The budget allows you to go wherever you want...or almost. The Caribbean or the Mediterranean, and even the Seychelles are all available if you want. ...
Subscribe
Subscribe to Multihulls World and get exclusive benefits.
Subscribe
What readers think
Post a comment