Cruising
Coastal cruising - it's fantastic!
Coastal sailing, a new-found pleasure
Preparing your cruise, picking out the spots where you can stop, planning strategic breaks depending on the changes in the weather conditions, and above all, playing with the tide tables: coastal cruising isn't something you can do just like that. But this is actually one of the great pleasures it offers: it has to be earned!
Coastal cruising _ or coastal camping _ is, as its name suggests a cruise during which you sail along a coast in your little multihull (it can also be done in a monohull, but it's not as pleasant...). Your boat's shallow draft allows you to stop in creeks which are inaccessible to bigger cruising boats, and thus to enjoy some little corners of paradise, alone. As its liveability is often reduced to its simplest expression, the only solution at a stopover is to pitch the tent, either on the beach or on the boat's trampoline. And this way of cruising has (very) many advantages: you can change your cruising area as you wish, as these boats are easily transportable, they are not expensive, either to buy or maintain, and the cruises are really economical - as neither marinas nor excessive provisioning can be tolerated. In short, a pleasure for the leisure sailor!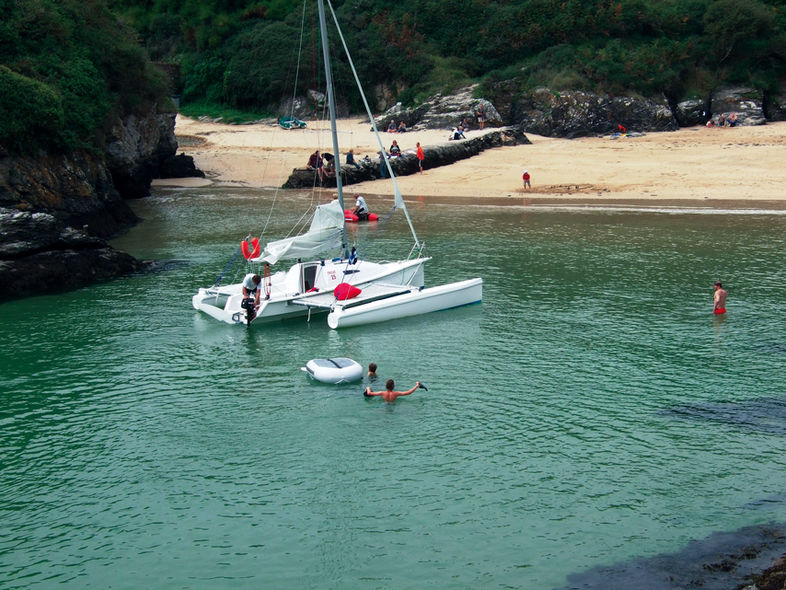 Where and when to leave?
The advantage of this formula is that no destination is excluded... With the boat on the trailer, you can go where you want from your 'home port', which is more often than not your garage! And even on the other side of the sea, by organizing your boat's transfer early enough. Once you have arrived at your destination, all you have to do is leave the car and trailer in a car park and the best nautical adventures are yours for the taking.
Amongst the favorite destinations for coastal camping enthusiasts we find Corsica, Brittany (with the superb Golfe du Morbihan) as well as Scandinavia, Scotland and its canals, the Adriatic and its anchorages which are as numerous as they are deserted, Greece and of course the Caribbean or the Polynesian lagoons... And then there are fresh water cruises: we often forget them, yet with a transportable boat, lakes become destinations which are not just pleasant, but often unforgettable. In fact sailing at the foot of snowy summits will remain forever engraved in your memory. It's up to you to discover the gems that the fresh water destinations hide... And then there are also rivers, destinations which are not reserved for barges. Even though a motor is strongly recommended :)))
Finally, the only limit to this way of cruising will be your imagination.
The cruising period is much easier to find: coastal cruising requires real commitment from the crew. With little or no interior living space, coastal camping multihulls are more tiring and offer comfort and protection which is only relative. Unless you are looking for the ultimate excitement of an extreme –rallye-raid", it is therefore in ...
Subscribe
Subscribe to Multihulls World and get exclusive benefits.
Subscribe
What readers think
Post a comment