Technical
Eco-responsible sailing - When boating goes green
After two seasons off, forced on us by the health crisis, marinas and anchorages are saturated during the tourist periods. The most beautiful areas of the coast are threatened by pollution and uses that destroy the environment. Energy demands and overconsumption of fresh water are increasing exponentially on isolated islands that sometimes already struggle to supply their inhabitants.
Today, except for blind militancy, the idea of counting on a collective and immediate environmental awareness is utopian. Change occurring in stages is one of the keys to ecological transition.
Aware of the major stakes and the influence they can exert, many marine industry professionals and shipyards are now building their forever green strategy well beyond the simple commercial aspect - it is a matter of being part of a sustainable and virtuous approach thanks to new materials and equipment.
For boaters, adopting responsible behavior on board, new alternative consumption methods and clean products and technologies allows them to reduce their footprint on the marine environment. Without ever forgetting the pleasure of sailing and the dreaming part of any voyage, of course!
Antifouling: The impossible equation…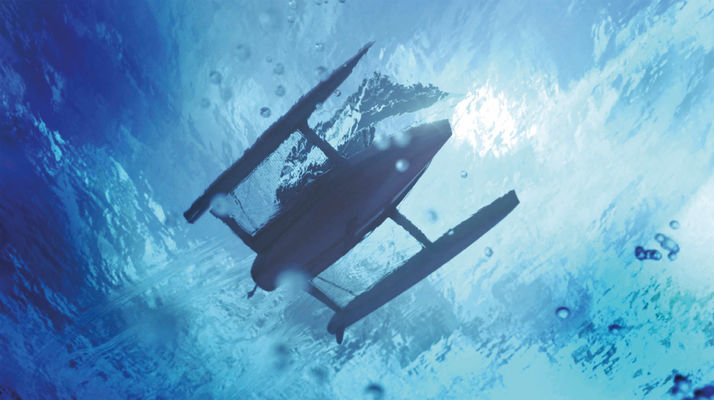 There's no mystery: the only really effective bottom paints are the most polluting. Today, many countries have enacted standards for antifouling paint intended for leisure craft, though large ships are not concerned... The result is that many paints have become more eco-friendly - but also less effective. As a result, we may be tempted to try new methods to protect our hull. Here is a summary of the solutions to keep your boat gliding smoothly though the water without (too) much damage to the marine environment.
Hard matrix antifouling
This is the solution validated by most boat builders and long-distance sailors. This paint is relatively effective with limited pollution. It can be scrubbed under water without releasing too many biocides.
Ablative (self-polishing) antifouling
The principle is to release the biocides gradually: the surface film becomes partially soluble as soon as it is put in the water. The thickness of the paint decreases over the course of the year, until it disappears. It is efficient when for a multihull that covers a lot of distance, but very polluting…
Ultrasonic system
The results are very variable and we don't know the real impact on the surrounding flora and fauna. The system also requires a permanent power source.
Copper-based antifouling
Bottom paints such as Coppercoat containing copper oxide are less harmful to the environment than conventional antifouling paints. It might be pricier… although it is guaranteed for up to 10 years. But copper oxide is still toxic for micro-organisms such as fish larvae, and it pollutes the water. They're certainly not cheap though.
Adhesive strips
Finsulate produces adhesive strips with micro-bristles that are affixed to your hulls. This system delays the appearance of ...
Subscribe
Subscribe to Multihulls World and get exclusive benefits.
Subscribe
What readers think
Post a comment