Multihull
Inshore cruising by multihull
16 to 26 footers - Trailable multihulls: we're off camping on the water!
Here, we've selected here a few models that are easy to transport by road and/or foldable, even dismantlable, but that are still livable. Admittedly, the double berths are sometimes (very) narrow, the galley might be limited to a bucket and the head to a chemical toilet... In this category, the majority are trimarans, even though there are some small catamarans for selfbuild on offer from Australia, that are quite attractive...
DOUBLE SHUFFLE 5,6 - A good deal, on sale!
Team Scarab Multihulls, led by Australians Ray Kendrick and Fran Sneesby, are offering no less than 15 plans of small transportable multihulls for amateur construction. Among them, the complete plan file for the Double Shuffle 5.6 catamaran is offered for only AUS$ 100! The construction in epoxy plywood is accessible to amateur woodworkers. Light and limited in beam to 2.48 m (8'2"), the Double Shuffle is easily transportable on the road and easy to step the mast - air draft is limited to 5.7 m (18'8"). Inside, the architects have managed to accommodate a saloon convertible into a double berth.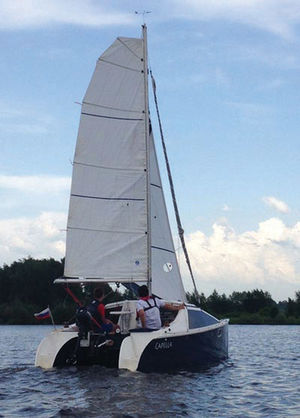 Architects: Team Scarab Multihulls
Construction: Epoxy plywood
Length: 5.6 m (18'5")
Beam: 2.48 m (8'2")
Draft: 0.25/0.90 m (10"/35")
Displacement: 570 kg (1,260 lbs)
Mainsail: 9 m² (97 sq ft) Jib: 5 m² (54 sq ft)
Air draft: 5.7 m (18'8")
www.teamscarab.com.au
ASTUS 20.5 - Signed by VPLP!
This mini-racer is as fun to helm as it is practical and easy to set up. These qualities have already earned it a good reputation - 28 units built. Designed by VPLP (like the 16.5), the Astus 20.5 is particularly exciting in the Sport version, since it offers 24 m² (260 sq ft) of sail area upwind with a weight of only 400 kg (880 lbs). Something to have fun with, especially when you've got the gennaker out! Like the other models in the range, it adopts a system of telescopic link arms. The interior is compact, but still offers a mini saloon and a double berth. The highlights of the 20.5 for limited cruising: pivoting appendages and a large 16 m² (172 sq ft) sailing platform.
Test in MW171
Builder: Astus Boats
Length: 5.95 m (19'6")
Beam: 2.48 / 4.50 m (8'2" / 14'9") 
Light weight: 390 kg (860 lbs)
Draft: 0.25 m / 1.25 m (10" / 4'1")
Upwind sail area: 21 m² / 24 m² (226 / 258 sq ft)
Total sail area downwind: 34 m² / 42 m² (365 / 452 sq ft)
Gennaker: 20 m² / 26 m² (215 / 280 sq ft)
E category: C5/D7
Motor: 2 to 6 HP
Price: € 22,417 ex-tax (Leisure version) and € 25,642 ex-tax (Sport version)
www.astusboats.com
CORSAIR PULSE 600 - Radical and efficient
The Pulse 600 is the smallest of the Corsair trimarans, but is no less attractive! As the name suggests, this little rocket weighing less than 500 kilos (1,000 lbs) is above all, made for racing - a One Design class is being considered. Its three sharp and inverted bows give it a great look... a design as radical as it is efficient because on the water, ...
Subscribe
Subscribe to Multihulls World and get exclusive benefits.
Subscribe
Articles from the same story
What readers think
Post a comment