Technical
Match - Lithium or Lead-Carbon Batteries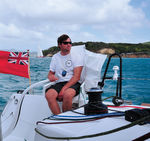 Brieuc Maisonneuve - Brieuc is a former owner of an industrial fabricators who has made the change to Class 40 ocean racing. He is the owner-skipper of a TS5 that he operates in sports charters. During the TS/Marsaudon meeting, we spent several days on board with him to try to understand his choice of batteries.
Addictive Sailing's specifications are those of a comfortable charter catamaran for 10 clients that will also compete in races as prestigious as the Transat Quebec-Saint Malo or the Route du Rhum. The catamaran must be as light as possible to optimize the charter payload (heating, paddleboards, crockery, etc...) and ready to spring into action in racing conditions. Brieuc explained his choices: «I prefer to lose 14 kg (30 lbs) by installing a 105 l/h (28 US gal/h) watermaker instead of the standard 65 l/h (17 US gal/h) and replacing the hull floors with carbon panels, which would enable us to save 34 kg (75 lbs). As far as energy management is concerned, the switch to lithium batteries was an obvious choice, both in terms of weight saving and flexibility of use. The shipyard went with the Dutch manufacturer Super B, which is less well known than the traditional players; these batteries may be a little less efficient, but they have the advantage of not requiring complex electronic management and can be replaced by AGM batteries without modification. The weight saving is significant: we have replaced two 220 Ah AGM batteries weighing 67 kg (148 lbs) each with two 160 Ah LiFePO4 batteries weighing only 27 kg (60 lbs) each. The weight saving is 80 kg (176 lbs) on the whole installation and the physical size of the batteries is about 25% less, which allows the weights to be centered in the nacelle under the mast strut. The extra cost is high (about € 8,000), but the batteries are guaranteed for 2,000 cycles and can easily go through 5,000 cycles before there is any noticeable drop in performance. A digital controller at the chart table monitors the charge level and the 900 W of solar panels mean that the engines are not needed as soon as there is enough sunlight, even with an intensive use of the watermaker and autopilot. 100 €/kg (45 €/lb) saved is expensive, but not disproportionate when compared to other options, and it allows for a more flexible on-board energy management."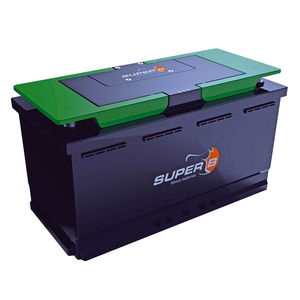 "Lithium-Ion batteries are guaranteed to last for 2,000 cycles and the weight advantage is very important"
---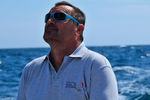 Emmanuel Pironneau - An all-round sailor and multihull specialist, Emmanuel has been skipper of three F40 VPLP trimarans. Today, he owns a catamaran, a Freydis 46, on which he is currently finishing a refit.
«I defend my decision to equip my Freydis 46 with lead batteries in 2020. The bottom line for all fast catamarans is all about trimming weight, which may seem surprising for a Formula 40 enthusiast, but there is a standard lead battery and also a lead... carbon battery. They are not the same and it's the latter one that I have ...
Subscribe
Subscribe to Multihulls World and get exclusive benefits.
Subscribe
What readers think
Post a comment