Multihull
Moxie For Ever ! - Or the story of an eternal competitor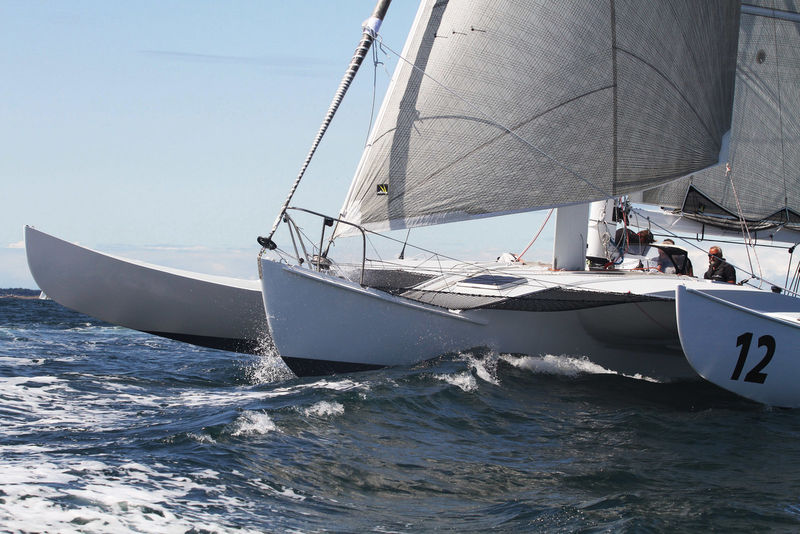 Equipped with a rotating mast some six feet taller, Moxie is much more powerful than she was... 42 years ago!
Eternal youth
Phil Weld was originally from Boston, studied at Harvard, and was told by his first boss at the Chicago Daily News: "You'll like journalism, it means you can stick your nose in other people's business!" From editor-in-chief of the European edition of the New York Herald Tribune, to managing editor, to owning a group of newspapers, Phil was a spontaneous, down-to-earth and energetic man. He developed qualities of empathy and indignation that made him an advocate for lost causes: "A good editorial writer has to find a reason to be mad once a day," he used to say. From Newport to Gloucester, the monohull reigns supreme – this was how Phil appeared as a non-conformist with his first sport catamarans. In the early 1970s, the sailor was revealing his intentions in competition: "Do you know of any sporting discipline other than sailing where a man of my age (he was 55) could appear on the sports pages?" Phil participated in the 1972 Ostar aboard Trumpeter, a Derek Kelsall design. The skipper then asked Dick Newick to design a multihull capable of winning the 1976 edition; this was to be the 60-foot Gulfstreamer. Phil gained considerable experience in the space of a few years, but capsized during his delivery trip to England.
---
Moxie my love!
Philippe Echelle reflects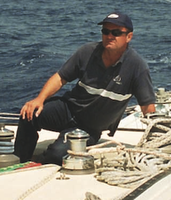 A phone call from Multihulls World in the spring of 2003 went something like: "Philippe, we've committed to Moxie and VSD in the Ruta de la Sal race and we thought it would be good for the journalist who's so enthusiastic about these old glories to come aboard...". So, some twelve hundred and fifty miles in the car later, overwhelmed, I found a trimaran like new, just as Phil Weld had left her. The legendary silhouette grabbed me, purer than Rogue Wave's, her proportions were miraculous. The grace of the half-wing front arm reveals a complex fuselage-architecture, as strong as it is light. The aft arm conceals its powerful musculature by crossing the central hull, with great finesse. The ultra-tight lines of the under water hull, a legacy of the architect's kayaking past, are expressed by rounded V-shaped sections. This design guarantees an exceptionally smooth passage through the sea and explains Moxie's dexterity upwind (among other points of sail!). On the starting line of the Denia-Ibiza race, Phil Weld's wheel was in my hands, the crew was grinding the original winches, everything was in its rightful place aboard this Ostar-winning trimaran. From the very first boatlengths, something instantaneous was exchanged between these 50 feet of molded wood and me. With nearly 300 boats of all shapes and sizes in front of us, under mainsail and genoa, the trimaran started off immediately in just a few knots of breeze. By nightfall, Moxie was in the lead! I was later to have several opportuni- ties to sail on Moxie - Craig even entrusted me with his ...
Subscribe
Subscribe to Multihulls World and get exclusive benefits.
Subscribe
What readers think
Post a comment