Multihull
Multihull basics : Flybridge or not flybridge ?
Is this a fashion accessory inherited from motorboating? The flybridge, something Lagoon have been offering since 2004 on catamarans of less than 50 feet, seems to be gaining a little more ground every year. We wanted to find out a bit more about the advantages of the different deck plan formulas and take stock of market trends. Our first observation is that the flybridge is becoming more apparent among "smaller" catamarans: architects who had for a long time refused, for aesthetic and practical reasons, to incorporate a flybridge on cats below 45 feet now start from 40-footers (for example, the Bali Catspace). So, our topic now concerns catamarans from 12 to 16 meters (40 to 55 feet), no less! In this category, most manufacturers of performance catamarans (Outremer, Catana, TS and the all-new Excess brand) keep a helm station in the cockpit (and/or twin tillers or twin wheel steering). Their arguments: less weight aloft, and reduced windage. For these models, a flybridge doesn't seem to be the best option. Other more comfort-oriented catamarans are opting for a flybridge, models like the recent Balis and Leopards. The result is a perfect view over the water from the helm station, but above all, in addition to the cockpit and trampolines (or the rigid foredeck), a third outdoor living space, most often referred to as a sundeck. A few builders, such as Fountaine Pajot have created a compromise which has seen designers coming up with ideas for the optimization and fluidity of movement on deck: aboard the Astrea 42, the helm station is raised, of course, but it remains in direct connection with the cockpit. And there's a large sunbathing area.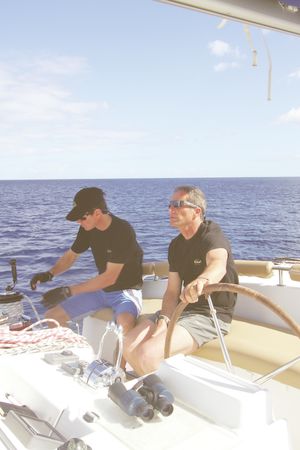 The next Outremer 55, meanwhile, will have two moveable steering wheels for a high or low position – the latter being better protected. This formula already being familiar at Balance Catamarans, with a single helm station. Some models are available in both versions – such as Lagoon 52 and the Nautitech 46 Open. This was also the case for the latest vintages of the famous Lagoon 450.
The characteristics make it possible to fully appreciate the differences between the two deck plans. First of all, the weight. A flybridge, depending on whether it was designed from the outset (Lagoon) or aftermarket (Nautitech), is 200 to 700 kilos (450 to 1,500 lbs) heavier. And not very well placed... It also means a higher boom - reduced sail area (by 5 to 15%) and potentially some high-flying acrobatics when it comes to stowing sails. Finally, they require a bigger budget - $ 10,000 to $ 20,000 more, before tax. On the other hand, the flybridge obviously offers, in addition to the advantages mentioned above, a new living space.
So, which one to choose? Couples and performance addicts are more likely to remain faithful to a traditional deck layout, while larger crews, epicureans and... charter companies will vote for the flybridge. 
Traditional deck layout - Like this TS5, performance catamarans don't give in ...
Subscribe
Subscribe to Multihulls World and get exclusive benefits.
Subscribe
Articles from the same story
What readers think
Post a comment