charter
Original, Exceptional or Traditional: your next catamaran destination
When we charter a multihull, it's usually to head for the sun... The Med in summer, Caribbean, Asia, Pacific throughout the rest of the year. How do you choose your destination? Start by nailing down your dates: Christmas, February, Easter? As a rule of thumb, you should try and avoid the rainy seasons. For example, Christmas in the Caribbean is perfect, but it's better to avoid Polynesia...
The second point to weigh up is to make a decision (as honestly as possible) regarding your sailing prowess. Sailing in the Virgin Islands and leaving Martinique for Los Roquès is one thing, sailing around the Polynesian atolls is another... Some basic navigational skills and a good feel for the water will get you by in the Grenadines, the BVI, the Bahamas, the Seychelles or even the interior of the Polynesian atolls. However, if you decide to head "off the beaten track" you really need good sailing experience (or a skipper)
Finally, you won't sail in the same way with a family crew as you will with a group of serious sailing friends. In the first instance, you should look for short passages with regular beach stops where the snorkeling is good and the access is easy. With sailing friends there's nothing like a good night sail, sporty passages and moorings where you can party hard!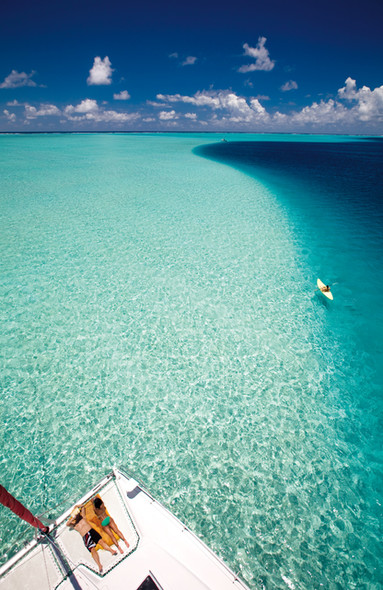 "Traditional Destinations", or how to pick a location that's a guaranteed winner.
If charter companies have been setting up shop in various locations for the last forty years, then it must mean that those destinations are worth visiting. The Virgin Islands, Greece, The Grenadines or the Bahamas are amongst those destinations that all sunshine cruisers should visit at least once in their life. You can't be disappointed by these "classic" destinations, which have great anchorages, brilliant beaches, fish-rich waters and all the amenities that any sailor looking for a good time needs. Those who have partied on Jost Van Dyke in the BVIs or savored spiny lobster on a beach in the Grenadines will know what I'm talking about. The advantage of these "classic" destinations is that there are a large number of charter companies in situ who can offer a wide range of boats and services. For example whether you're at Le Marin in Martinique or in the BVI, you will find just about every catamaran in production available for charter. Lagoon, Fountaine Pajot, Leopard, Nautitech, and even Outremer, Gemini or Neel. There's definitely something for everyone.



Among the destinations which will always press the right buttons, are:
Greece, a classic amongst classics; The British Virgin Islands, still as nice and so easy to discover; The Grenadines with their unique colors or the hundreds of Bahamian islands. But you shouldn't forget Guadeloupe and its dependencies, Corsica, the famous "beautiful island" and of course, the one ...
Subscribe
Subscribe to Multihulls World and get exclusive benefits.
Subscribe
What readers think
Post a comment