Technical
Safety when ocean cruising
Before taking the decision to leave, and sometimes even during their voyage, most skippers taking their family to the other side of the world ask themselves if they have the abilities, and if they are not taking foolhardy risks for their loved ones. And let's be clear about this, those people who don't ask themselves questions about safety when ocean cruising shouldn't really be afloat...
Risk is inherent in a voyage. It's a fact. But experience shows that dramatic accidents are extremely rare and almost always the result of a succession of unforeseeable events, and poor reactions by the crew. Hence the importance of leaving with a well-prepared boat and well-trained crew.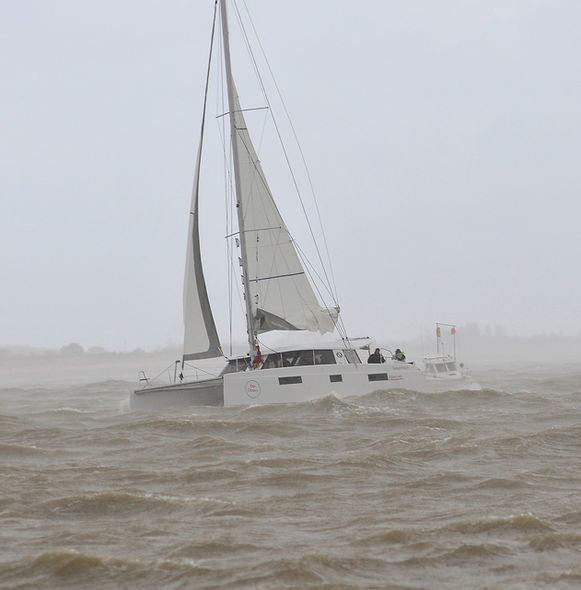 Safety – everything should be decided before leaving…
Here at the magazine, we have lost count of the number of families who had never sailed before, but set off on (and returned from) an Atlantic, Mediterranean or West Indian circuit with no problems, and thoroughly enjoyed their voyage. But to succeed, the important thing, whether you are starting from scratch or have a good knowledge of sailing, is to get suitable training for yourself and your crew. Because if there is only one person aboard who is capable of handling the boat, the slightest problem can have much more serious consequences...
This is why most cruising schools insist on training the whole crew, including the children. Thus everyone is capable of reacting in the various critical situations which can arise, such as the start of a fire, a (wo)man overboard, or quite simply to let the skipper rest after a hard night, if it's just a question of taking in a reef or anchoring when you arrive in the bay of your dreams... The idea here is to allow everyone to be self-sufficient, and as a minimum, be able to recover a man overboard, furl and hoist the sails, anchor, plot a course and of course, call for help.
There are several possibilities for training yourself to sail a cruising multihull. Firstly, you can call on the services of genuine cruising schools, which are equipped with catamarans. Ideally, you should choose one where you will be sailing on a boat similar to the one in your dreams. This will allow you to validate your choice, and to get your bearings more easily. There are then several possible options, from a weekend course to a full week, with several other trainees, or by having the boat to yourselves, and even, why not, for a transat... The aim is, depending on your starting level, to get you to the wonderful, much-envied status of 'skipper', and thus independence...
Another solution: you have already bought your boat, and now you have to get to know it. Whatever your sailing experience, setting off in a boat you are not familiar with is no picnic. You are therefore strongly advised to call on a professional skipper, who will be able to help you get the measure of your new boat, and will ...
Subscribe
Subscribe to Multihulls World and get exclusive benefits.
Subscribe
What readers think
Post a comment