charter
Setting out on a long trip, or how to fulfill your dream with a long-term charter.
Lorelei and Arnaud have dreamed about long catamaran trips. But here's the problem: they don't have the time or the money to live their dream. No time? No money? Maybe it's not that simple…
The story began with us meeting on a boat.  We both enjoy watersports: Arnaud was racing on board his Surprise and I quickly caught the bug for this exciting activity. 
For a long time, we have also shared the dream of going on an adventure on the water, and if possible by catamaran.  But given our circumstances and whichever way we look at, we're not in a position to buy the multihull of our dreams.  So we have to just accept that this dream will take a long time to come true...
For Arnaud, his job means that leaving for a year or even six months could be too risky at the current time. For Lorelei it would be difficult to take such a long break from her first job having recently finished her studies.
In January 2017 while walking along the Port du Marin in Martinique, Arnaud decided that six months would be too long but they could potentially leave for 3 months at the end of the year. It was decided!
As soon as we got back home we started preparing our plan: to spend 3 months discovering the chain of islands that form the West Indies. For info, it was also the year that we were to get married, but we spent more time on our sailing project than on the wedding!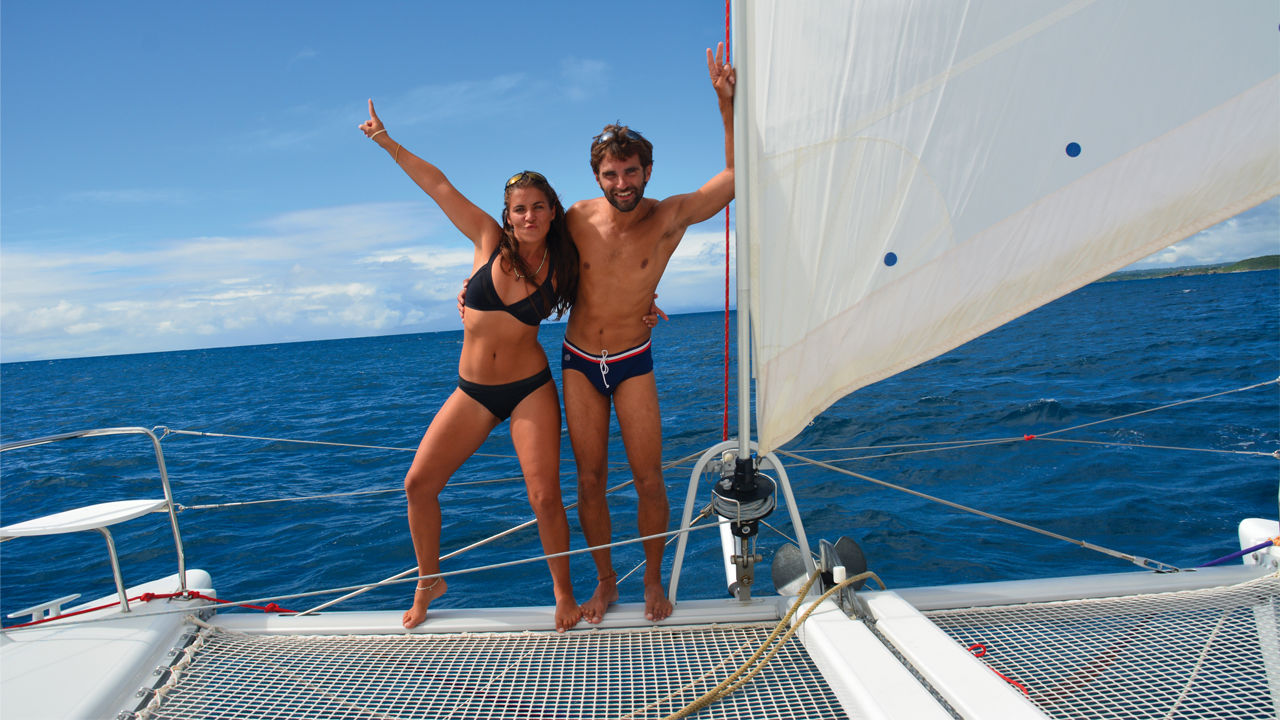 THE RESEARCH
As loyal Multihulls World readers over several years, we had seen articles about long-term charter, usually from 6 months to a year. Based on what we had read, we naively tried to work out what our costs would be. However, after contacting several charter companies, we found that the prices were twice as high as what we had budgeted. It looked as though our dreams were in tatters.
So we decided to contact the editor of Multihulls World and let him hear about our problem. He directed us towards some other agencies and encouraged us to keep looking. He also explained that the period when we wanted to go (December, January and February), is the high season, which put the price out of our range. It would be better to look at the April to June or October to December periods if we wanted to find some more reasonable prices.
As we would prefer to miss the autumn rather than the spring in Brittany, we decided to concentrate on the October to December period. One evening in the middle of winter, with the pressure cooker working away, we received an email. It was THE quote that we had been waiting for. We had found our boat!
OUR LITTLE GEM
After some negotiation over the exact dates and certain options (damage waiver, cancellation insurance), we finally settled for a 10 week period from early October to the end of December.
We were over the moon! We were finally going to live our dream. Only 8 months to wait before we would set foot on Harmony, our future catamaran! This gave us the time to sort out any administrative questions (passport, Marine Radio Course…), work on the ...
Subscribe
Subscribe to Multihulls World and get exclusive benefits.
Subscribe
What readers think
Post a comment