Technical
The basics of a successful charter : And what if this year, you went on a catamaran vacation?
Is it really possible to set off aboard a boat?
Yes...it really is possible to set off aboard a boat on the other side of the world, even if you are not a professional skipper... Because although good nautical skills are required to charter and sail a 15-metre catamaran safely in certain hard-to-get-to areas, this same catamaran can also be chartered in areas suitable for novice or near novice sailors with no difficulty at all. It is often for this reason that the charter companies have set up in these sailing paradises. And above all, all the charter companies offer an absolutely magic service: skippered charter. An extraordinary way of at the same time discovering sailing (if you don't know anything), and, above all, enjoying an area. The skippers are almost always locals who will enjoy showing you the gems of their island, their secret anchorages and their best schemes. In short, setting off with a skipper is often the best way of getting to the essentials and having a successful holiday. And for those who are afraid that this 'guest' will intrude into their privacy, you should know that his role is well-defined, but that very often the skipper becomes a friend of the family... This is in any case the experience of many of our readers (and members of the editorial team...). And there are even cases of readers who will not envisage setting off without their regular skipper for anything in the world, whatever the destination, even though their nautical skills are amply sufficient to sail the catamaran themselves...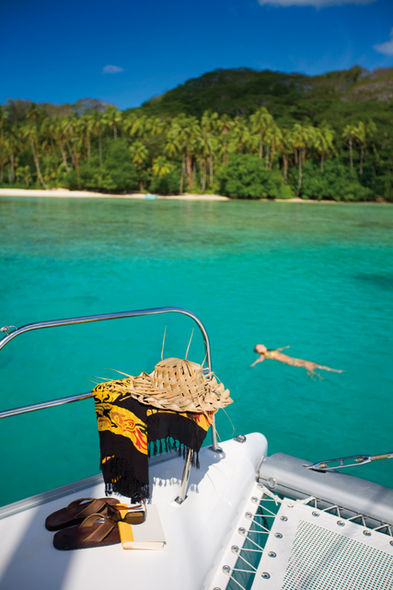 And for a first time?
So, you're going to try it? For a first experience on the other side of the world in a catamaran, the ideal is to go with a skipper, who will be able to advise you and give you the key points, so you can then experience your future cruises independently. Unless you already have a good grasp of the basics and are used to skippering the little family boat. Because one of the catamaran's definite advantages is that it is easy to manoeuvre, both under engine (there are 2 of them, which gives exceptional handling, even on the biggest cats), and under sail (they don't heel, and the fittings and deck plan are designed for easy, family use). And then there are a few destinations (see below) which are really ideal for beginners: the British Virgin Islands, the Grenadines and the Seychelles, for example, offer protected waters, with anchorages every 5 miles (on mooring buoys in the BVIs) and are easily accessible directly by air. No hazardous crossings, no long windward return legs, few or no risks of gales – here are three great destinations for a first trip on the other side of the world, in a catamaran, and in winter...

Cat or… trimaran, you must choose
Let's not be sectarian... For your next cruise you have the choice of a catamaran...or a trimaran! So although in ...
Subscribe
Subscribe to Multihulls World and get exclusive benefits.
Subscribe
What readers think
Post a comment