charter
To each his (or her) cat, to each his (or her) vacation!
Which boat for which holiday?
You can easily understand that the right choice of boat is essential for a successful vacation. Because the multihull you are going to use for a week or two (or even more) will be your home, your means of transport, your leisure base and your lounge, for enjoying the evenings...
In the charter fleets today, we find an abundant offer, ranging from sporty cats to ultra-comfortable yachts, via ocean cruising trimarans. Boats from 16 to 144 feet, offering performance worthy of racing boats or the comfort of a luxury villa.
So how do you choose, and be sure of not making a mistake? Sport multihulls allow you to have fun on raids, and are intended for a very specialized clientele looking for 'close' contact with nature. Catamarans or trimarans, the boats offered are spartan but fast, and above all offer excitement which is unknown in cruising boats. Can you imagine yourself on the trapeze of a Hobie, racing down the waves in the Indian Ocean, or ready to reach an uninhabited atoll in the middle of the Pacific? Another pleasure that these raids offer is that you sail as a flotilla, and racing is never far from the adventure. And when night falls, you land on a beach and relive the day's sailing with your new friends around the camp fire, before heading off to your tent.
But if you are looking for a little more comfort and privacy, you must turn towards cruising multihulls. From around thirty feet to...44 feet long, there is something for all tastes, and above all, all budgets.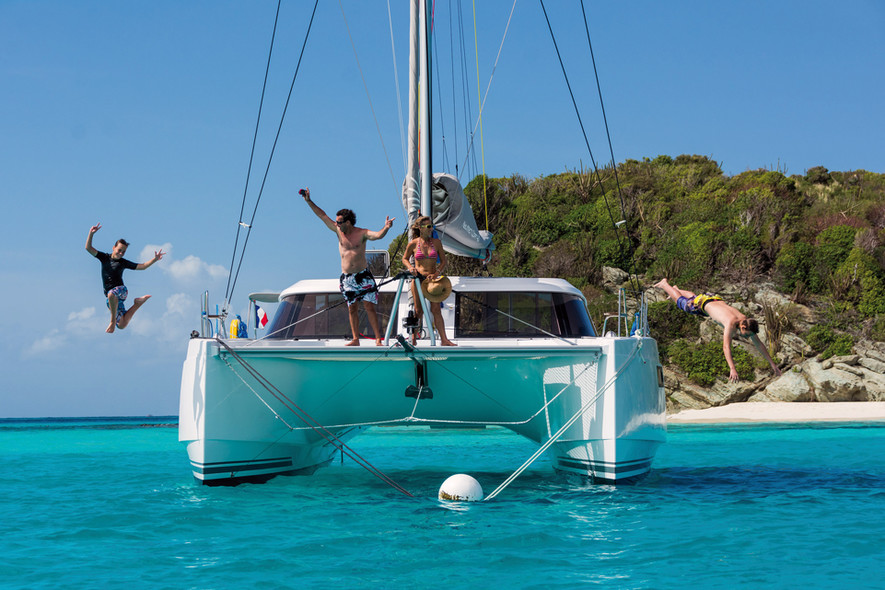 The catamaran, your best friend
Around twenty years ago, the majority of boats to be found in the charter fleets were monohulls. But faced with the continually increasing demand from charter customers for convivial, easy to handle boats aboard which around ten people can live comfortably, the charter companies adapted. And today, catamarans are certainly in the majority in many fleets, and often the most numerous in the anchorages in the Tobago Cays or the BVI...
We have to say it – for charter, catamarans only offer advantages: with two hulls, the cockpit – sometimes even the forward and aft cockpits – the saloon and a possible flybridge, there is maximum privacy and the comfort for from 4 to 12 people (or more) is unique. In this configuration, you don't get on top of one another, and everyone can find a place to drink an aperitif or relax, depending on their wishes at that moment: a new and incredible situation aboard a boat... A catamaran's platform allows you to both enjoy the anchorage and be reassured whilst sailing – the boat doesn't heel, and the stability is comforting for crew who haven't quite got their sea legs. And in the West Indies, the Seychelles, Polynesia or even Asia, there are no problems with marina berths: every evening you are in a perfect anchorage!
In the catamaran family, we find some very comfortable ...
Subscribe
Subscribe to Multihulls World and get exclusive benefits.
Subscribe
What readers think
Post a comment