Technical
New or secondhand? And why not go buy under management, or how about a cat coming out of a charter fleet?
Published on 21 june 2017 at 0h00
Lagrado: a Lagoon 400, always a sure bet!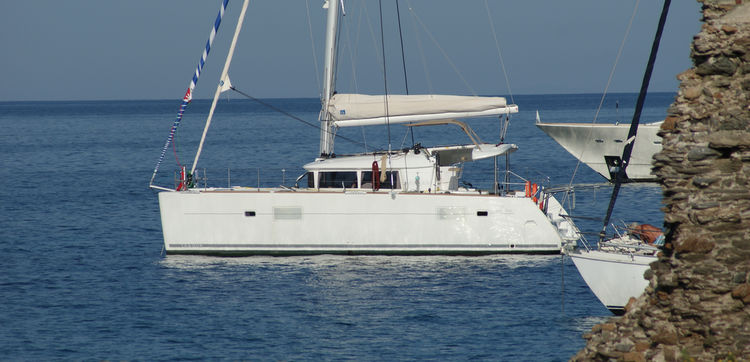 Let's go straight to the heart of the matter! Arriving at the boat show, we discover the catamaran on the boat ramp slipway, in pride of place at the show! It was a clever idea to display this catamaran like this during the show, and to allow the public to view like this! In the company of Romain Villeneau and Odon van Gaver, we carry out a detailed evaluation of every areas of the boat. Floorboards up, access to the bilges, valves, technical circuits is all possible; Followed by motors, helm linkages, tanks, interior fittings, and finally deck, cockpit, mast, rigging and anchoring gear. The second stage focuses on the exterior, the appearance of topsides, hulls, rudders and saildrives.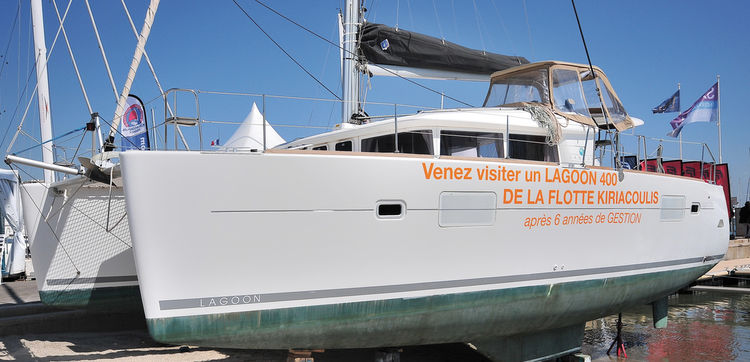 General overview: a nice surprise! 
The first impression is clearly positive for this 5½ year-old boat; Especially as Kiriacoulis played the game and hadn't done a complete cleaning, and made no special preparations, which would have made no sense for this demonstration. The exterior upholstery was changed because this is a real "consumable", very exposed to ultraviolet light, but no polishing of the hulls had been done. The non-slip surface on the decks, based on the diamond pattern from the original mold, is in good condition, as are hatches and hinges. Stainless steel pulpits, stanchions and guardwires show no rust or deformation, and the polycarbonate roof panels are impeccable (their flat surfaces are small in size and are not ...
Become a member
Become a Multihulls World Community Member for free and get exclusive benefits
Become a member
What readers think
Tell us your opinion