Crusing
The Atlantic Intracoastal Waterway
In the absolutely essential, must-have-on-board book, World Cruising Routes, in the chapter on Atlantic Routes from North America, our friend Jimmy Cornell says, "If adverse conditions persist… continue the voyage south inside the ICW, a solution taken every year by those who have either left the passage to the Caribbean too late or were not fortunate enough to meet the right conditions for this offshore passage." Well, yes. But, there are also many folks who actually want to sail along the ICW for its own sake.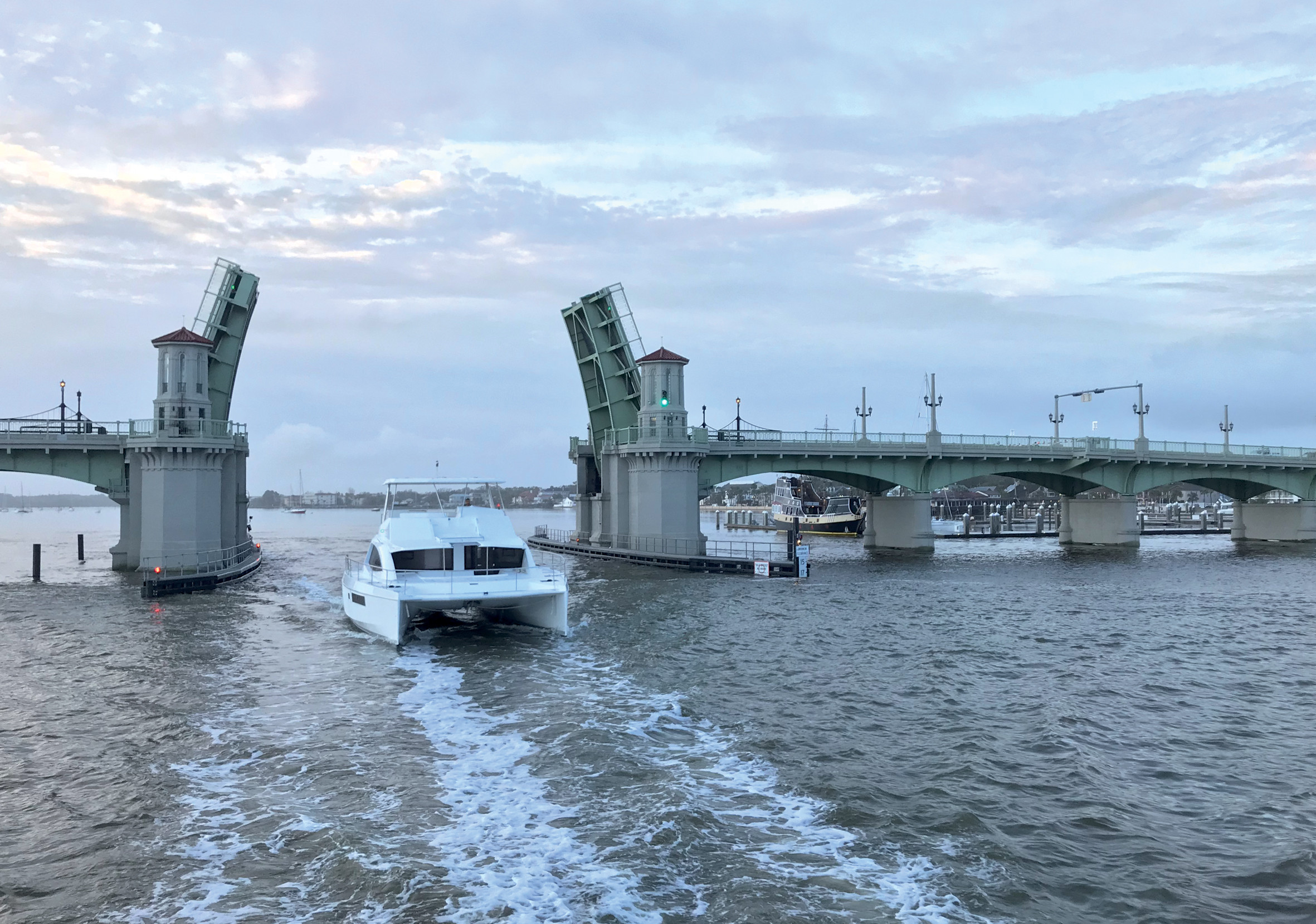 The importance of variety
One particular week back last summer I spent a couple of days with a view from the steering wheel of a brand new catamaran (I do love working for this magazine), then the next day the view was from the steering wheel of an ancient tractor moving big bales of hay, and the rest of the week the view was of the keyboard and screen at my desk. The point is that it's important to have variety. And this is just as true when cruising. We've crossed oceans, sailed into turquoise Polynesian lagoons, or picturesque, rock-strew Breton ports, and deserted Caribbean islands (ok, yes I made that last one up - I know there's no such thing), but what about "inland" cruising? Our first experience was on the Brittany canals when we were in our twenties: a two-week vacation corresponded roundly with gale force winds. We decided to go explore inland, and ended up having a great time.
Fast forward a few years and we're on our way to the Caribbean on our cat. There wasn't really much of plan - the theory being that without a plan, there's little to go wrong. But with hurricane season approaching, a plan had to be made. Keep steering west and head for Panama, and through to the big ocean? Stay south and keep below the mythical 12°N? Well, we did none of that. We went north to see what America is all about.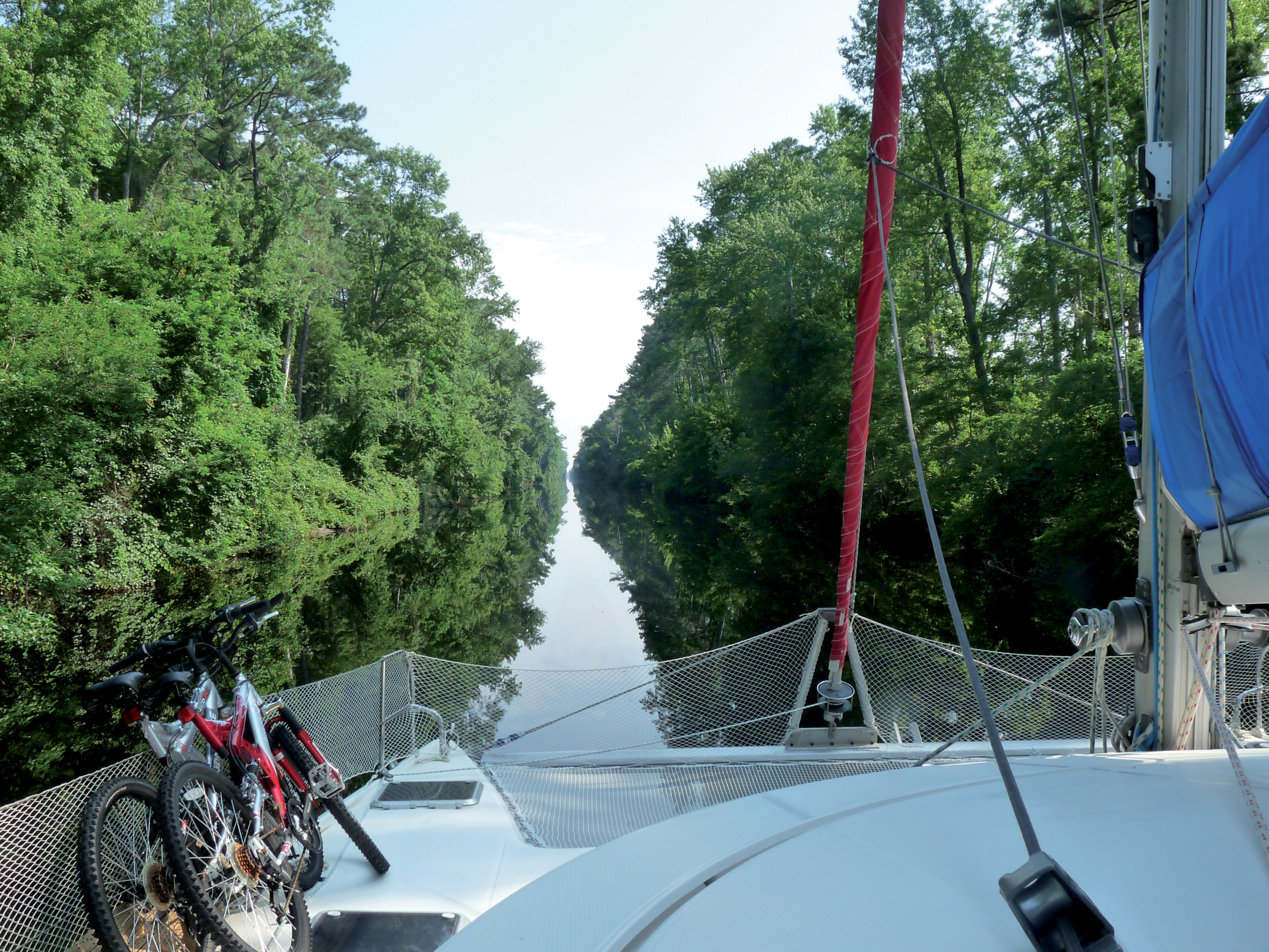 After some wonderful cruising in the Bahamas (amazing how many people said to us "the Bahamas is what I thought the Caribbean was going to be like"), we crossed from Grand Bahama and through Lake Worth Inlet. And there's the important thing - through an inlet. But an inlet to what?
The answer is the Atlantic Intracoastal Waterway, or ICW for short. To understand what this is all about, you first need to understand a little of the geography of America's eastern seaboard, and a bit about its history. From a geographical viewpoint, most of the southern half of the east coast, really from New Jersey all the way to Florida, is low-lying and a lot of the coastal areas are made up of barrier islands. In fact many of the famous capes such as Cape Fear, Cape Hatteras, Cape Lookout, are all actually barrier islands. And much of the area between the barrier islands and the "mainland" is navigable. A lot of the so-called inlets are simply the gaps between the barrier islands, and these lead to rivers, on which are found many of the major east coast cities. 
Historical background
As for the historical aspect, even in colonial times, the importance of these navigable bodies was well-understood from both a commercial and a military viewpoint. And in the late 1700s and early 1800s the newly independent nation sought to maximize the potential. In 1802, Treasury Secretary Albert Gallatin presented a $20 million plan for transport development which incorporated much of what is the present-day ICW. His plan was not approved in its entirety, but the War of 1812 highlighted its significance, and since 1824, the US Army Corps of Engineers has been tasked with improving and maintaining the waterways. And so the ICW we see today is a combination of natural rivers, man-made canals, and navigable bodies of water inside barrier islands. Some sections where barrier islands are narrow, it runs very close to the Atlantic Ocean (a quick glance to starboard when heading north, and there it is); other sections are canals or rivers and are many miles from the sea. Some parts, such as the man-made canals are narrow, and motoring is the only option; other areas include wide-open sounds where there is opportunity to sail. In reality, most of the time we motor-sailed, using the mainsail and one engine.
Although Gallatin's transport plan covered the area all the way north as far as Massachusetts (I'm not sure Long Island can really be classed as a barrier island!), for most boaters, the Intracoastal Waterway implies the 1,000 mile section from Norfolk, Virginia south as far as Miami in Florida.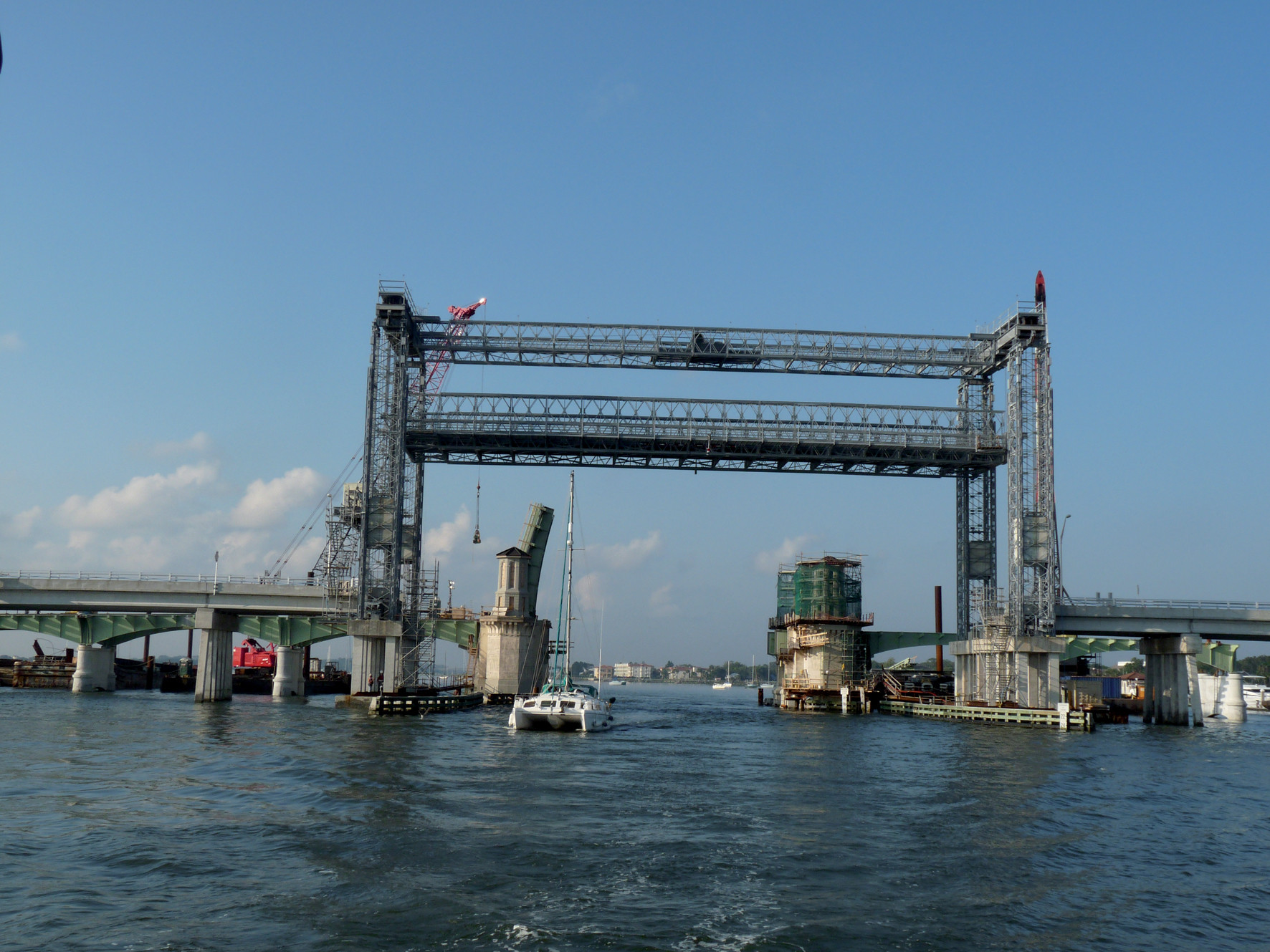 Units of measurement
It's actually 1,087 miles. But not our proper nautical miles that we're used to. No, they're land-lubber statute miles, which, rather than being based on something real like the circumference of the earth, are just a universally-accepted, random amount. The correct units need to be used though, because all the mile marker posts found along the waterway, and all the guide books, etc. work in sm as opposed to nm. Fortunately most modern marine electronics displays can be switched easily between nautical miles, statute miles and kilometers, so this shouldn't cause too much problem for boaters. Just remember to switch back to nm and knots when you go back to sea!
Now, on the subject of units of measurement, one of the hottest topics of discussion among ICW boaters is draft: both water and air draft. For many of our monohull sailing friends with their deep keels, depth can be a problem. There are areas where a 6-foot draft will cause you bother at low water, but for us on our multihulls, it's rarely a problem. I have been aground once on the ICW, but in my defense, the sounder was showing 4m (13 feet), and that was pretty accurate. Under the port hull, where the transducer is. To starboard, however, it was a different story…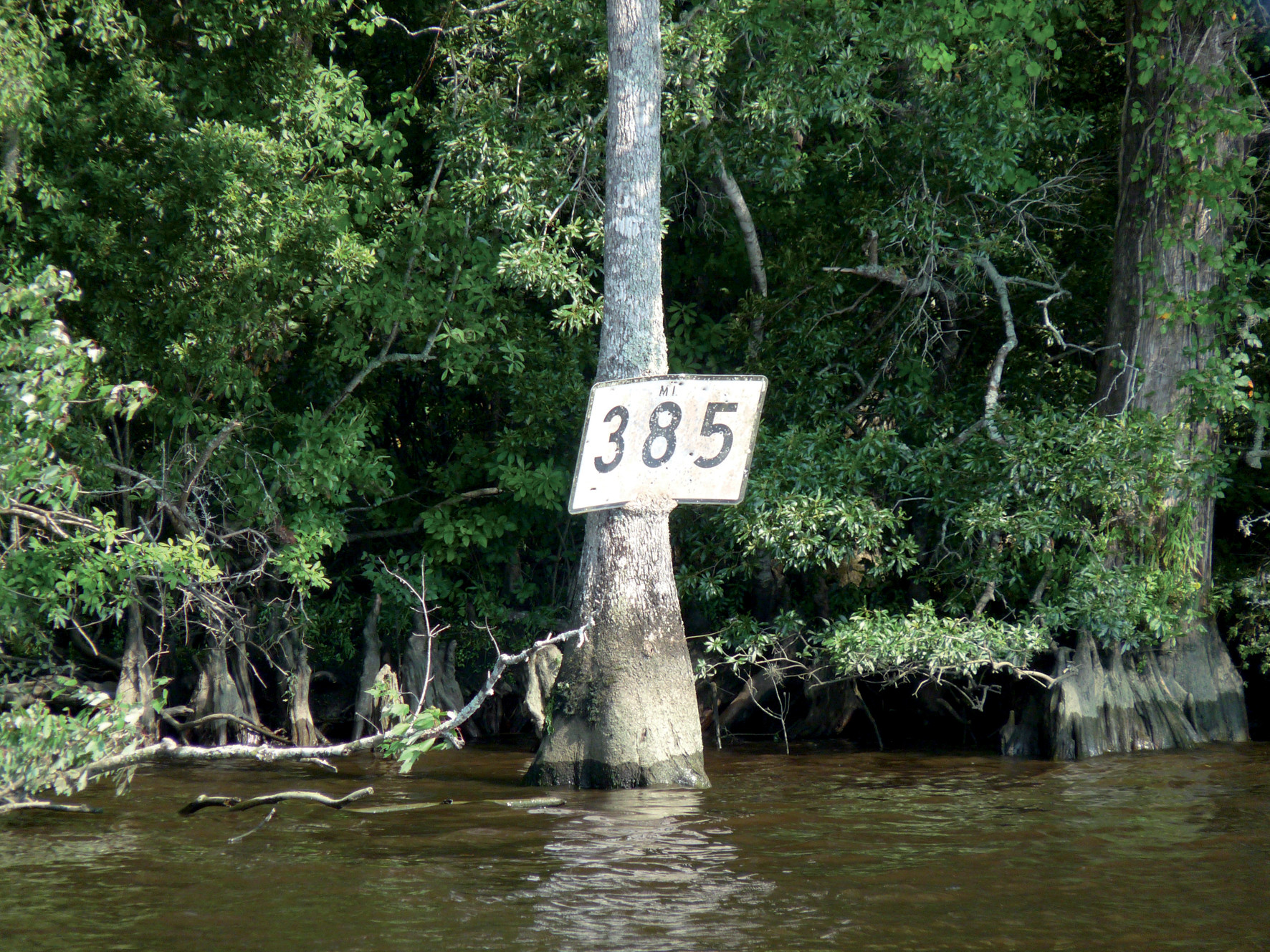 On our cats and tris, the much more significant issue is that of air draft. There are many, many bridges crossing the waterway along its entire length. A lot of these are opening bridges (whether bascule or swinging or lifting), but many are not. These "fixed" bridges have what is called a controlling height of 65 feet (19.8 meters). So this puts many of today's "bigger" cruising multihulls out of the picture. Or does it? Here in Europe, very little attention is paid to what a boat's air draft might actually be: at a recent boat show, I was on board a brand new cat, and asked the salesman what the air draft was. "It's about 20 meters", he replied. "About?" I asked. He looked in the brochure. The information wasn't there. He asked a more senior-looking colleague. "It's about 20 meters", he replied. But on the US East Coast this information is very relevant and leads to most boaters having a preoccupation with bridges.
On our 38' catamaran, the air draft is just over 61 feet (18.5m), including the VHF antenna, so we're comfortable for height. For most boats over 40' in length, there's going to be a question mark here. But there are options. The most basic of which is to plan a route which involves doing sections of the waterway and ducking in and out of the ICW at various inlets. This involves careful planning means a fair amount of "offshore" work, most notably having to sail around Cape Hatteras which has a lively reputation. Alternatively, unstep the mast, and carry it on deck or have it trucked to somewhere you can put it back up again. Or, go for a shorter mast. The US agent for one particular French-built 40' catamaran offers an ICW-friendly rig which is 60.5' as opposed to the standard 68'. But this optional "extra", if you can call it that, will set you back an additional $4,365. Otherwise, several boatyards on the East Coast have reportedly cut down multihull masts to make them ICW-compatible. This involves a lot of work, but may be worth considering for a second-hand boat which may need new standing rigging and sails anyway…
One other issue to bear in mind with air draft is overhead cables. Along the waterway, these are all higher than the bridges, so won't be a limiting factor, but there are one or two with a charted height of 67 feet (20.5 meters). Given the voltages some of these cables carry, caution may need to be exercised in certain weather conditions.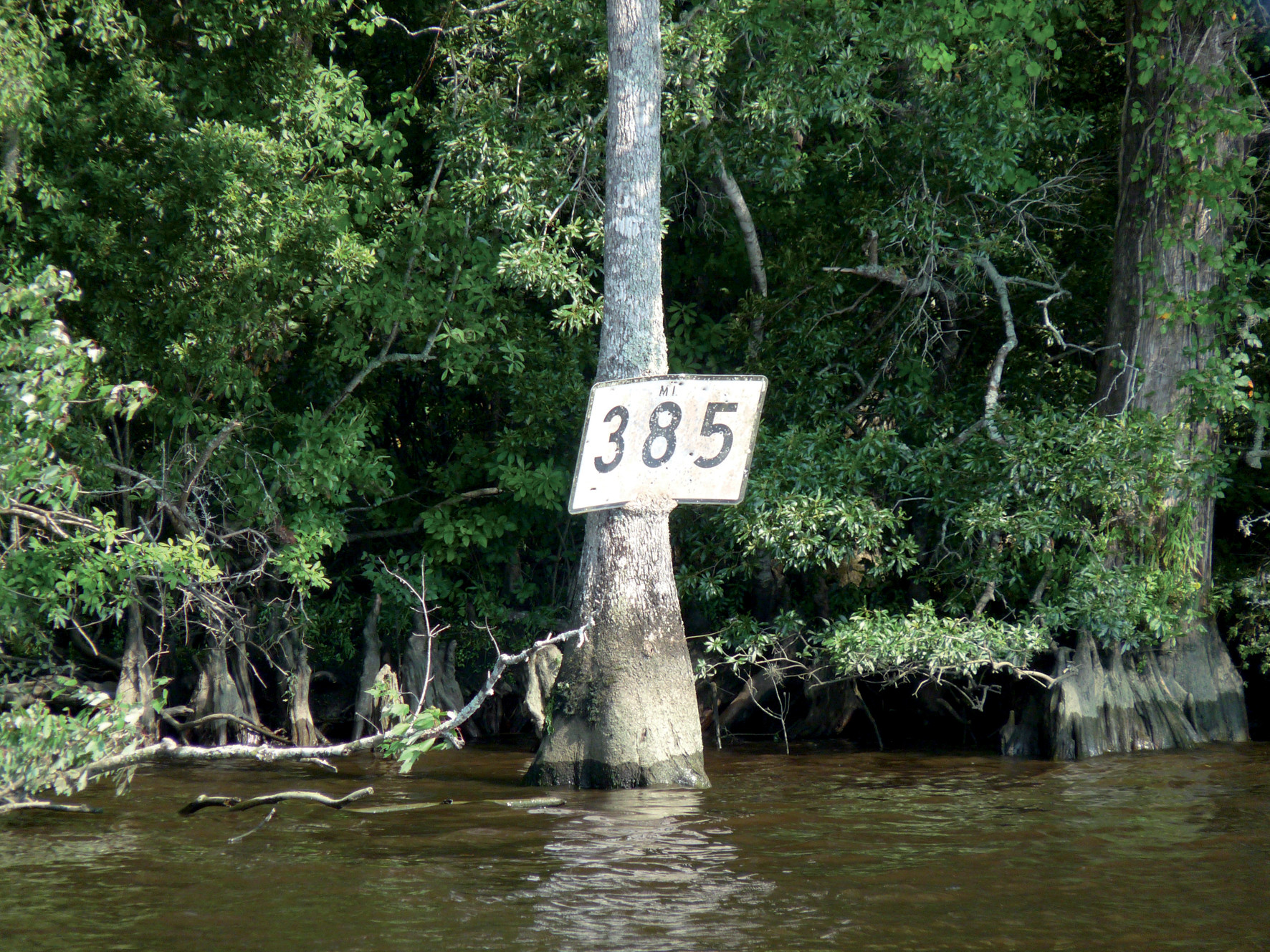 Routes
Our first time on the ICW we started in the spring, in Florida, making our way north (eventually going as far as Rhode Island that first summer). For many North Americans, their first trip is southbound in the fall on their way to the Bahamas or the West Indies and beyond. And southbound is the direction the mile-markers run, but for us, we entered via the Lake Worth Inlet right opposite the port of Palm Beach, and so were starting at just over Mile 1000 and making our way north to Mile Zero at Norfolk, Virginia, where the ICW gives into the vast Chesapeake Bay, a cruising ground in its own right.
In terms of route, there is little choice for the first two-thirds of the passage, with the waterway making a fairly straight line parallel to the coast through Florida, and then in begins to wander this way and that through Georgia. Often, we heard the suggestion we should skip Georgia and sail "on the outside" and re-join the waterway further up in South Carolina. But to do so would have meant missing out on so much that the ICW has to offer: there are a lot of salt-marsh areas, creeks and winding rivers with scenery and wildlife the blue water cruiser rarely gets to see. And some wonderful, historic waterfront cities, such as Savannah or Charleston.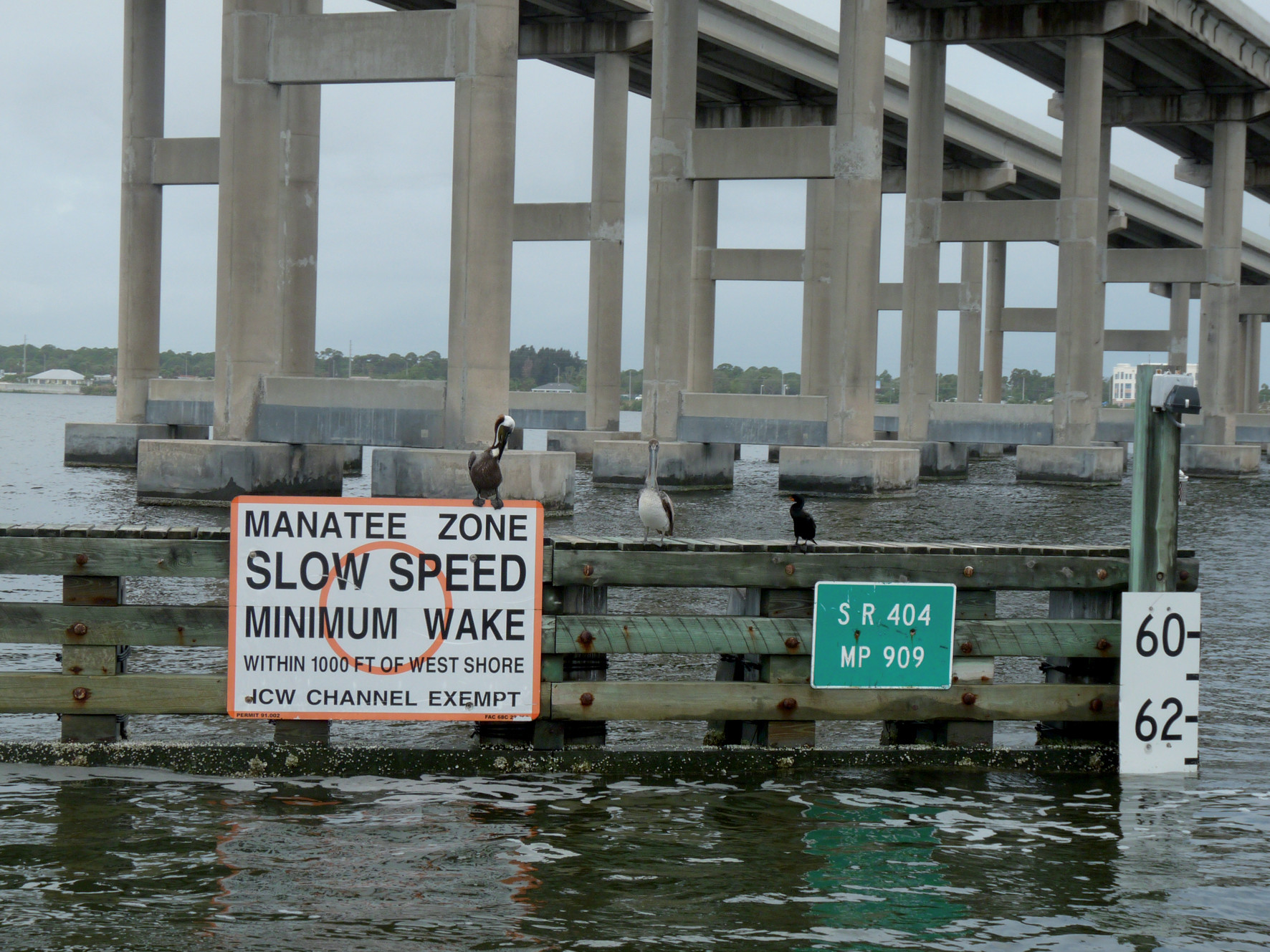 Moving further north, the waterway runs through the Carolinas and into Virginia, but in North Carolina you have the first real choice of routes, and need to choose between one of two options, which don't join up again until you're almost to Norfolk and out into the Chesapeake. The first choice is whether to go through Pamlico Sound, closer to the coast, or to go the Pungo River and then join the Alligator River, via the canal which joins the two. Thereafter you come out onto the Albemarle Sound and are faced with another choice for continuing northwards. The more commonly-taken option is the one closer to the ocean, up the North River and eventually onto the Albemarle and Chesapeake Canal, and joining the Elizabeth River which comes out at Norfolk. This first option is more popular as it is deeper (allegedly with minimums of 12 feet/4m), but for us this wasn't a concern, so we took the second option of heading up to Elizabeth City, where there is free docking (which was a new concept for us Europeans!), and then onto the Great Dismal Swamp Canal. This is nothing like it sounds, and is a very different part of the route, with overnight docking available alongside the visitor center halfway along the canal. One thing to be very aware of though, is overhanging trees: this section is narrow, and although it's best to stay in the center of the canal, at times you need to keep to one side or the other to avoid branches. Both of these routes see the only locks on the ICW, all of which are large and easy to negotiate.
Both routes re-connect at around Mile 7 on the Elizabeth River, and you are then very quickly coming through the large naval port of Norfolk. When I say large, Naval Station Norfolk is apparently the world's biggest naval base! We didn't hang around here, leaving the ICW and crossing the southern end of the Chesapeake Bay to Hampton, Virginia, and eventually carrying on northwards on the Chesapeake (including a side-trip of a couple of weeks up the Potomac River to Washington DC), and then on to New York and beyond.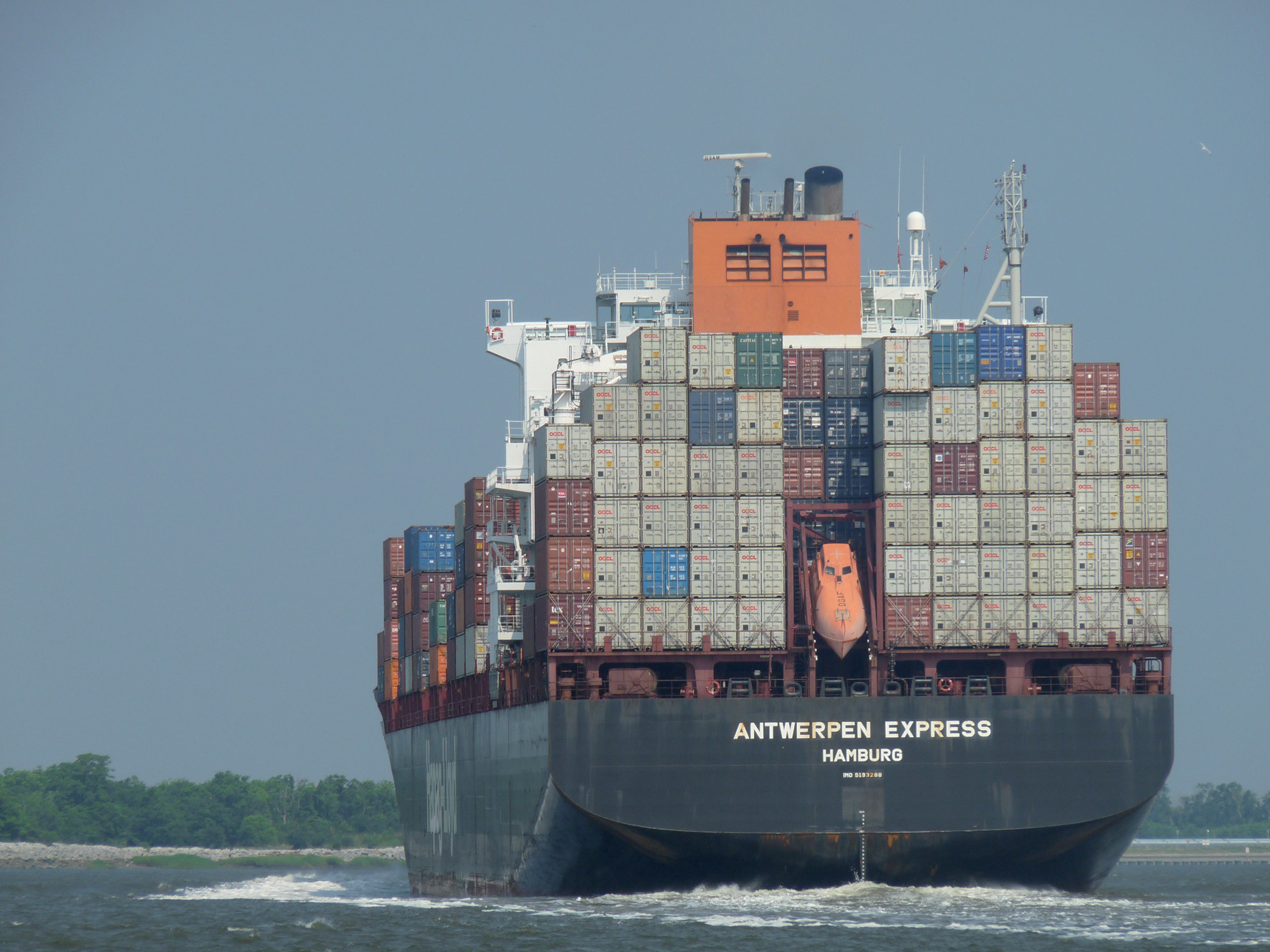 While there are lots of marinas and docks available along the whole length of the ICW, we prefer to anchor, and never had trouble finding a spot. There are some excellent books and cruising guides available to help with planning, and we often had anchorages to ourselves. It's important to keep up to date on what's happening with dredging, shoaling and bridges (which sometimes break down or are closed for maintenance) - this information is readily available online, and there are forums and social media groups full of knowledgeable people.
Waterfront property
Along the waterway you see many stunning waterfront homes, presumably with equally stunning price-tags. The fashionable thing is to have a nice big dock outside your house, with your nice big boat tied up to it. Many such properties have a veranda and outdoor area fully enclosed in mosquito netting, making me wonder whether I'd really want to live there if all that were necessary.
Wildlife
As I mentioned previously, there is a huge variety of wildlife that, as ocean-going sailors, we never normally get to see: many species of birds, from pelicans diving for fish, to ospreys which frequently make their nests on top of the navigational marker posts (sometimes even obscuring the marks) and herons wading in the muddy marshes at low water. Some of the barrier islands, notably Cumberland Island in Georgia, are home to herds of wilds horses, left behind either by 16th century Spanish or 18th century English newcomers. I was initially surprised to see dolphins swimming alongside on the waterway, having always thought of them as a uniquely sea-based creature, and two creatures we're not familiar with in Europe, alligators and manatees. The manatee is said to be the original "mermaid" that early explorers saw, and while they're quite cute, they don't quite fit with the folklore image. Their nickname of "sea-cow" is perhaps more appropriate. Care needs to be taken around them, as many, many of them bear scars caused by propellers - they cannot be expected to evolve to cope with our invasion of their waterway.
Traffic
Although originally developed for logistical purposes, both commercial and military, the bulk of the traffic on the waterway today is made up of pleasure craft. That said, close to many of the inlets, major port towns see calls from some of the largest ocean-going ships, and many places see lighter commercial traffic, especially tugs and tows, or tugs pushing barges. One of the benefits of our shallow-draft multihulls is that we have more room to keep clear of commercial traffic.
As a sailboat, we are one of the slower craft on the ICW so need to be prepared for being overtaken regularly. In narrow sections this can sometimes be interesting, particularly with the impressive wake which can be generated by a trawler yacht. In general, we found most other boaters to be very courteous and friendly when passing us, often hailing us on the VHF beforehand, and usually slowing right down to pass us with minimal wake. There were exceptions, however…
Conclusion
If you're in a rush to get to from the Caribbean to the Chesapeake or New England, then sail there directly. If, however, you've got the time, go check out the ICW. It'll make for a very different interlude in a blue water cruise. With enough time, you could even carry on up the Hudson and onto the Great Lakes, maybe taking in a bit of Canada on the way, and as far as Chicago. There, you'll need to get your mast down, but then you're on the waterways once more. This time, you'll return to the sea in the Gulf of Mexico and back to Florida via the Keys. And that's called The Great Loop. Maybe next time?
What readers think
Tell us your opinion