Multihull
The 'Multiyacht' in question
Let's start by explaining what is meant by the term 'Yacht', and let's try clear up the confusion due to the development and the many definitions, from the etymology to the current meaning. From the half-decked medieval craft to the modern vessel of over 180 meters and with six decks, it's actually not easy to find your way!
ROYAL DESCENT
From common memory, the term 'Jacht' was used in the 16th century – a Dutch word pronounced 'yak', which described a small, fast warship with which the Dutch hunted pirates. For this reason, the French employed the word to describe a small Dutch ship. In the 17th century, the Dutch gave King Charles II of England the gift of a ship: the 'Yacht' thus became highly prized by the English aristocracy. The term now referred to a ship used to transport important personalities and was defined for the first time in France in 1702, by Nicolas Aubin in his 'Dictionnaire de Marine', as a small, two-masted sailing boat with a shallow draft, dedicated to day sailing. Little by little, the meaning left the military framework or sovereign representation and evolved towards a leisure sailing vessel. During the 19th century, it took the form of a slim, light, fast vessel which rich enthusiasts maintained in certain ports, for day sailing, regattas, and pleasure outings.
At the end of the 19th century, the definition of a yacht encompassed a leisure sailing or motor boat, from a small half-decked boat to the luxurious royal yacht. At the beginning of the 20th century, the term luxury yacht referred to a yacht measuring 24 meters or more, extremely comfortable and with a professional crew. The biggest ones (SS Delphine in 1921 – 78 m) were already being considered as 'Superyachts'. As the years went by, the use of the term 'yacht' to refer to small leisure sailing or motor boats became less frequent, and was replaced simply by sailing or motor boat. The modern yacht is a boat with accommodation, used to leisure or sporting ends, with often a connotation of great luxury.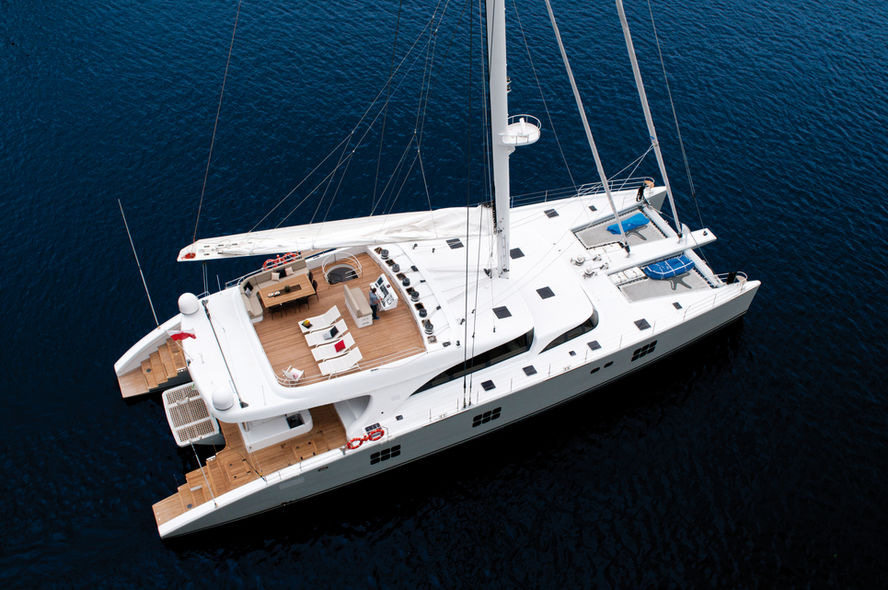 ON THE WAY TO GIANT SIZES
Around 1980, the considerable increase in the size and the number of yachts of over 24 meters – there are over 3,500 in the world – pushed the description of 'Superyacht' up to boats of over 50 meters and with generally three decks. 500 of these 'Superyachts' are now sailing, all over the world. At the beginning of the 21st century, the acceleration of production and giant sizes means that yachts of over 90 meters and with four or five decks are classified as 'Mega Yachts'. These vessels – there are only around a hundred in the world – become real floating palaces, with a large number of cabins. They have sports rooms and a platform for a helicopter, with sometimes a hangar to accommodate it. Certain yachts even have a basketball court, infinity pools, a hospital, a recording ...
Become a member
Become a Multihulls World Community Member for free and get exclusive benefits
Become a member
What readers think
Tell us your opinion