Blue water cruising
The TOP 20 most beautiful destinations to experience around the world
Published on 21 june 2017 at 0h00
1- Hyères – Ile de Porquerolles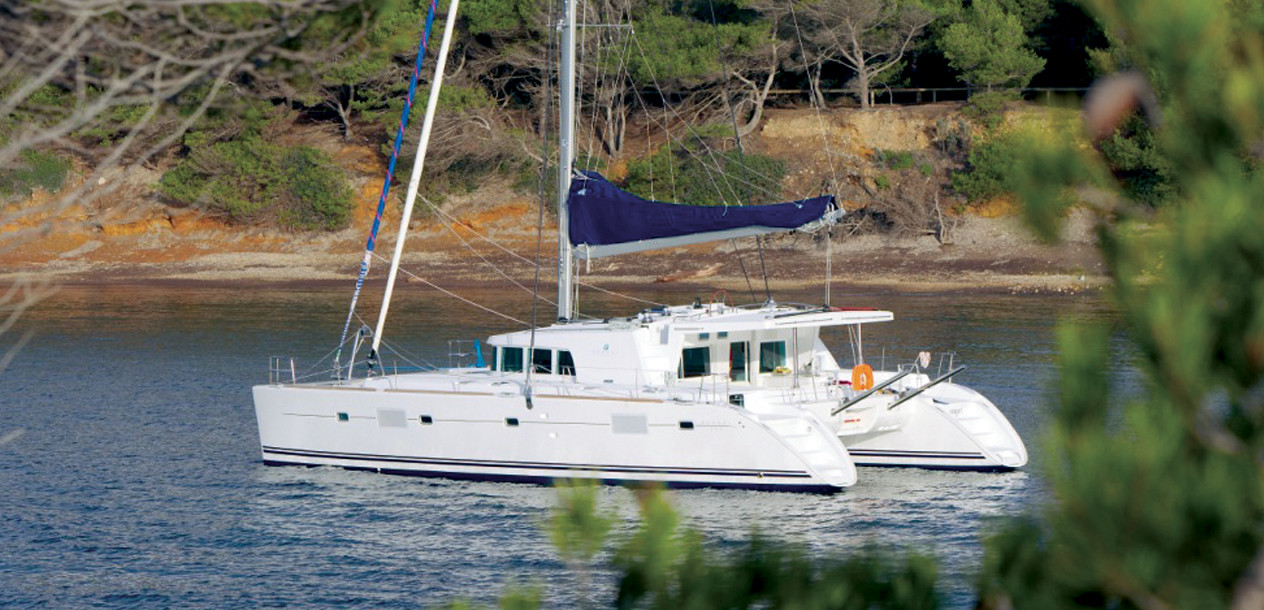 Position 43°00' N and 6°12' E
Imagine, you have just finished preparing your proud vessel and you are ready to leave.If your departure area is in the Mediterranean, we would like to bet that your first anchorage will be the Ile de Porquerolles.A green setting, a few miles from Hyères, often the first anchorage in a long series...
2 – Belle Ile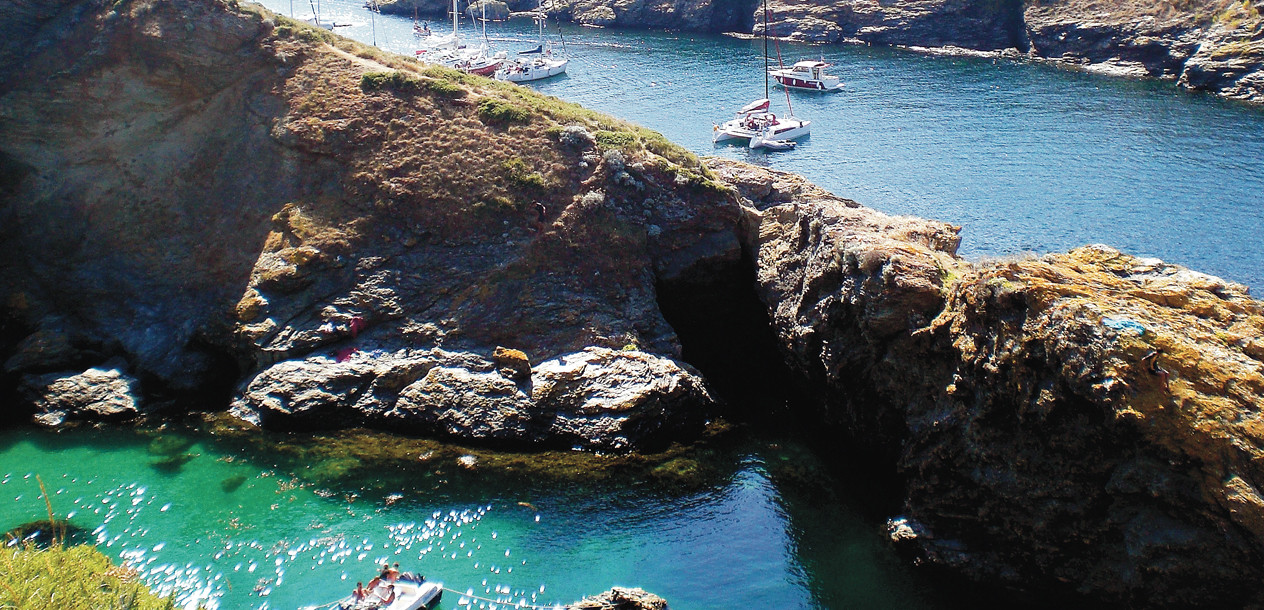 Position 47°33' N and 3°18' W
Are you leaving for your long-term cruise from the Atlantic coast of France?Well don't miss the stopover at the well-named Belle Ile.The most beautiful anchorage on this wild coast is hidden a few cables from the Pointe des Poulains, in the north of the island.Deep in the Ster Vraz cove, the Ster Wen fjord is a real paradise.
3- Casamance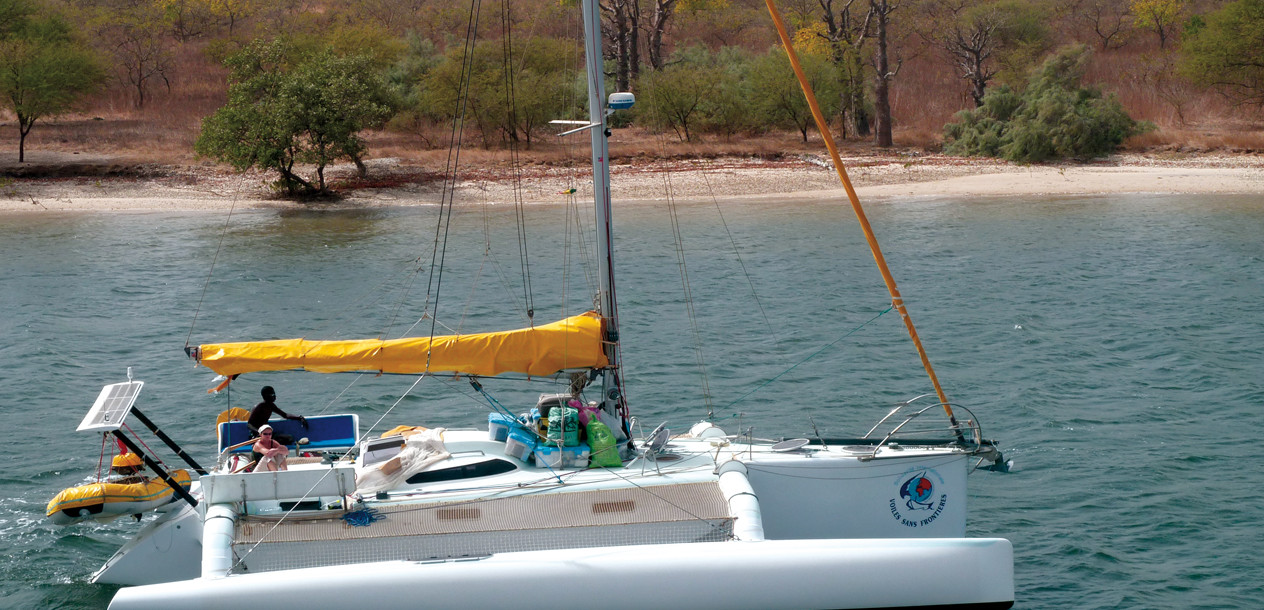 Position 12°30' N and 16°40' W
On the way to the enchanted islands of the Caribbean, there is often Africa and its wonders.At the magazine, we have a special affection for Senegal, and the Sine Saloum and Casamance deltas.A wonderful region, and inhabitants who can teach you a lot about welcoming and human warmth.The best, especially if you take advantage of your stopover to help the Voiles Sans Frontières association, which needs boats, to help the local populations.
4 - The Saints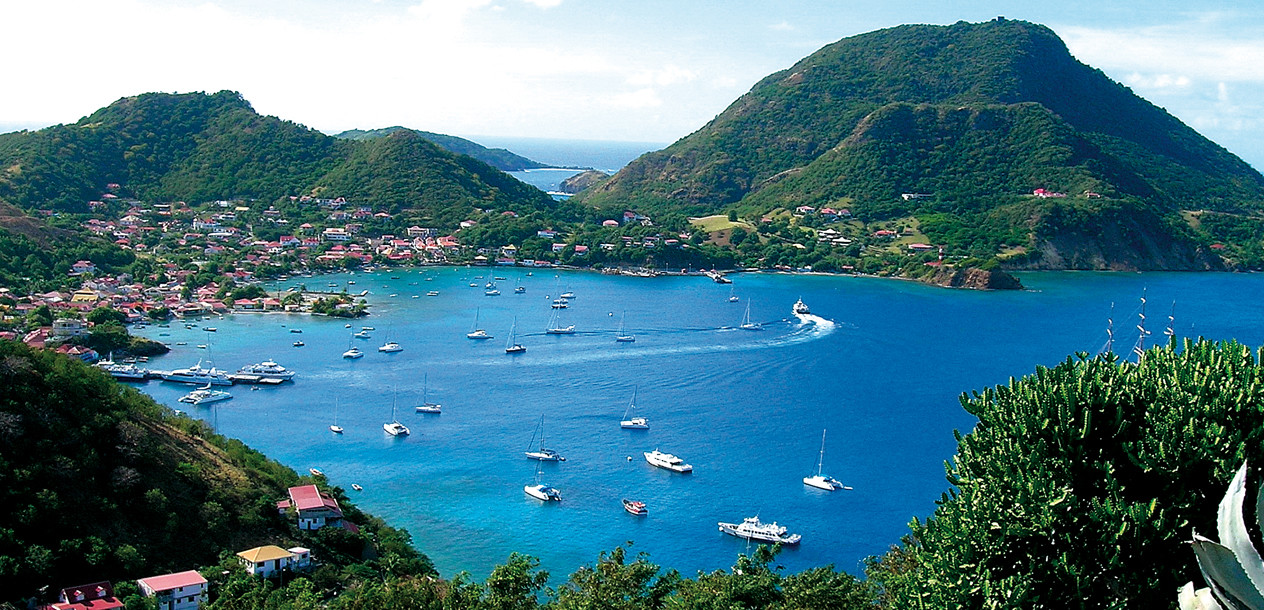 Position 15°86' N and 61°35' W
This time we're there:welcome to the West Indies and its delightful anchorages.Amongst our favourites, there is of course The Saints, one of the most beautiful in the world...
A pleasant anchorage, especially if you are lucky enough to go there out of season... Between the famous doctor's house/liner, its shaded beaches and the unique atmosphere in the village, the Saints is really an anchorage to be recommended, even if the incessant to and fro of the shuttles can quickly become tedious. 
5 - Los Testigos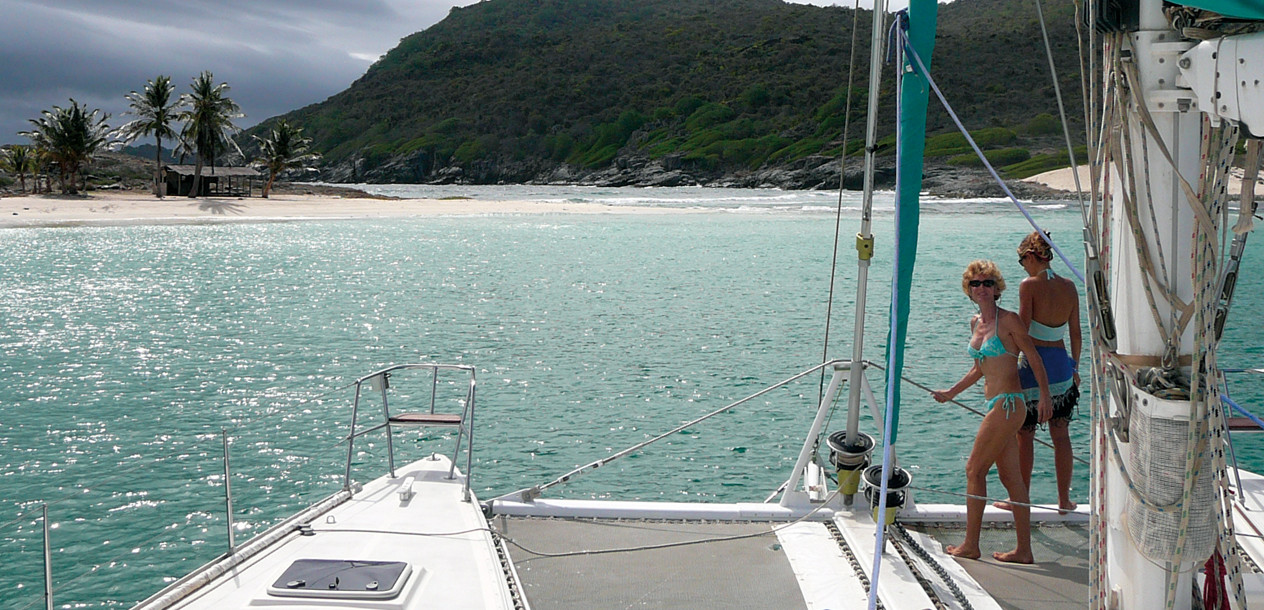 Position 11°22' N and 63°5' W
Los Testigos is an archipelago of a few mountainous desert islands.The scenery changes, cacti mingle with a dryer vegetation.The currents around the islands give the sea a wilder appearance.
Laure, aboard Simoust, explains her experience of this stopover which is like no other:
"Our night ashore in the hammocks brought us even closer to the inhabitants; we discovered their history, their habits, and we rediscovered ourselves!We took on their rhythm, we hunted to eat, everyone made an effort for communication, and we forgot appearances..."
6 - Tortuga, Playa Caldera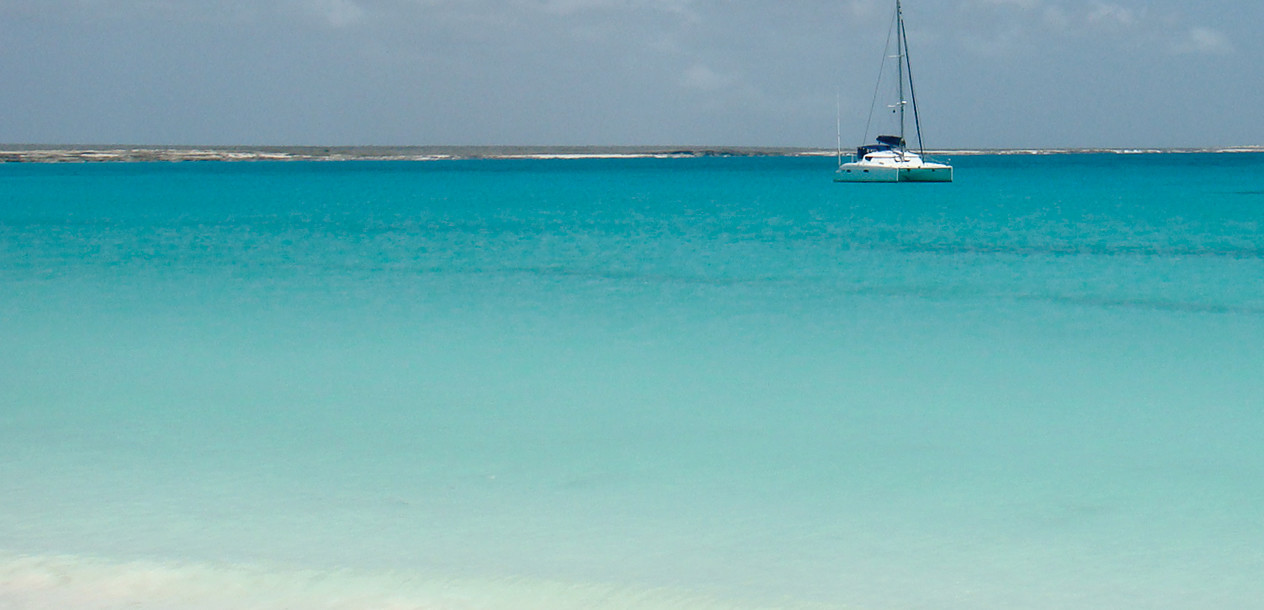 Position 20°0' N and 72°48' W
Playa Caldera on Tortuga is a wonderful spot; a half-moon shaped isthmus which separates a big lagoon from a long beach.The sand is white and as fine as flour.In places, it accumulates and forms dunes, overlooking water in shades of blue and green.
It was Sunday, and we were going to the restaurant.When we say restaurant, we actually mean Muncho's hut on the beach.Muncho is a fisherman; he supplies the crayfish and grills them.We came in numbers, with the crew of Moana, Laura and Alizé:eight adults, eight children.The youngsters played hide and seek between the huts.When they were too hot, they dived into the sky-blue sea.The parents sampled the crayfish - Muncho is a master of the art of preparing crustaceans.When they were too hot, they joined the children in the water.It was 1 pm.In France it was 7 pm.7 pm on Sunday is a difficult time for employees.It's the end of the weekend, and they start to feel a bit down.The next day, they have to get up, get ready, drive the children to school or to their nanny.Then it's time to face the traffic jams and a marathon day:meetings, e-mails, telephone calls...Come the evening, they have to hurry home to have a chance of giving the children a kiss before they go to bed.The next four days will be identical.
The memory of this Sunday at 7 pm leaves me dreaming.Through solidarity with my fellow workers, I stay in the water a bit longer.I dedicate this swim to them...
Marie and Hervé Nieutin, the authors of 'Histoires de Partir'.
7 - The Virgin Islands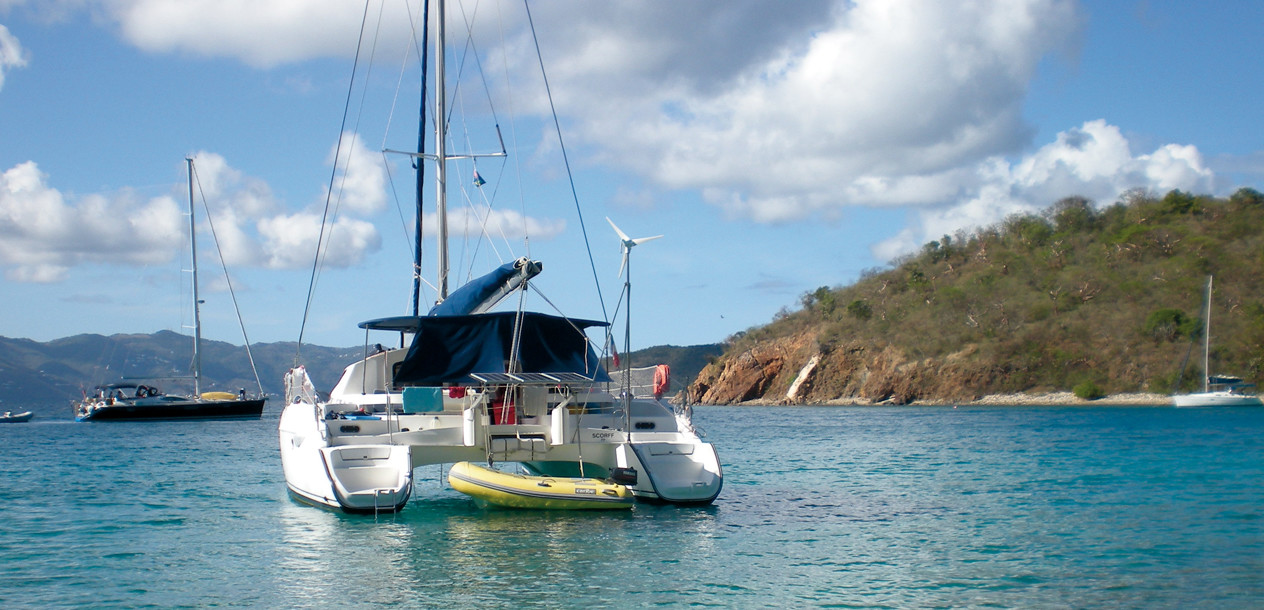 Position 18°26' N and 64°26' W
From Anageda to the Baths, there is a huge number of idyllic anchorages in the British Virgin Islands.During a classic Atlantic circuit, or a voyage around the West Indies, it is a destination not to be missed, even though the anchorages (here the one at Norman Island, sent by the Perrin family aboard 'Scorff') can be overcrowded.An exceptional place where it is good to relax for a few days.Different anchorages, dream beaches and always the possibility, if you search a little, of feeling like Robinson Crusoe... Our favourite however remains Anageda, as it is the wildest!
8 - The San Blas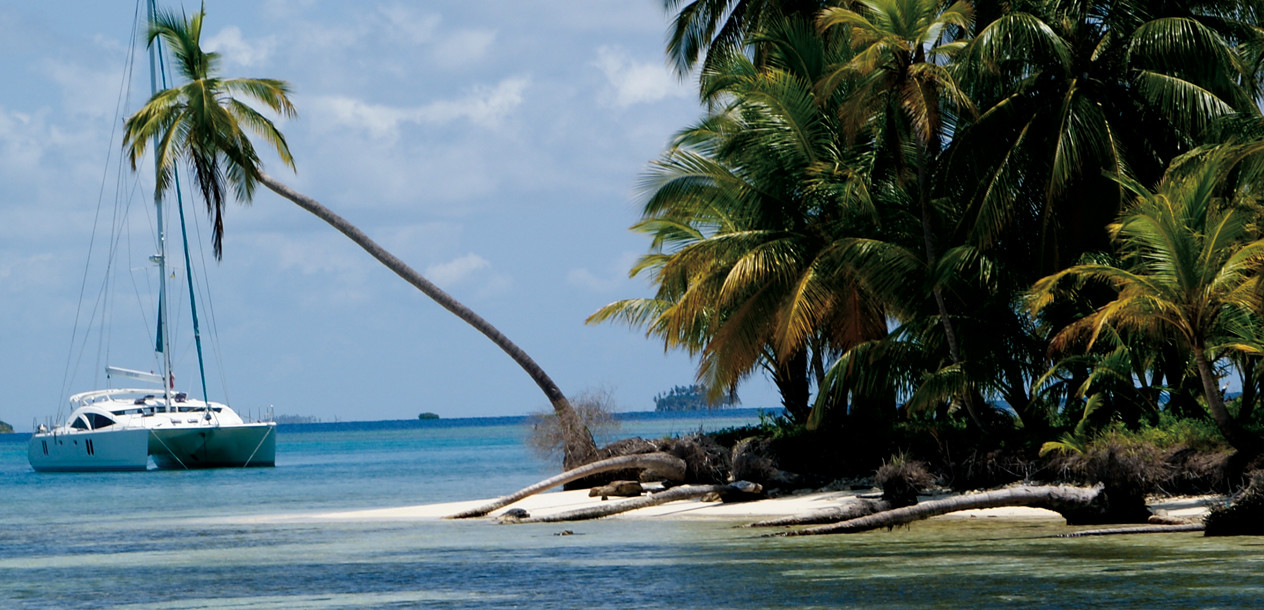 Position 9°57' N and 78°82' W
During an Atlantic circuit, Caroline and John stopped for long time in the San Blas, the archipelago of coral islands situated in the Caribbean Sea, along the coast of Panama, between the Panama Canal and Columbia. A paradise for sailing, and above all for diving, this archipelago is made up of 360 islands, and is still well away from the major tourist migrations... A magic place, to be discovered without delay!
9 - Los Roques – Cayo de Agua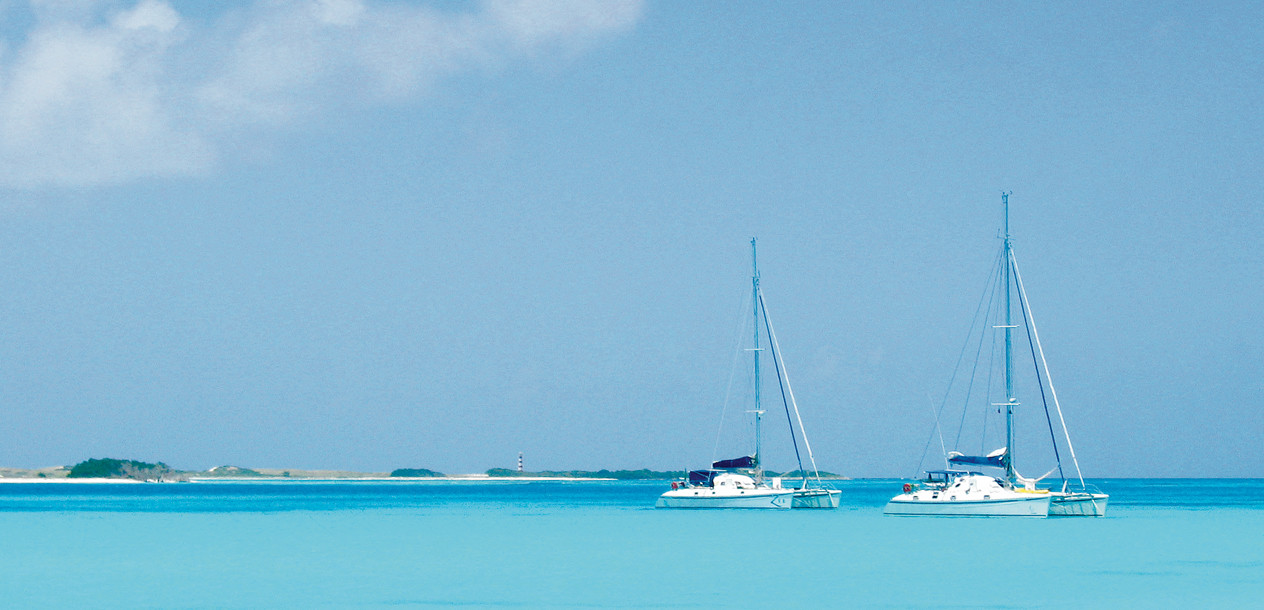 Position 11°50' N and 66°54' W
"A dune about ten metres high overlooked the anchorage; further on, a group of palm trees broke the monotony of an arid stretch of dry grass.We reached a tongue of immaculate sand; the light was blinding.We trampled on this white strip, on each side the sea broke, sometimes delicately, sometimes violently; at high tide, certain waves covered this virgin corridor briefly, the pale green joined bright white, the sand was like flour, it was the door to paradise..."
Geoffroy de Bouillane, author of 'Un temps pour un rêve'.
10 - Bahamas – Egg Island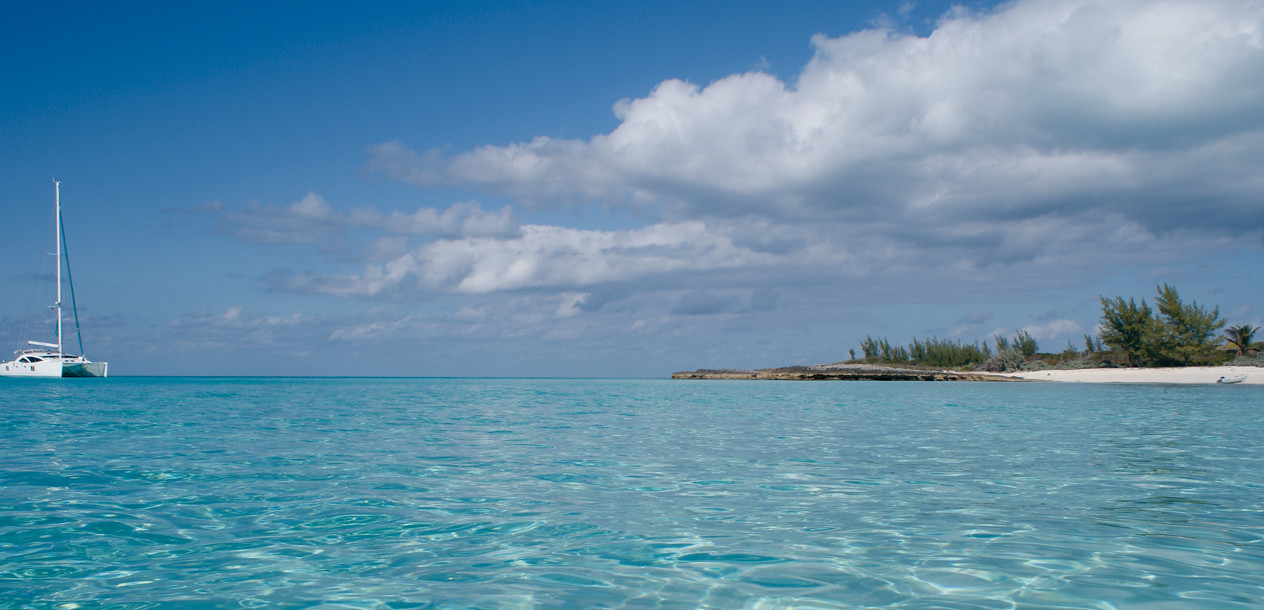 Position 25°29' N and 76°52' W
A multitude of small and large islands (it is claimed that there are more than 700) lying in crystal clear waters. A wonder, to be discovered without moderation.All those of you who have sailed this far north won't have regretted it.A magic area, and incredible underwater life, including "the most curious sharks we have ever met" (according to Marie and Charles).  
11 - World' end reef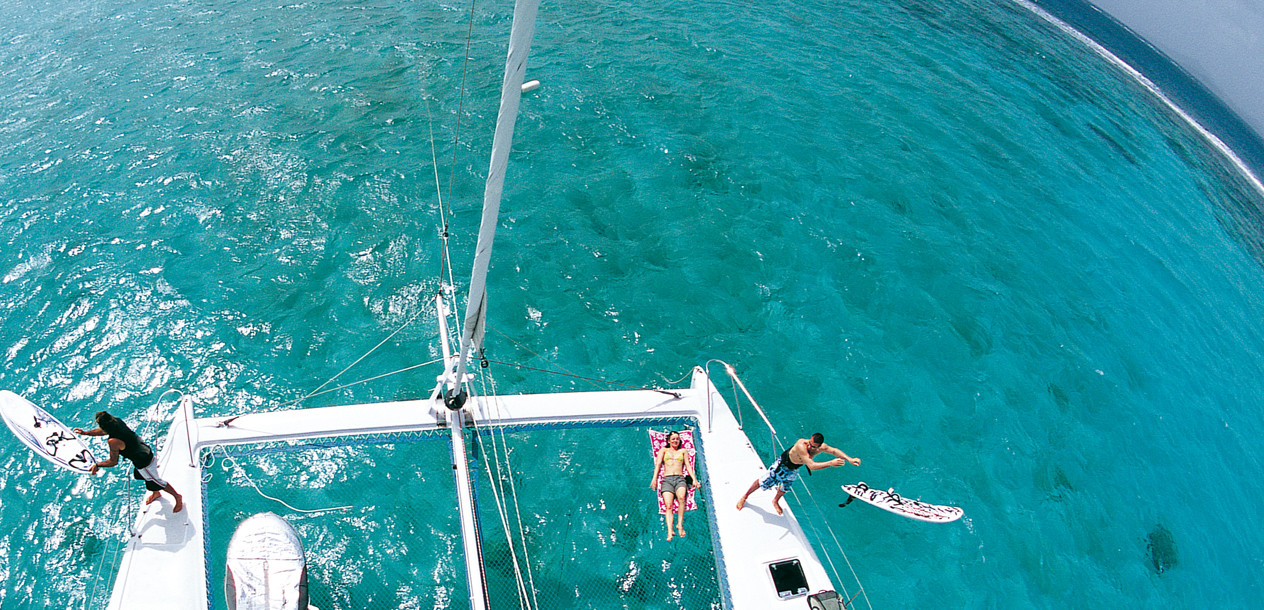 Position 12°36' N and 61°19' E
With a name like this, it is impossible to imagine that it is situated just a few cables from one of the most crowded (but also one of the most beautiful) anchorages in the Grenadines.Here you will be alone in the middle of an extraordinary reef... For sailors who feel like Robinson Crusoe at heart.
The entrance is easy, and the reefs clearly visible, as long as you enter with the sun high in the sky, and above all, not in your eyes.A deserted anchorage, in the middle of nowhere, with the possibility of some extraordinary dives with fins, mask and snorkel.Beware, however, this is a daytime anchorage, and spending the night here could be touch and go...
12 - Galapagos
Position 0°32' S and 90°43' W
A pure myth...The Galapagos live up to their reputation, even if the dream has a price!It will cost you 700 US$ to be able to stay there for just...20 days maximum!And for your information, our special envoy locally (Gilles Ruffet is currently sailing round the world with his family, and has just left the Galapagos) found that the water is cold, and his daughters needed a wet-suit to play around amongst the seals...
13 - Tuamotu – Apataki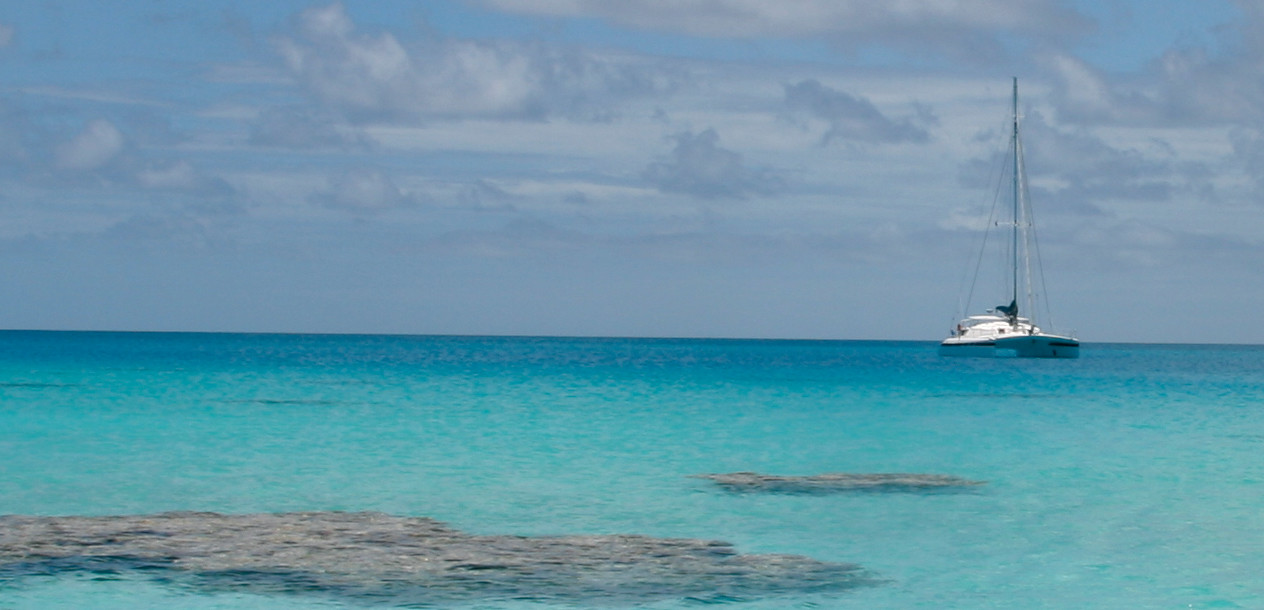 Position 15°18' S and 146°21' W
The Tuamotus are a handful of coral rings spread over a stretch of water one and a half times as big as France, which float between the immenseness of the sky and that of the ocean.There is no relief, total flatness; just some coconut trees which form a long green ribbon, and a thin white border by way of a beach.At Apataki (photo) you feel as if you are on the edge of the world, even the radio doesn't reach as far as here...   (Beatrice, aboard Nan Fong).
14- Bora-Bora island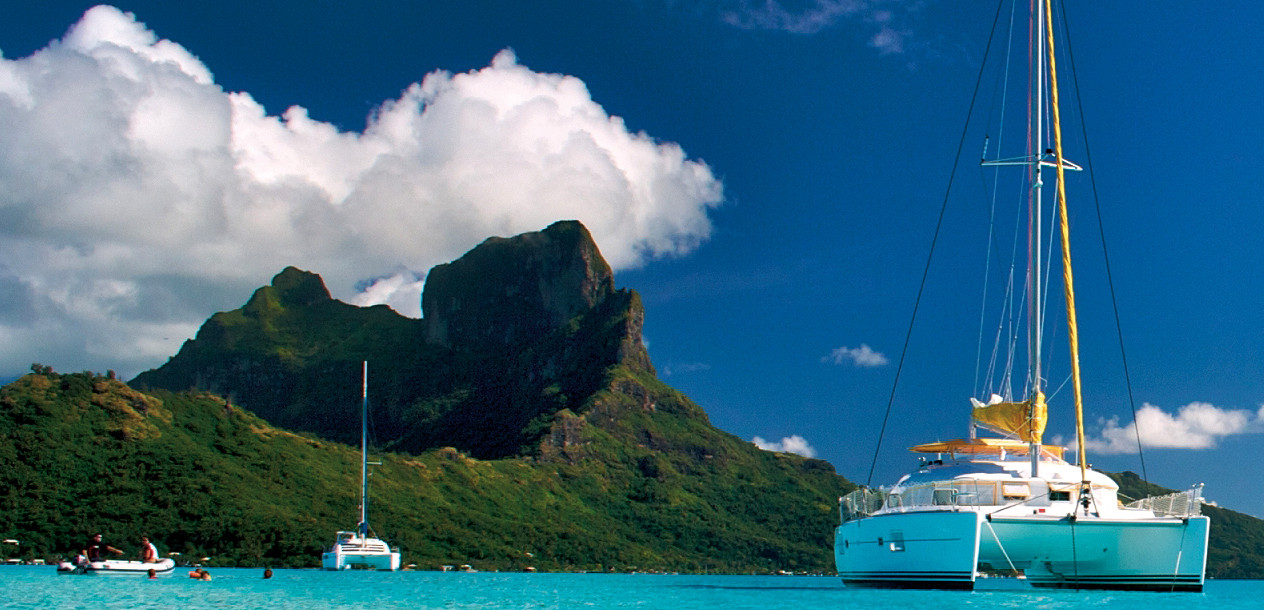 Position 16°28' S and 151°43'' W
The old hands will tell you that the lagoon has changed a lot, with all the hotels which have sprung up almost everywhere, and spoil the view a little...Yes, Bora Bora is certainly not the most beautiful of the French Polynesian anchorages, but it is certainly the most mythical...And when you see the colour of the water, you will understand its nickname better – 'Pearl of the Pacific'.And for the crew of Mateo:"it's to experience moments like these that the family wanted to set off... Not to be missed!"
15 - Suvarow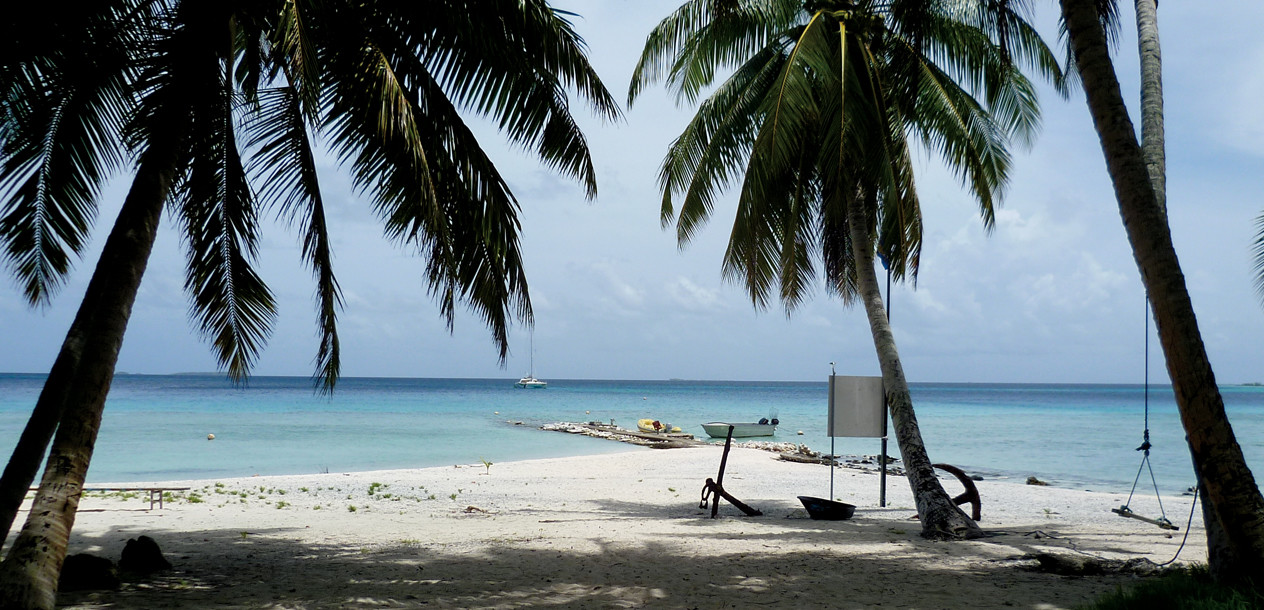 Position 13°15' S and 163°06' W
It's not really on the way, but the detour is well worth it...It's here that Tom Neale found his dream:living as a hermit on an uninhabited, microscopic island.He stayed there three times, and spent nearly 20 years alone on 'his' island! His book is edifying ('An Island to Oneself' –  Tom Neale), and the stopover, which has become a marine reserve, is enchanting.The two rangers who live there love getting visits...
16 - Maupiti.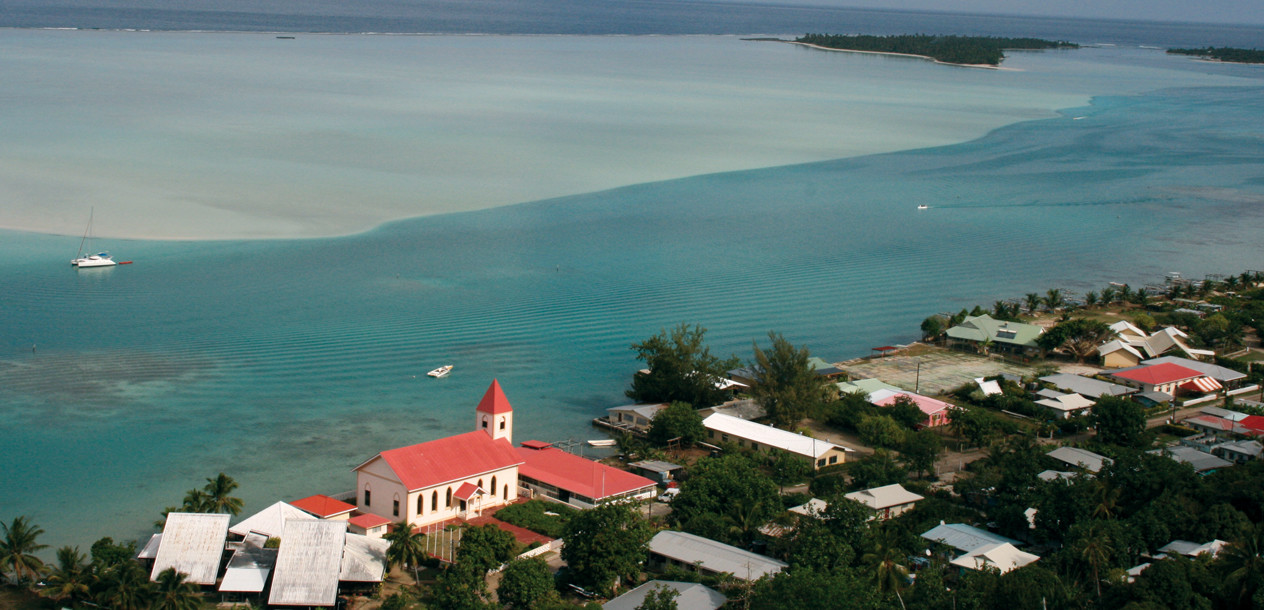 Position 16°27' S and 152°15' W
This is our friend Hubert's favourite stopover (he has cruised all over the world).So you can have confidence in his opinion!This island seems to be easily accessible, just about thirty miles from Bora Bora, but it is protected by a pass (Onoiau) which is often dangerous and doesn't tolerate approximation.You can only enter (or leave) the lagoon when all the conditions are right.But if you are lucky enough to get in, you will be in raptures.This island is protected and a unique atmosphere prevails...
17 - The Chagos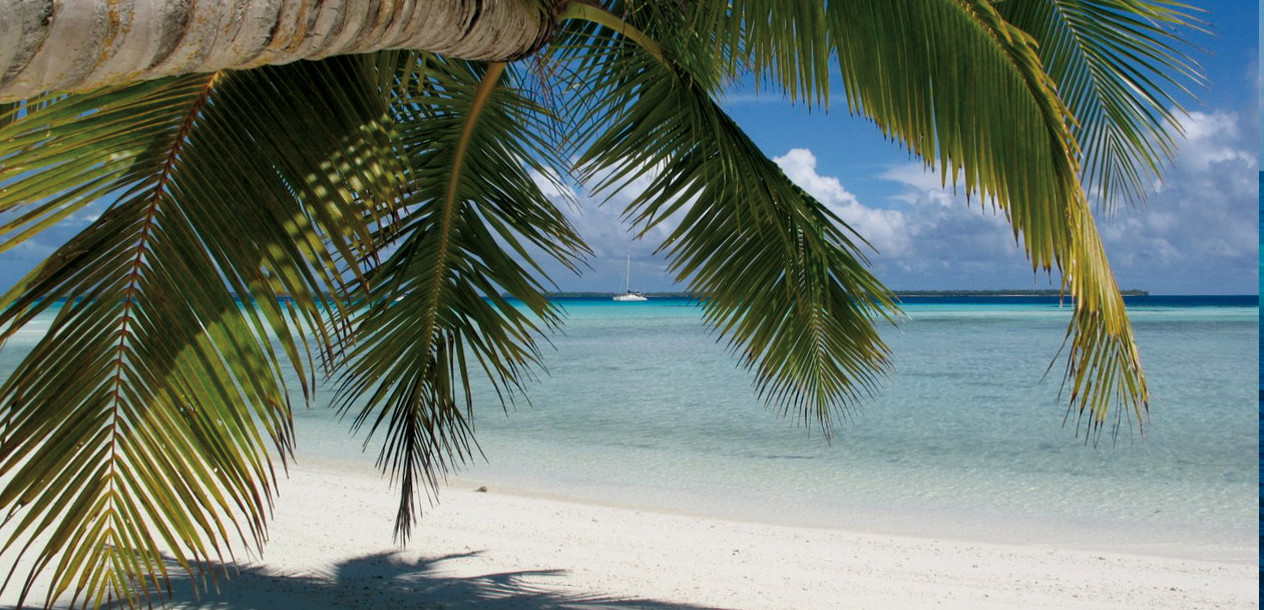 Position 7°20' S and 72°25' E.
Take the middle of the Indian Ocean, point your finger there and you are in the Chagos.A little paradise for lovers of solitude, but a paradise which has to be earned, because you must be totally self-sufficient.Aboard 'Terre des Mers', on the way to the Chagos, Jean-Pierre was in a flat calm, cruising on one engine to save fuel.Because to dive (his passion) he needed the compressor, and it was fed from the generator, which also ran on diesel...But once there, a real Robinson Crusoe-style life starts, with exchanges with those in the anchorage who are starting to run out of everything, but still don't want to leave...
18 - Maldives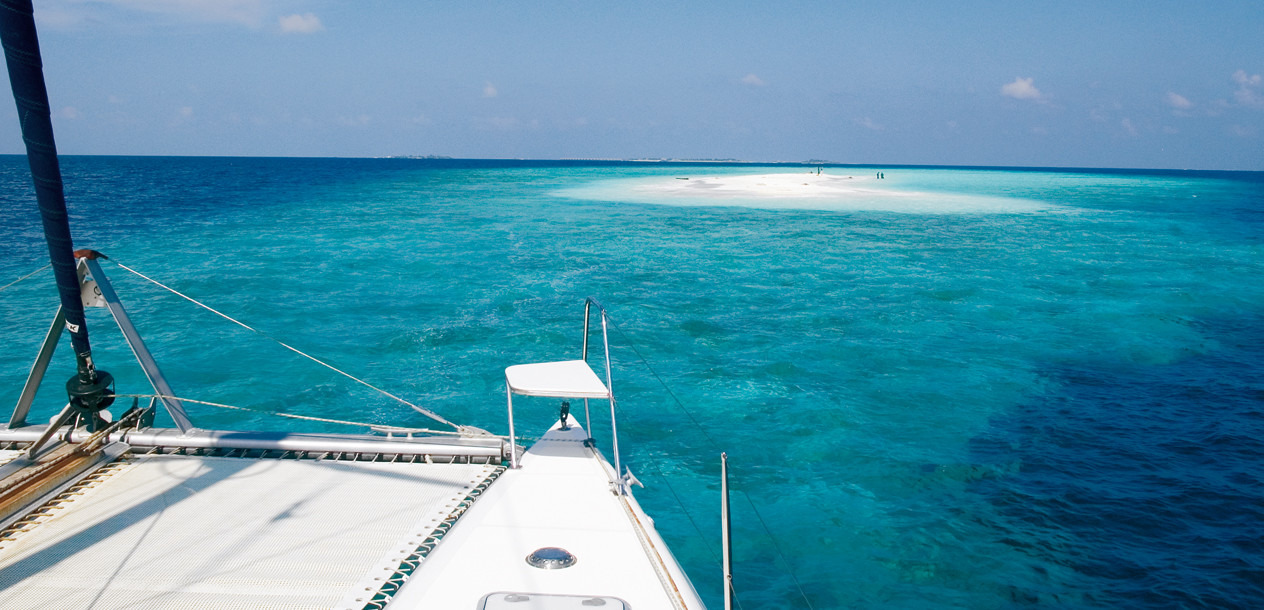 Position 5°54' N and 73°9' E.
The Maldives are a little paradise for those looking for deserted anchorages, and who love fishing!Here all you have to do is put your head under the water, to discover an enchanting display of colours.The atolls in the south are exceptional, but what can we say about those in the north?A dream!
So, how do you choose just one anchorage from this multitude of places which are all equally sumptuous?As we have to choose, we will mention this sandbank where we spent a night, surrounded by an incredible coral reef, with a rich underwater life which captivated the whole crew of 'Kingfish'...
19 - Madagascar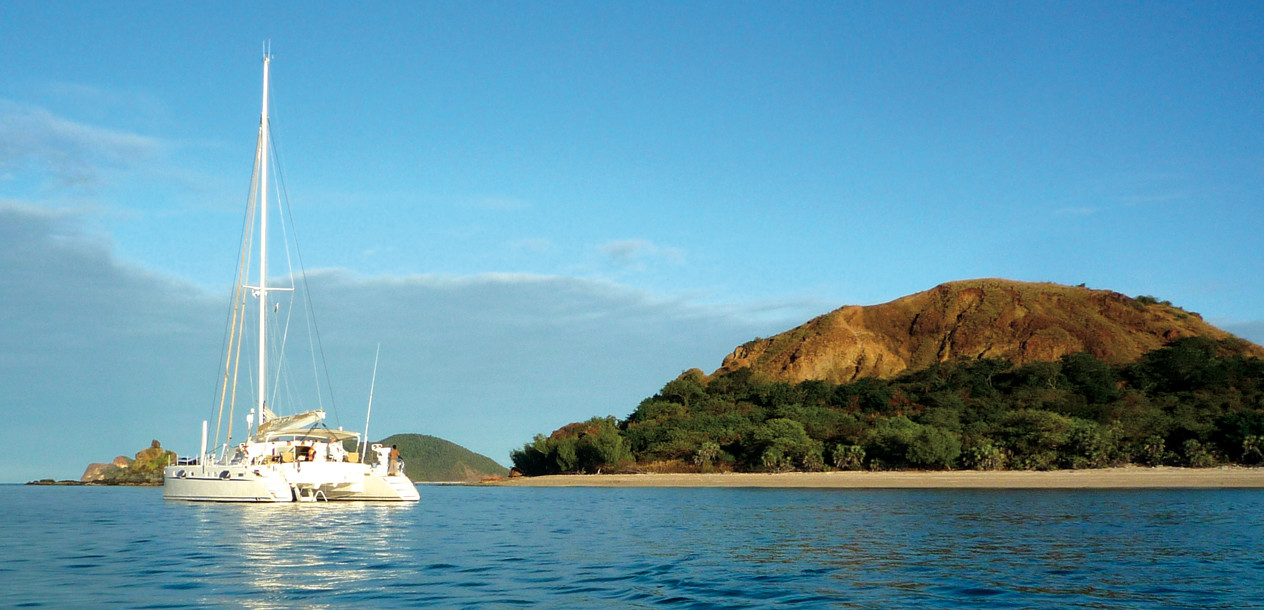 Position 13°01' N and 48°32' E.
There are those who have been there and those who dream of it.But the general opinion is that Madagascar is one of the most beautiful cruising areas in the world!But this wonder is big, very big...So to help you in your choice, François, aboard 'Spirit of Rio' recommends the Mitsios islands, and especially Mitsio Banjina, the most southerly island.  Beware however, landing is prohibited here, as it belongs to a lodge located on this little island...
20- Arki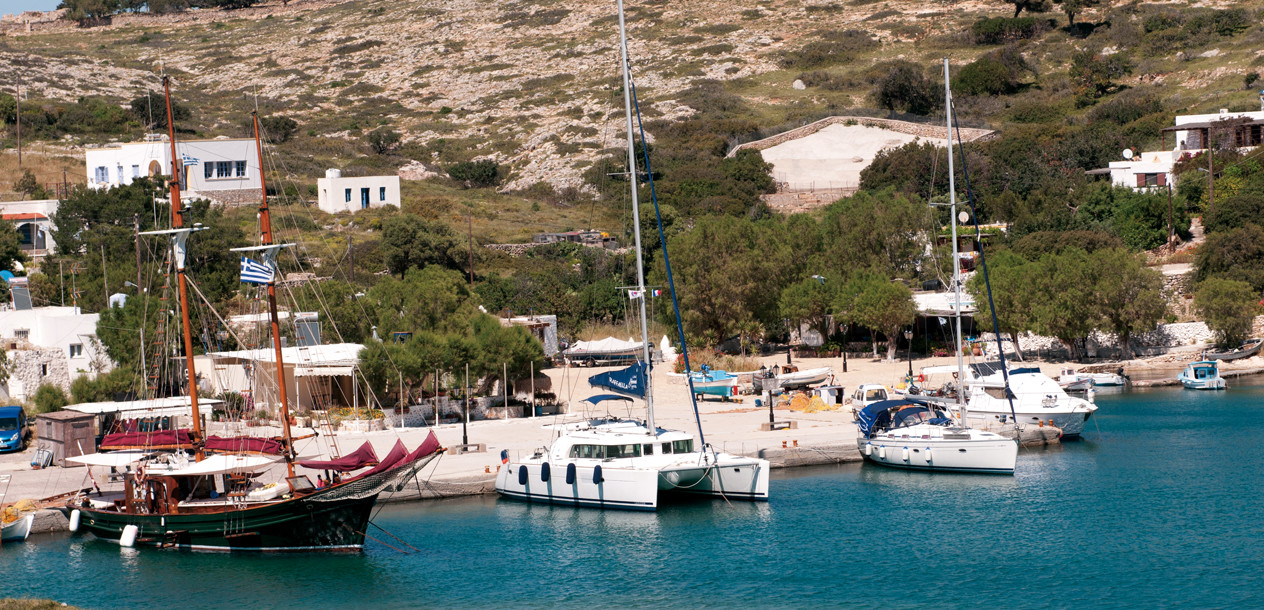 Position 37°22' N and 26°44' E.
Part of the magazine's editorial team was lucky enough to be stuck for three days and nights through bad weather in the little port on the island of Arki in Greece.Lucky?Yes, lucky, as the place is just magic, and the tavern run by Manolis is wonderful, with dishes that take your breath away and incredible mezes (he offers up to 25 different ones) including the best tomatoes in the world (no more, no less!).
If you stop there, say hello to Manolis from us...
What readers think
Tell us your opinion