preparation
Tool kit: What should you take when going blue water?
Published on 21 june 2017 at 0h00
Every prospective blue water sailor is well aware that a multitude of lists must be prepared before the off, whether for an Atlantic circuit or a round the world trip. Clothing, cooking, medical supplies, fuel, ropes, sails, hardware, electronics, books, safety equipment, etc. are not to be neglected. But what you'll need, to be able to use all this equipment and to intervene where necessary in every corner of the boat, is a decent onboard toolkit. For if a voyage is good - and fortunately for the majority of the time they are like we show you in the magazine, from a siesta in a hammock stretched between the mast and the bow in the shade of a sun awning in a dreamy anchorage, there is also some do-it-yourself  to be done. And the maintenance and / or repairs on board during a trip, really is something you must not neglect! Like it or not, a boat is a machine which is technically very varied and complex. So it's vital to carry a good selection of tools, and also to complete and adapt your toolkit to meet the requirements of your new environment.
Whoever can do the most can do the least, so you need to be able to carry out repairs on the motor, but also on rigging, fittings, electrical system, plumbing circuit and every piece of equipment on board. One can even imagine for the most gifted, adapting the interior, because on circumnavigation of several years when the boat is your home, improvements can be great. Finally, repairs to sails and awnings or on anchoring equipment will inevitably be required.
THE ESSENTIAL TOOL BOX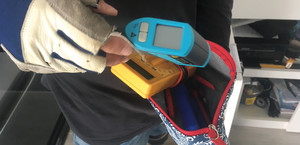 First off, you need to have a dedicated place on board for your basic tools and things you might need in a hurry.  They've got to be within reach so you can react quickly, including when under way.  Keep a drawer in the salon or have a cockpit locker where you can stow one or more toolbags which contain a few essentials: short handled screwdriver and extension with a selection of bits, including Allen key bits; adjustable wrench; ratchet with various sockets; a set of pliers: pipe wrench, mole grips, long-nosed pliers, cutters and electrical pliers; a hammer and a mallet; a hacksaw with good blades and a blade holder for sawing in difficult-access areas; a hand drill or a little 12V electric screwdriver with some good sharp drill bits, metal and wood; a set of files and a rasp; sandpaper, scissors, boxcutter; small electrical screwdriver and multimeter for diagnostics; tape measure; tube of superglue; insulation tape and waterproof tape.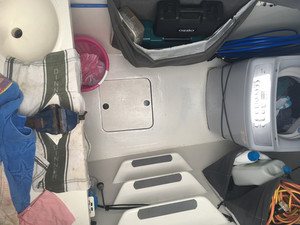 On a long trip you can end up with real work to do, and a dedicated space is a big plus. On a catamaran there is often enough room to use part of a forward cabin as a workshop. It might possible to install a proper bench with a vise and shelves to store the spare equipment and racks to stow all your tools.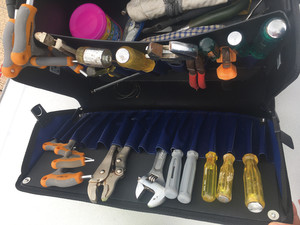 The most practical way to use tools on deck is to store them in a soft canvas, PVC or plastic toolbag (but certainly not a metal one, you won't be able to open it after three weeks at sea). With non-slip pads on the bottom you can lay it on the deck without risk of losing it. Toolbags with several individual pockets are convenient to get the desired tool quickly.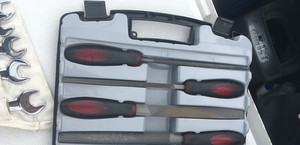 Anyone who's been around the world by boat will tell you about the... dampness! Better invest in a good quality stainless steel toolkit, but that will not be enough. Your kit will need to be "tropicalized". It will need to be protected in plastic boxes, individual cases and kits and, above all, periodically coat them with WD40 soaked cloths to avoid anything seizing-up and rusting. As Olivier Mesnier, circumnavigator and journalist here at the magazine, says: "a big five-liter WD40 can and a big roll of rags would not be too much for a one-year trip."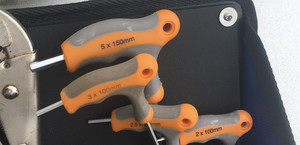 Quality equipment of the right size is paramount. So that your drill-mounted sander, or worse, angle grinder, does not slip from your hands at the wrong moment, do not hesitate to choose high-end or even professional equipment, you will not regret it. Always use covers or cases that close well. The same goes for the tools themselves, it is better to have ergonomic handles, such as these Allen keys, which will be much safer and efficient to work with.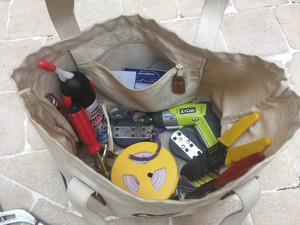 Making repairs up the mast or down in the bilge may be difficult. And to work at ease in these conditions it is important to have different tool accessories. A toolbelt can be adapted to use with a harness, but if you go aloft on a bosun's chair, it is better to take a shoulder bag or a hunter's jacket. To slip into a narrow space, a flat satchel-type bag will be very practical and in any case a canvas bucket is essential to hang the tools and spare parts you need. Finally knee pads or a simple cushion can make things easier on your joints...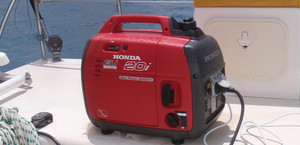 As for electrical appliances, new multi-tools offer a variety of possibilities which can be invaluable. A hot air gun can be useful for laminating and a proper disk cutter is essential for cutting rigging in the event of dismasting. On a boat of over 40 feet, this will be easier for cutting the stainless steel shrouds and stays than to try doing it with bolt cutters... And to avoid emptying the batteries too quickly, a small portable generator will be very useful.  And will satisfy many other energy needs, such as your sewing machine.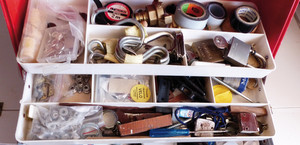 Consumables represent an important part of your DIY equipment: adhesive plumbing tape, sail repair tape, insulating tape; Cleaners, lubricants, solvents; Glues and resins, glass cloth and marine ply; Electric wire on reels, terminals; Nuts and bolts; Again the list is long and a meticulous study of the dimensions used on board is a good idea before setting off, to avoid carrying any useless items...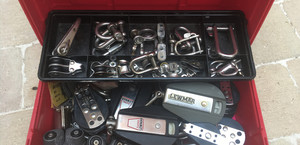 Spare parts and routine service items for the engines and the watermaker are essential to carry, otherwise you risk waiting long days at the other end of the world, or you find them at prices which make you consider putting palm oil in your gearbox... Which is to be highly discouraged! Better to carry all the filters, belts and anodes etc. specific to your motors. The same goes for deck hardware with blocks, shackles, snap-shackles and other hardware particular to your rig.
---
Things to carry on board to avoid being taken by surprise ...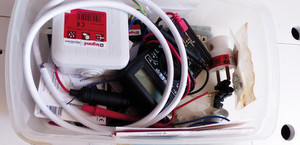 1 multi meter (NIMEX) Ni-6266 with amp-meter clamp - 1 multi meter (MEGATRON) MS 8221 A - 1 large soldering iron for joining cables. Typ. HSG-O 60 W - 1 small electrician's soldering iron 19 W (EXP) - 1 IR-8520 laser thermometer (- 32 ° c to + 520 ° c) - 1 pair of electrician's safety gloves - 1 electrician's screwdriver (1000 V) - 1 electrician's cutter pliers (1000 V) - 1 crimping pliers - 1 wire stripper - 1 hole-saw set - 1 parts box - 1 small hand plane - 1 set square - 2 calipers/vernier gauge - 1 stapler - 1 set of taps and dies with ratchet holder - 1 step cone drill diameter 30/16 - 1 set of feeler gauges - 1 helicoil kit - 1 grinding head drill bits - 2 sets of HSS metal bits diameter 1 to 13 - 2 hacksaws - 1 stainless steel drill set diameter 1 to 10 - 1 ratchet set + 8 to 32 mm sockets - 1 jigsaw set with 10 blades - 1 tool box with 4 drawers N ° 1) - 1 drill AEG 570W 220V - 1 electric screwdriver + charger + 3 batteries + lamp - 3 Phillips screwdrivers - 5 flat screwdrivers - (1 m), 1 pipe wrench (1 m), 1 wire cutters (1 m), 1 universal pliers (1 m), 1 long-nosed pliers, 1 adjustable wrench (200mm), 1 mole grips, - 1 electrician's ratchet set - 1 set of electrical adapters - 1 boxcutter - 1 electrician's knife - 1 electrician's scissors - 2 sets combination wrenches from 6 to 32 mm - open-ended wrenches 22-20 - open-ended wrenches 30-32 - 7 to 18/19 - 1 set of Torx bits - 1 set of  Allen keys from 1.5 to 10 - 1 triangular file- 1 flat file - 1 round file - 1 half-round wood rasp - 1 round wood file - 1 small wood chisel - 1 mallet - 1 hammer 300 gr - 1 sharpening stone - 1 wire brush - 1 brass wire brush - 2 small hand clamps - 1 Stillson wrench 8 "- 1 Stillson wrench 12" - 1 clamp 520-10 "wrench - 1 x 300 mm wrench - 1 x 12" wrench - 1 shifting spanner 105.280 (Facom) - 1 strap wrench diameter 60 (USAG)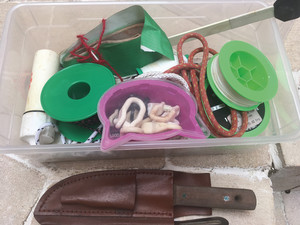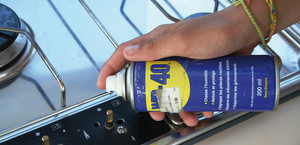 Spare parts to be carried by those with foresight
ENGINE: 
3 impellers for the seawater pump - 2 diesel filters for the water / diesel separator - 3 fine gas oil filters on the engine - 6 oil filters - Oil for 2 engine oil changes - oil for 1 gearbox oil change - coolant for 1 change - 1 set of replacement belts - 1 starter solenoid - 3 sets of sacrificial zinc anodes for the hull - 1 motor anode - 2 anodes for rope cutter- 2 propeller anodes - 3 oil absorption cushions or sheets to put under the engine - 1 tube of marine grease - 1 oil pump (for me, the Black & Decker model to fix on a drill gave the best results, without wearing out ...) - a 10 liter can to collect used oils, to take them for recycling
GENERATOR MOTOR:
3 impellers for the raw water pump - 3 fine diesel filters on the engine - 6 oil filters - oil for 2 engine oil changes - coolant for 1 change - 1 set of replacement belts - 1 starter solenoid - 1 motor anode
OUTBOARD MOTOR:
2 sets of spark plugs - 1 zinc anode - 2 liters of 2-stroke oil (if 2-stroke motor) - oil for transmission and injection pump - outboard flushing muffs - Ezistart or similar in case of difficulty.
PUMPS (for each one):
A seal/gasket set - brushes for the motor 
WATERMAKER:
An electronic probe - a dozen 5-micron filters (we use the same for the direct connection to mains water from ashore and for the tank filler filter) - biocide cartridge for pickling. 
MISCELLANEOUS:
Brushes for the furler motors - several sets of each type of bulb, including the steaming lights and anchor light - 1 zinc anode for the hot water tank - several spare fuses (if auto fuses, one of each type, if not at least 5 of each type) - bow thruster anode - some stainless shackles.
What readers think
Tell us your opinion