Cruising
You dreamt of it? They've done it!
15 years around the world, 3 boats, 3 children and several thousand miles
Having left as a couple in 2003 for a 3-year trip - just the two of them and in a monohull – Matthieu and Soizic have had 3 boats, 3 children and today are still sailing around the world. The story of a happy, adventurous life!
 
Ah, how beautiful we were, on that warm September 1st 2003 (17°C, a heat wave in Quimper), on the deck of our lovely ketch. The boat, 38 feet of solid mahogany, 38 years old, and us, young, in love and under 30, still finding it hard to believe that we had succeeded in realizing our dream of setting off so early in our life, which had hardly started.
From that to believing that 15 years later we would still be on the deck of a boat, a few thousand miles further on, would not even have seemed conceivable. Yet we are there.
We started two fairly successful careers before we realized several things: that life slips by very quickly, that we have quickly done the rounds of it if we are satisfied with toeing the line, and that it's best to empty your bank account before Alzheimer's means you can't remember your bank card codes. After 5 years of a quick bit of professional life, we let our employers go, emptied our accounts, and bought Hildi, a little gem from 1965, with varnished wood and a teak deck, which was sleeping in the Mediterranean, just waiting for some intrepid Bretons to set off for an adventure.
The itinerary was quite classical: round the world in 3 years and after, we had promised our families we would go back to our safe, well-ordered jobs, with pension contributions, health insurance, the works.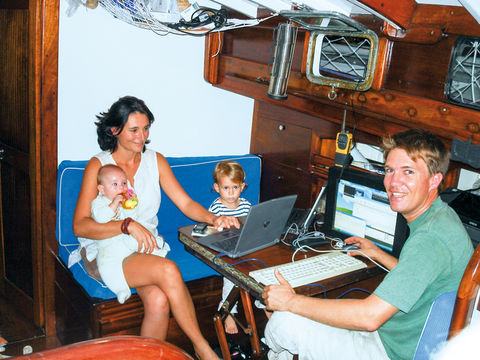 But a program only exists to be modified, revised, corrected... and we quickly realized that we were going too fast. Too many stages hardly skimmed over, encounters cut short, anchorages hardly glimpsed, countries hardly visited… It took our good old original Mercedes engine dying with a horrible rattle between Panama and the Galapagos, for us to decide finally to slow down, drop anchor, take our time, and start a family.
A few months' break in Panama, in 2006, to give Hildi a new engine, and on the island of Fatu Hiva, in the Marquesas, we went beyond the point of no return, with the conception of our first child, Lola, who was born in Papeete 9 months later, joined then by Timeo, in 2008.
The situation was becoming critical: aboard Hildi there was just one cabin. Put into it tired parents, 2 bawling cherubs, the headquarters of a company – we have to keep the money coming in – stir it all on the waves of a Polynesian lagoon, and out comes an incredible wish to set off again aboard a boat which measures up to this wish for repopulation of the blue planet.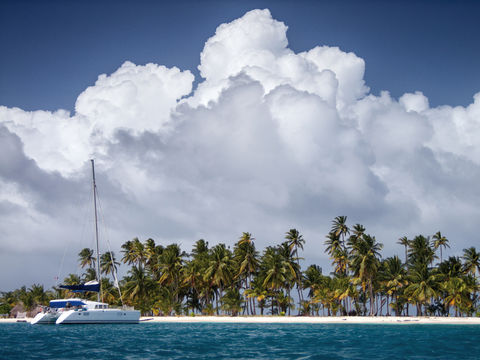 But which boat? At the start of the project, we dreamt of a 50-foot monohull, with a wide stern, numerous cabins and elegant lines. But during our voyage half-way round the world, we had met the lucky owners of multihulls, whether on their production family 'caravan', a ...
Become a member
Become a Multihulls World Community Member for free and get exclusive benefits
Become a member
What readers think
Tell us your opinion