Indian ocean
At the Heart Of The Island Of Flores…
In the absence of any detailed information regarding possible stopovers for a boat on the north coast of the island of Flores, you need to study the few details that there are on the chart, and then… improvise a bit! I enjoy this though. On the screen of my chartplotter, I noticed a small bay with neighboring villages situated around a small river: Maurole and Mausembi. There isn't a huge amount of shelter, just a little bit of coastline jutting out, but the weather was particularly good around the Sunda Islands. We had got into the habit of setting out at the end of the day, to get away from any coastal dangers before the sun went down. We would then sail safely, 2 or 3 miles out to sea, and then head into our planned anchorage at daylight, making the most of the light to avoid any problems. My original job in the Merchant Navy had taught me how to recuperate quickly from a disjointed night's sleep between watches. To the north of Flores there was no swell and few waves. The sea was calm, the night starry, and the moon was in the sky. I have never seen more shooting stars than in the skies over the Sunda Islands…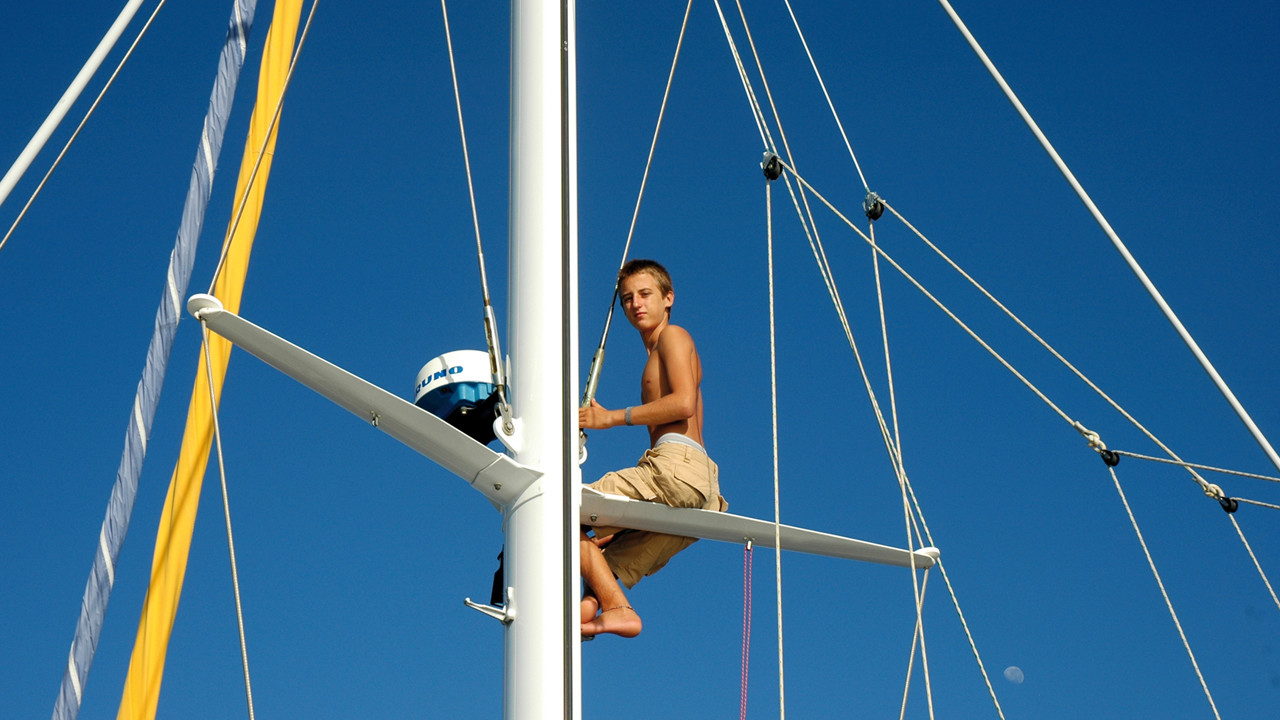 Just after breakfast we approached the bay. Clear blue zones indicated where the shallows were. We slalomed between the reefs and dropped anchor in the lee of a rocky outcrop which stuck out a few dozen meters from the shoreline. The children that were playing on the beach had stopped their games to watch this unknown boat that was mooring in their waters. I checked out the situation through the binoculars and decided to go on land and do a recce. The kids had their heads in their schoolbooks onboard… On the beach, everyone was staring at me. I greeted the children and joked with them, which is the best way to get the parents on your side. "Hello Mister, hello Mister!". All Indonesian children have learned this greeting. However, the further one gets from Bali, the less English there is spoken. I responded with   "Selamat Pagi! Selamat Pagi!" which means "hello" in the morning, but which changes as the day advances. Once my fan club had been able to confirm that I wasn't an alien, they helped me drag the dinghy onto dry land, and we were off on an exploration of the village. It was certainly no Maurole or Mausembi, which are situated a bit further west around the bay! We could only communicate through gestures. The houses were simple, no real comfort, just the bare minimum. This is deepest Indonesia, a long way from the tourist spots of Labuan Bajo, Lombok or Bali.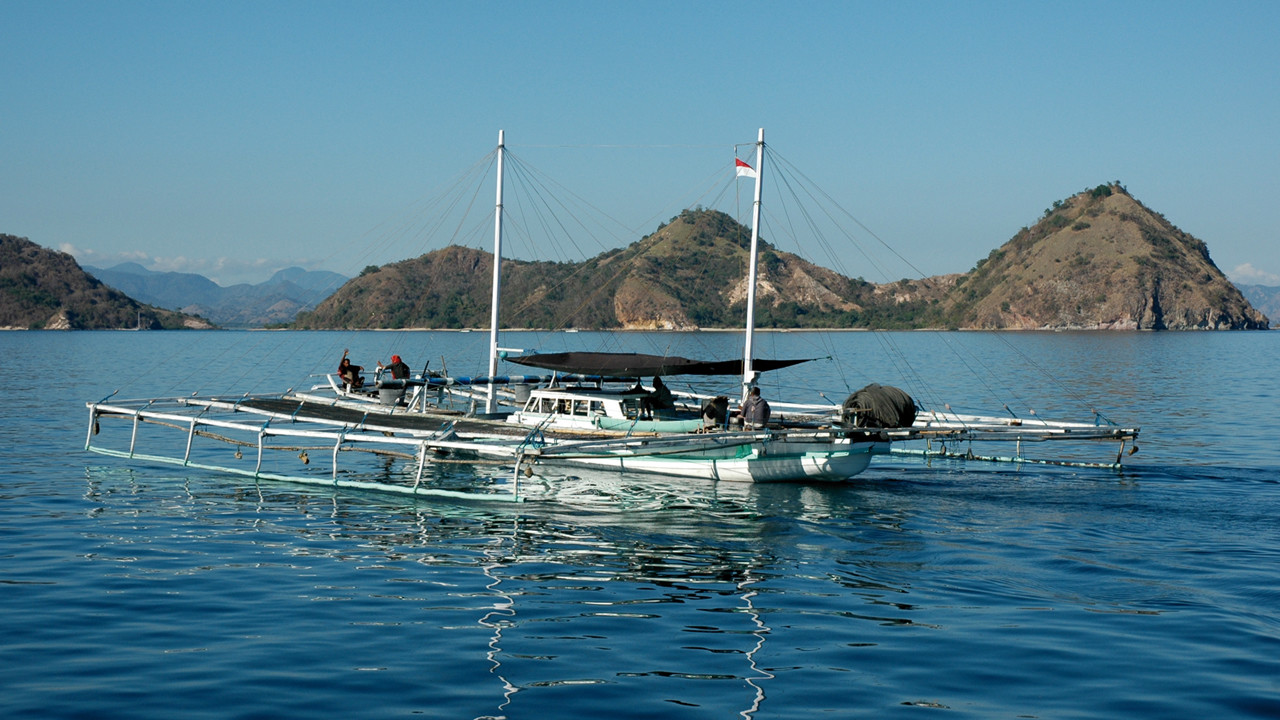 The children led me to a man who had arrived on a scooter, wearing a helmet. He stopped in front of me, gave me a big smile, and took his helmet off. This was Vincent. Vincent Ata Bala, the only person in the bay that spoke English. He told me that he was a minibus driver for tourists in Bali for several years. He lived there with his wife Jacinta and made some money before returning to Flores to be close to his ageing parents. Vincent had been told that a boat had arrived in the bay, and so had jumped onto his scooter to come and meet us. He was a Roman Catholic, like the majority of the inhabitants of Flores (although only 10% of Indonesia as a whole), and our meeting with him was quite fortuitous. There's nothing like meeting someone like this at the start of a stopover to help you understand local life. We agreed on a rendez-vous, later on after the hottest time of day, when we would go and visit his village of Maurole-Mausembi, The kids' lessons would have to wait…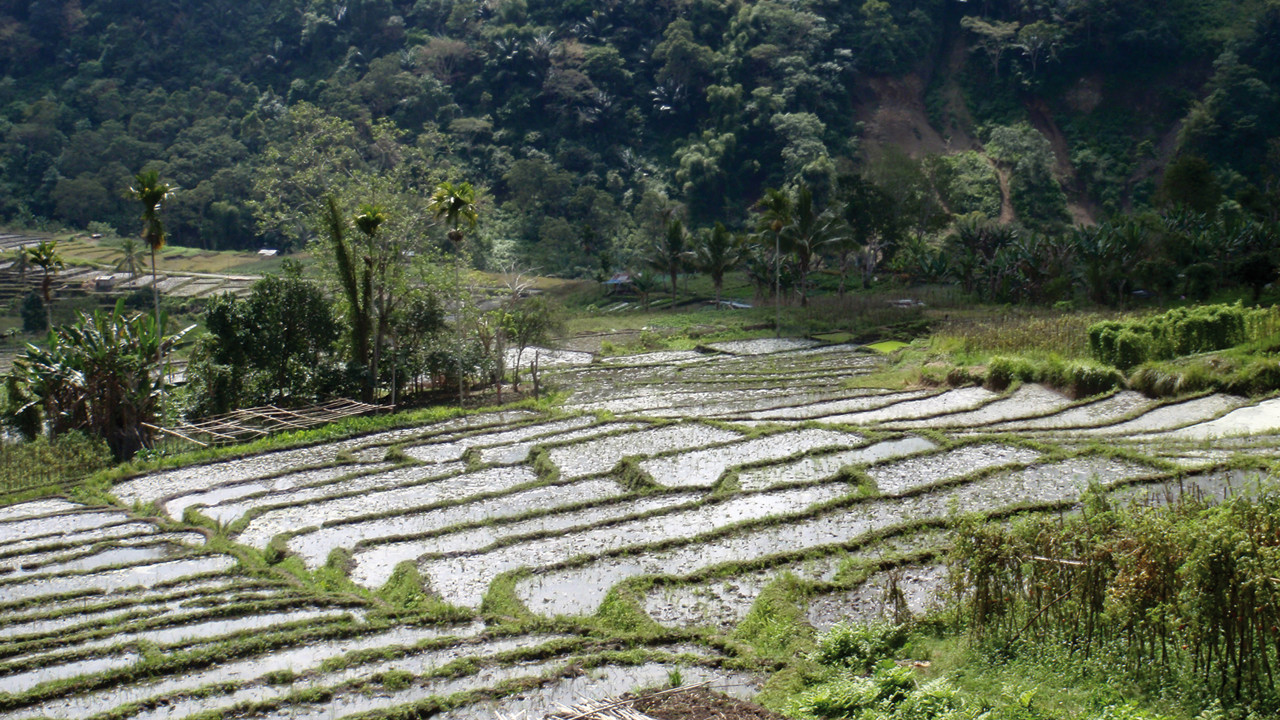 Vincent met Barbara and the children and became our official guide! Everybody knew him, which meant that as strangers our presence was less surprising. The village occupies the land between the coast and the coastal road. Most houses are built of bamboo, with the roofs being made from palm leaves. Richer families had built more solid habitations, which is a show of wealth around here. However, we wondered whether those houses were actually less pleasant to live in, with less ventilation than the traditional bamboo houses. During the dry season, the roofs, made of metal sheeting, must make it feel particularly unbearable! The only advantage is better shelter from the rains during the wet season. Other than that, the absence of typhoons in Indonesia means that the solid houses don't really have any other major advantages.
Impressions Of Indonesia…
The local market is called the "pasar". There you will find fruit and vegetables (pineapple, avocados, oranges, mandarins, limes, papaya, bananas, starfruit, and carrots, potatoes, tomatoes, cabbages, green beans, cucumbers, shallots, lettuce, garlic, onions and herbs), as well as fish and meat. There are spices too, and a bazaar where you can find just about anything, from the machetes which are used by everyone in these country villages, to white metal canteens. There are areca nuts, ground coffee, tobacco and peanuts (which grow around all of the houses. There are yams, taro, sweet potatoes and other vegetables which we don't recognize. We ask how they should be prepared, how they should be eaten and what they taste like. We discover new fruits too: the mangosteen,with purple peel and white flesh, with a fine and delicate flavor. It has a little bit of acidity and is the fruit of the Mangosteen tree, which is native to Malaysia (like many things in Indonesia). Snake fruit (sanak), has a scaly skin, like a snake. It is bitter and we don't really like it. Then there's the "jambu air" the "sirsak", and the rambutan, a red fruit from the tree with the same name, which is covered in soft spines and has a taste similar to that of a lychee.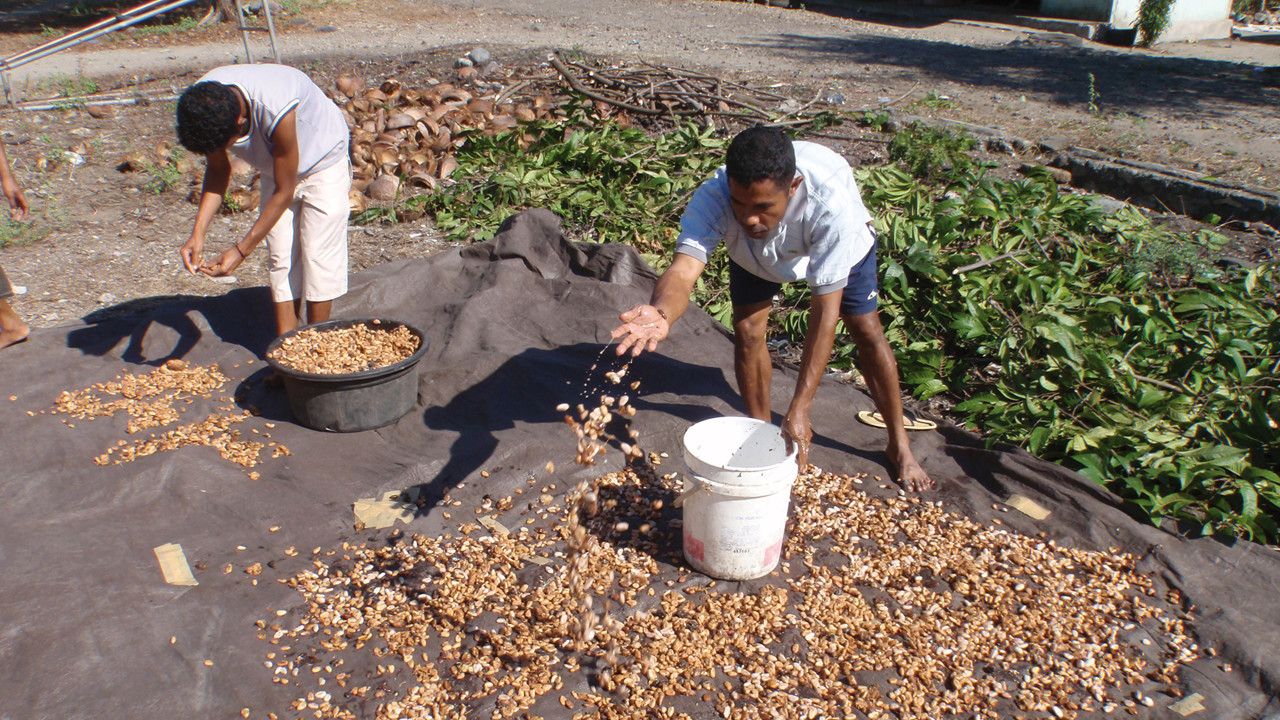 I used the occasion to buy a pair of chic flip-flops for 30,000 rupees (that's less than €3 as €1 = 11,500 rupees), and I thought about buying a machete, which the kids have been asking me to do ever since we arrived in the Pacific islands. However, I'm worried that they'll hurt themselves cracking open coconuts. I managed to resist temptation. The stalls of fish, chicken and pork are impressive, but mainly because of the black cloud of flies that surround them. There is a tangible lack of refrigeration and respect for the cold chain… Unsurprisingly we moved swiftly on. From time to time in our anchorage, we would barter with a local fisherman for a freshly caught octopus. Vincent offered to make me some ginger coffee, so I bought a kilo of the highly rated, finely-ground, Flores Arabica coffee. Jacinta, his wife, would hand it back later having added the flavoring.
Having wandered around the "pasar" for a couple of hours, we headed for Mausembi, the village where Vincent lives. The houses are simple wood affairs, with separate kitchens with a freshwater well in the yard. There is a small, raised rice store, a chicken coup and an enclosure for the pigs. He introduced us to his wife, two of his three children, and his ageing parents. His father is very frail, having fallen from the roof several years previously. So Vincent came back from Bali to help them through their final years, and took on the job of farming the family smallholding in the village. Jacinta and her mother-in-law bring us tea and ginger coffee. Vincent goes to get some drinking coconuts, and opens them with a few chops of his machete. They call his brother who lives in the next village and he comes to join us. Here, there are no computers or internet, but each family has a mobile phone. His brother is clearly a wealthier man and possesses one of the 3 or 4 "bemos" or minibuses in the area. It is open to the elements. In fact, we charter his vehicle to take us to two small villages in the mountains, one of which specializes in making arrack, while the other produces sugar, both from a particular variety of palm tree.  
In The Flores Mountains…  
We took a road which initially passed through the paddy fields, but which then started to go up and became difficult and torturous. It threaded between bamboo and rubber trees. Vincent showed me some trees by the side of the road. Teak wood! I looked at these trunks of precious wood which in my previous job as a boat builder was used systematically (despite being very expensive) for the decks of the high class yachts that we built. In front of the wooden houses that we passed, there were cacao and coffee beans drying outside.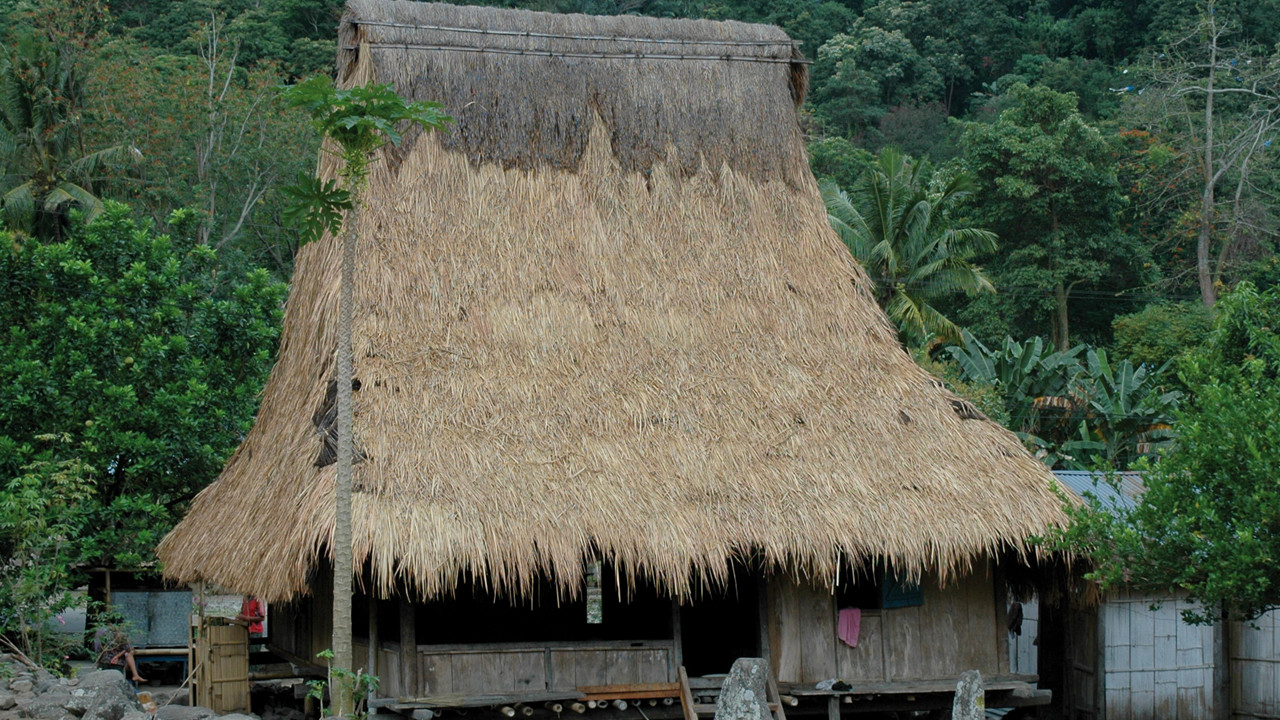 The bemo wheezed slowly up the hills, mainly in first gear. We reached the furthest hamlet where just a few families lived in traditional wooden houses with palm roofs. Surprised men with craggy faces watched us get out of the bemo. When Vincent explained that the reason for our visit is to see arrack being made, their faces beam with delight and pride. They lead us off a few dozen meters, away from the houses. We find a very basic distillery set up. Arrack is a distilled palm alcohol. There is also a palm wine which is called "tuak" which is nowhere near as strong, and a rice wine known as "brem". The word "arrack" denotes palm alcohol as well as rice alcohol. This is why I think the generic word "arrack" is similar to the French "eau de vie". Schnapps or hooch… Palm arrack is made using the juice of the male fruit of a particular type of palm. The primitive still is situated under an open shelter where there is a small open fire fuelled by wood and coir, which is abundant in the region. The heating column was made from a large piece of bamboo, about 2m high and was fixed right over the heat. The alcoholic vapors are directed up to another piece of bamboo, about 10cm wide which works as an atmospheric condenser, which is not water-cooled. The tube descends from the top of the column at an angle of 45°. The condensed vapors which make the Arrack are collected in a stone pot at the end of the bamboo condensing pipe. The liquid which is obtained, which must be around 40° proof is then stored in small plastic containers. It really is a basic set-up, which surprises me somewhat, given the organized way that the Indonesians generally develop their local skills, of which there are many and there is a huge amount of knowledge. Next to the rustic still, there is a stick of bamboo sticking out of the ground. On top there is a candle, and a small bowl at the bottom with some arrack in it, as an offering to some god or other.
One man hands me a vegetal cup full of arrack. It smells of strong alcohol. I don't have a choice so I throw it down. It's difficult to explain my thoughts. It's hooch, and the taste is pretty awful. It's pretty rough too. Barbara is lucky and abstains. I get the feeling that I will leave a few brain cells here, although Vincent assured us that the arrack made in this hamlet was known for not leaving you with a hangover. And this apparently is testament to its quality! I forced myself to feign appreciation of the local booze, and they filled up one of our water bottles with the precious liquid, for which I leave the artisan 30,000 rupees. As we didn't find any rum in Flores, we will have to temporarily replace our evening Punch ritual on Jangada with what is called in these parts an "Arrack Attack": a cocktail that contains a small dose of arrack, Sprite and lime.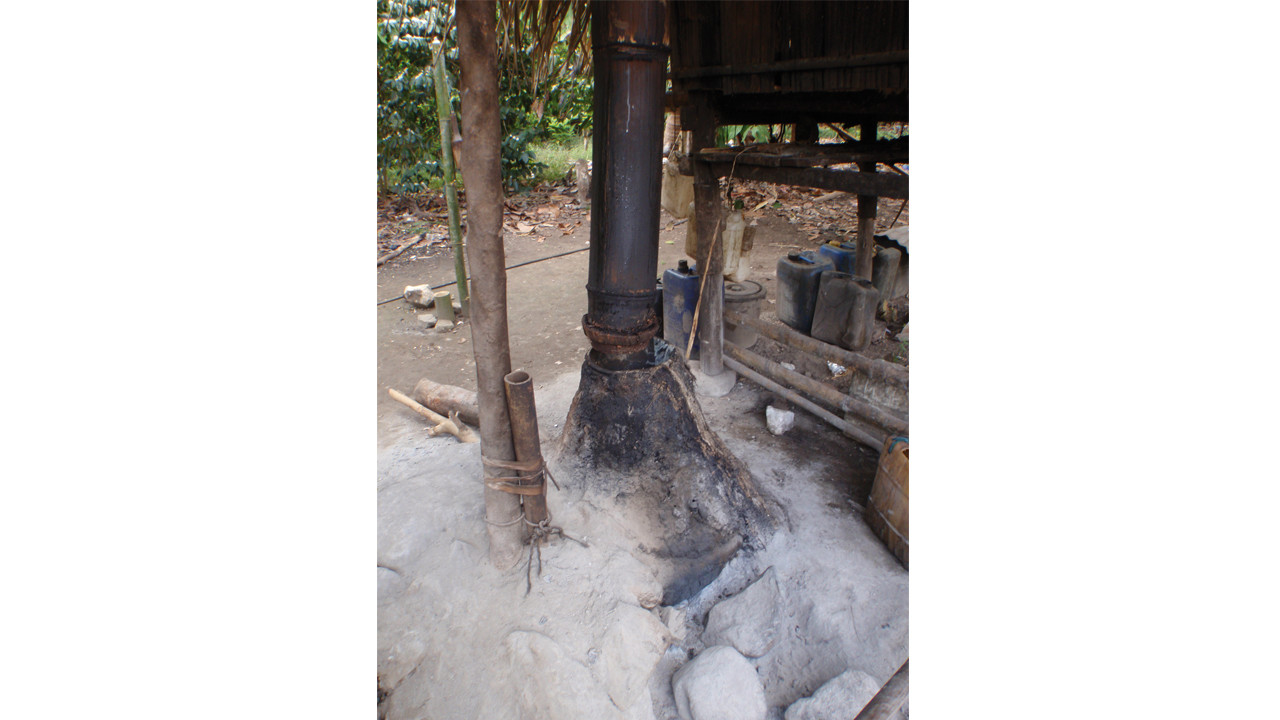 As we drove back down to the sea, we stopped in a second hamlet, where it seemed as though a ceremony was being prepared. The whole village had congregated on the small square. The women were busy at the outdoor kitchen, from where some wonderful smells were emanating.   A recently slaughtered pig was being butchered close-by. The arrival of our bemo did not go unnoticed. A young girl, who had come back to the village on her holidays, came over and spoke to us in English. She worked as a cook in Singapore, and explained that the village was preparing to exhume the body of a man who had died some years earlier, so that he could be buried in a more respectful location for him on his journey towards eternal life. In this area, animism seems to blend in with Christianity. We avoided an area on the square that had been indicated to us, but otherwise the welcome was charming. We were invited to eat with them and also offered tea. This village is specialized in the production of palm sugar. Again, it was a very basic set-up. It is made using the same sugar-rich palm fruit that is used to make arrack. The villagers boil the juice for hours in huge basins until just about all the liquid has evaporated.   They obtain a kind of paste made up of the raw sugar which, as it cools, is formed into baton shapes in bamboo halves that are about 3 to 4cm across and 20cm long. This is the famous palm sugar, which has a reddish brown color and isn't unpleasant to nibble on. Again we supported the local organic economy and left with three batons.   
However, out of respect for the village we preferred to depart before the exhumation started and leave the little mountain village to carry out its funeral rites.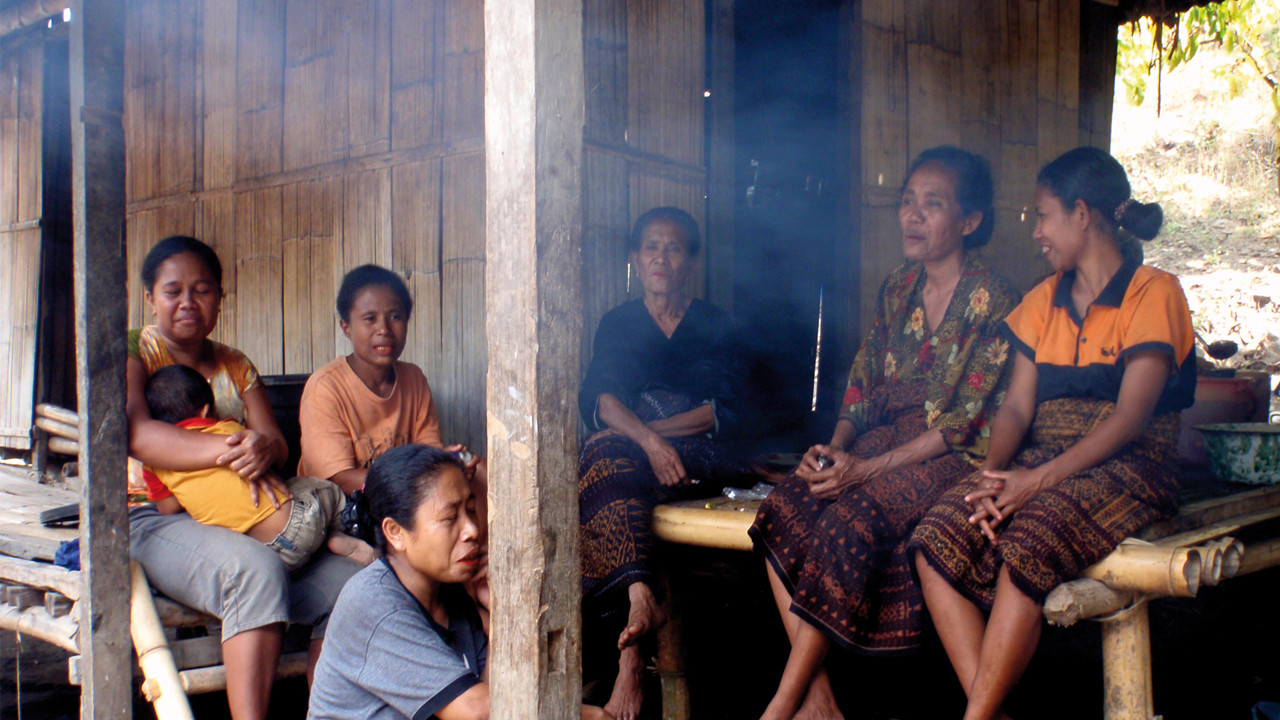 In the darkness we got the dinghy back into the water and jumped on board. Despite our best calculations, we got submerged by a breaking wave! We started the motor and quickly sped away! We left the beach and returned to our boat, trying to avoid the reef in the darkness. We were soaked but happy!  
If you ever go to Maurole-Mausembi, on the island of Flores, go and say hello to Vincent Ata Bala for us. Just another magical encounter on our voyage…
OK, it's time to head west along the north coast of Flores, on the trail of the…Komodo Dragons!
What readers think
Post a comment