Pacific Ocean
Coccinelle : Fakarava or nothing !
Who: Apolline, Camille, Armelle & Gilles
Where : Fakarava, Tuamotu, Southern Pacific
Blog : www.pakokotayachtservices.com
www.fakayachtservices.com


There's no doubt that for divers, it's the place to go. Amazing dives, against the current, allow you to swim against the famous wall of sharks. Here, hundreds of inoffensive sharks, mainly Grey or Blacktip Reef, come to cavort around you. For non-divers there is still the chance to go discovering: head up to the exit of the channel, attach the end of the dinghy to your belt and let yourself be carried towards the lagoon. The visibility in the water is so good that you can see the sharks 20 metres below you. It's also where the children from some boats decided to spend a few days on a tiny islet (imagine a small sandbank with a few coconut trees), and to live like Robinson Crusoe. They created the Wild Friends Club, sleeping there at night (with an adult to keep an eye on the small ones). What a fantastic adventure! It's a kind of freedom that all the money in the world couldn't buy, not even Sergei's, the boss of Google whose maxi-yacht was moored close to our tiny boats. Everyone has their own idea of living in their particular tropical paradise. A little further north, in a mooring in front of Pakokota Yacht Service, "Chez Agnès and Matthieu" is where the crews get together to share a barbecue, get some internet access, and top up with water (yes, even in the Tuamotus, there are aquifers underground!). It was in Pakakota where the children constructed a mini maxi multihull from driftwood recuperated in the shallows. They launched it and it started to sail away, pushed by the Trade Winds, before setting off on a great journey to…the other side of the lagoon. Pakokata Yacht Services helps out sailors with various things (linen etc) and there is another Yacht Service 10 miles further north in the main village of Ratova.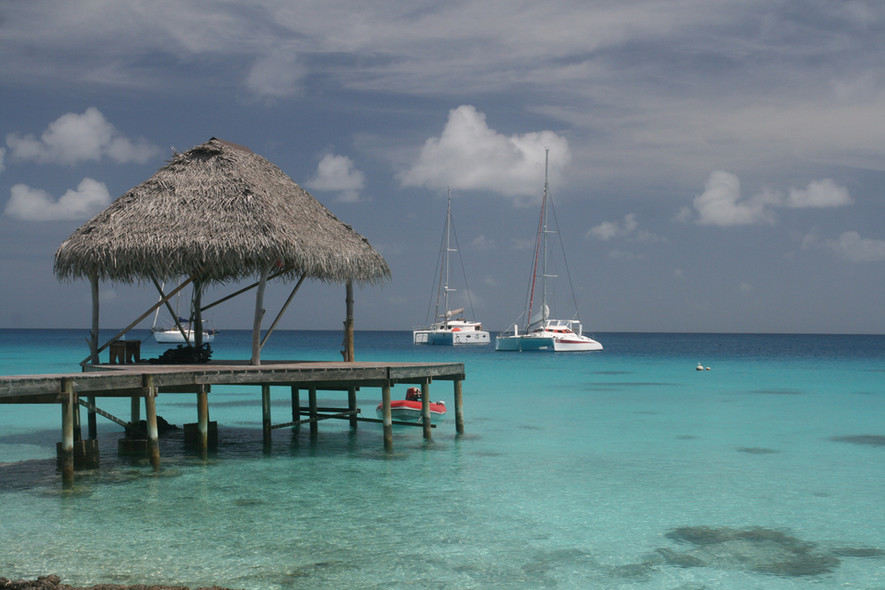 What readers think
Post a comment