Mediterranean
Damsis - In the Med… Before the transat?
Who: Stephen & Suella Maughan & their son Iain (13)
Multihull: Richard Woods Design Transit 38 (2009)
Where: Sardinia, Mediterranean Sea
Blog: www.facebook.com/TinghaCat - Insta: travellingtinghas
---
After a 2-day journey from the Balearics, we arrived in Italy! We had bid a fond farewell to Port Addaya in Menorca, lifting the anchor half an hour earlier than planned which turned out to be a good thing because it took us half an hour to rinse the mud from it when we put it away. We watched the sun as it set behind the headland as we motored clear of the shore, and then hoisted the main and the genoa and started sailing East. We had decided to go earlier than our friends as we had seen the forecast for the Mistral and wanted to make sure that we wouldn't have to battle high wind and waves on the last part of our journey. It was the right decision, but winds were light to non-existent for most of the trip, so we motored at 5 knots. It was flat, boring and hot. In the early hours of Sunday morning, the wind slowly filled. A few hours later we were sailing and able to switch the engine off - the peace! As Sardinia came into sight, the wind picked up and, we were bowling along on a very broad reach with the Mistral snapping at our heels. We sailed up to the anchorage outside of Sant Antioco harbor which was very overgrown, and it took several attempts in 25 knots to get the anchor hooked in. We stayed there until the Mistral blew through and then continued exploring Sardinia's south and east coasts. The town of Pula, with its ancient ruins on the shore, is beautiful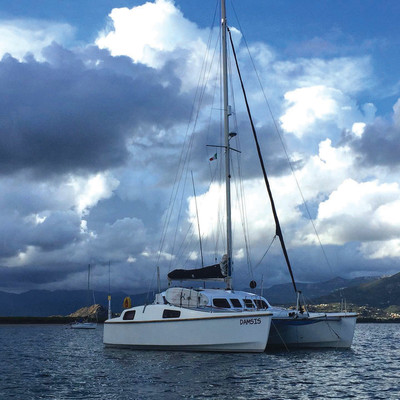 Villasimius, which can be reached from anchorages both east and west of Capo Carbonara, is a little more touristy but so pretty. Arbatax has a well sheltered anchorage in all but NE winds. The town is small, but most services are available around the harbor and there is a regular bus to Tortoli, a decent size town. So far, this island has exceeded our expectations and we've only stopped in five places. After a few days in Arbatax we were sailing again. We set off on a broad reach with the drifter and when the wind got a bit stronger, we set the Genoa. When it died down again, we put the pair of them out and ran downwind for over two hours, using the barber hauler to keep the genoa open. Damsis loved it, the autopilot loved it, we loved it. Getting some practice in for crossing the Atlantic (I wish!).
What readers think
Post a comment