Pacific Ocean
Moby : in Suwarrow
Who : Loïc, Bénédicte, Victor, Arthur, Anna.
Where : Suwarrow, The Cook Islands, Pacific Ocean
Bateau : Outremer 51
Blog : www.mobyvoyage.com

It was a real privilege for us to be on the island where a man fled the civilised world to come and live alone, happy, simply meditating and being close to Nature. Suwarrow has a particular status: it is uninhabited and has become a natural reserve within the Cook Islands National Park. Because of this, two rangers live on the island for six months of the year and welcome (and keep an eye on) the passing boats which come to explore this preserved little piece of paradise. Harry and his son Pi who were in charge this year from May to October, didn't have a very different life from the castaway: they are dropped off at the start of the season by a small cargo ship with their food supply, and then picked up… 6 months later. In between they will have welcomed between 50 and 100 passing boats. Their job is to look after all immigration and quarantine issues. They are very friendly though, and tell us about the best parts of the atoll to visit. As soon as we arrive, the father and son both propose a barter: fish against some of our supplies, even though Moby's reserves are low because of our imminent arrival in New Zealand where all of our food will be confiscated. In exchange we will have fresh fish every day! We set foot on land, and before we've even moored the dinghy, our friends the sharks come to say hello. We set off to explore the east of the island and to discover the local flora and fauna. Sadly, we are too late to save a beached marine turtle which was caught up in overground roots. The Coconut Crabs were already devouring it. We were lucky enough to swim with a magnificent Manta. We had come across them in the Marquesas and the Leeward Islands, but never in an environment such as this where the waters were so crystal clear and the coral so well-preserved.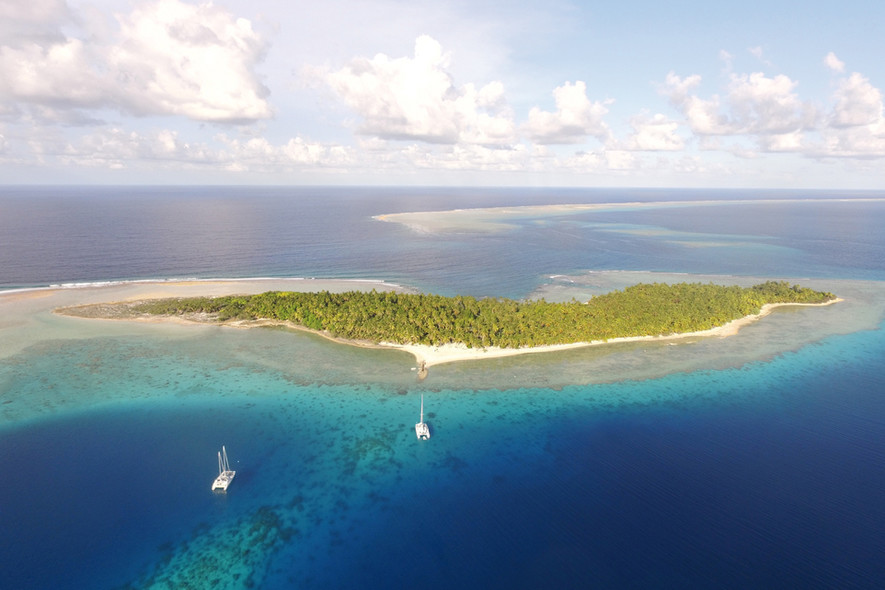 What readers think
Post a comment