Indian ocean
Our readers around the world: Surf trip in a catamaran
Departure for the first leg: heading for Pulauweh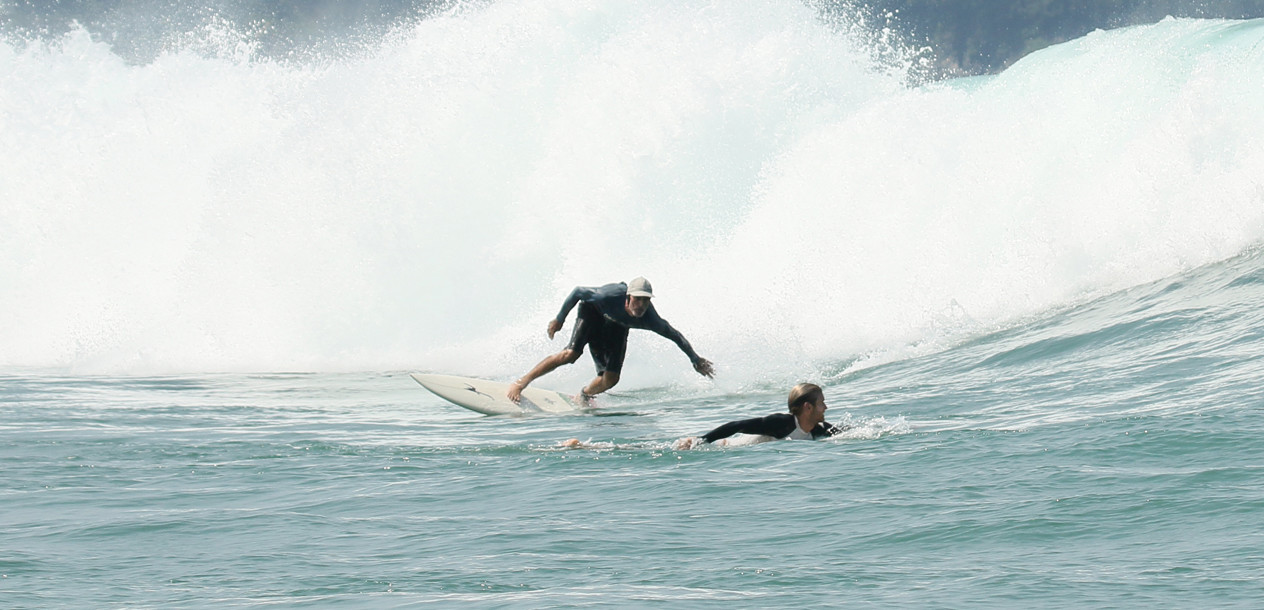 10.30 pm: embarkation on the quay at Yacht Haven marina, in the north-east of the island of Phuket, with a good weather forecast which announced north-westerly or westerly winds at 10 knots, which would allow me to sail at an average of 9 knots under mainsail + gennaker, while my friend, who had just disembarked from the airplane, rested.
In the early morning, we were already at sea, but the wind had dropped. We had to wait, one of the ups and downs of sailing, waiting for the breeze. Late in the morning, the wind returned. I was finally able to go and sleep for 3 hours, and leave Mianoy to the autopilot and my crew.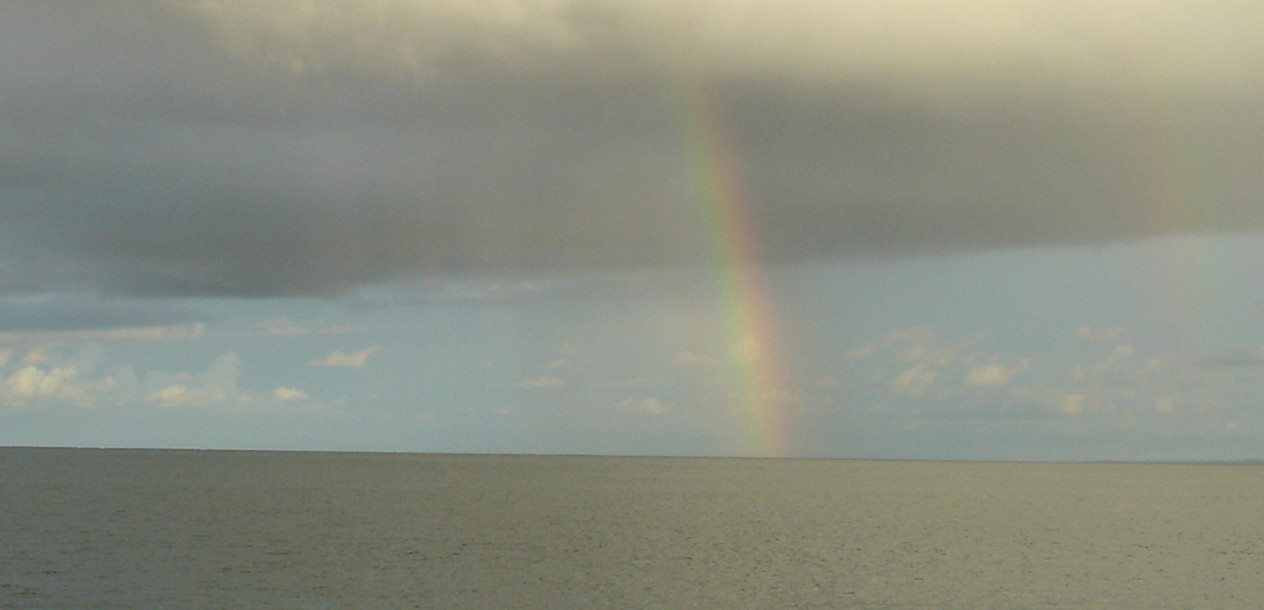 After a 2-day passage under full sail and with a little help from the engine, we arrived at PulauWeh.
We finished meeting big tankers and container ships in the Malacca Straits at night. Vigilance is essential on night passages, and even becomes a bit worrying sometimes when visibility is lacking, and with no AIS on our little catamaran.
Welcome to Sumatra
2 am, we arrived at the entrance to the port of Sabang. It was a good job we had furled the sails early enough, as a big storm awaited us near the coast. A strange way of welcoming us, with this firework display of lightning which twice struck close to the boat, rain like a high pressure hose, and winds of around 35 knots. A widespread power cut on the coast deprived us of landmarks; despite the lack of visibility I could see the port entrance buoy... An hour later we were anchored and as if deliberately, the weather calmed down.  
The Indonesian-style administrative formalities
The next day, the ordeal of the formalities awaited us. 'Indo-style' means hide the alcohol, or be prepared to give out some samples. The doctrine established here is the sharia. Alcohol is therefore not allowed, but...certain people can't resist it! Which goes to show that taboos are only worth something if you can transgress them.
During these formalities, you must never try to rush, the atmosphere is good-natured (registration before your departure via the internet is possible, and makes things easier: https://yachters-indonesia.id). We got by in English, as they also did, so all was well, but it nevertheless took us the whole day to go round the administrative departments.
It must also be said that it was a Friday, the day of prayer; when we returned, it only took the morning.
Consider buying a sim card with a 3G internet deal; it's not expensive and works everywhere, (in the area around the coast of course).
2nd leg: Lok-Nga in the south of Banda-Aceh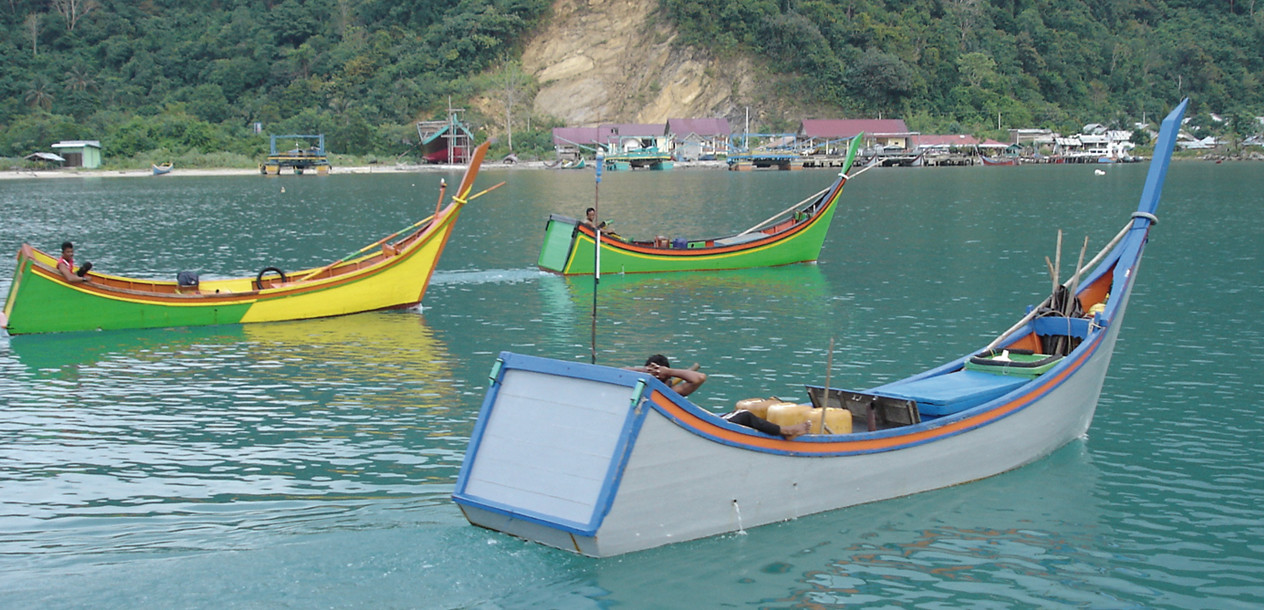 We left Sabang, heading for Lok-Nga in the south of Banda-Aceh. We were sailing downwind to leeward of a squall, and apart from the pass between the islands, where it is best to arrive with the right tidal flow (a lot of current and no wind, as in the shelter of the land), the passage was very pleasant.
We had planned to spend three days here, with surfing and visits ashore on the itinerary. I had a local acquaintance to see, and a French friend who was there on holiday before leaving to prepare his surf-trip boat in the Banyaks. It rained almost every day at the end of the afternoon. Tropical rain, but we didn't have too much lightning or wind thankfully, as we weren't very well protected in the anchorage in our open cat.
3rd leg Pulau Raya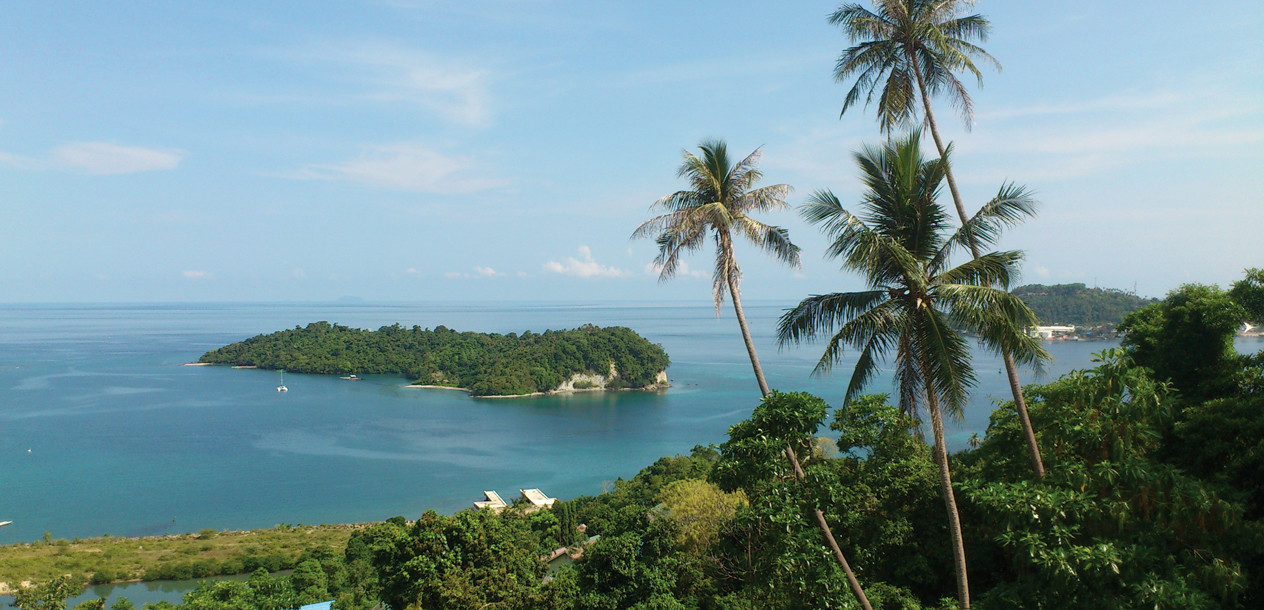 We set off again for Pulau Raya, with a stop for the night at Lok-Seudue. This is a well-protected cove with a reef area which is good for snorkeling if the visibility is good. Unfortunately, this wasn't the case for us... But we took advantage of the opportunity to meet some local fishermen who work on catamaran platforms which they tow from one spot to another. We ate the local dish, Nasi-Goreng, ashore. I had already stopped here about five years previously, and the least we could say is that things hadn't changed much here...
As always, the kids called to us, 'hello mister', but unfortunately we couldn't strike up a conversation. Their notions of English are rudimentary, and as for us, our Indonesian vocabulary remains very limited.
After a great night on water which couldn't have been much calmer, we set off again, with 40 nautical miles to cover in the day, under sail at first, followed by the engine in the middle of the day, to finish under gennaker alone in the afternoon.
Stop at Lo-Kreut, fishing village
Contact with the locals is always easy in this area. There was above all Hendra, who spoke good English and helped us with our provisioning. He had a scooter, and for the drinking water we had to go and fetch from the main road, it was very practical. Hendra would have liked us to give him a few beers, but our reserve had been slimmed down throughout our passage, through numerous distributions at each of our encounters. Hendra didn't even want money for the service he had provided, and we finished up by paying for his cigarettes. Tobacco addiction is perhaps on the wane in Europe, but it remains a plague in Indonesia!
As far as food is concerned, it's possible to eat ashore, but you mustn't expect too much, as it's always roughly the same thing. You find the classic Nasi Goreng (rice) or Mie Goreng (noodles) or again Bakso (noodles again)...
For the first time, we had a neighbor in the anchorage (a monohull), unlike the other nights when we were alone. And until the end of our trip, we were alone in all our anchorages, just surrounded, or not, by the fishing platforms, depending on the weather.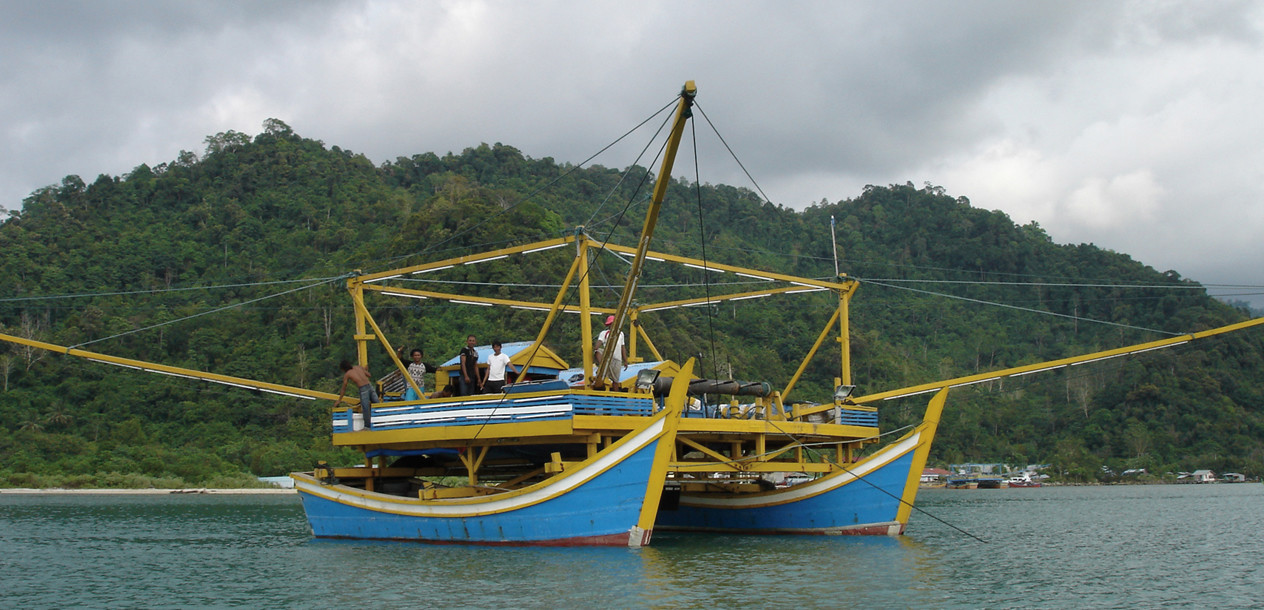 The reef to the east of Pulau Raya – where there is a spot in big swell conditions – gave us a nice snorkeling session, with good visibility, but not a lot of fish. Apparently the water is too hot and sometimes cloudy, but from on board, we nevertheless saw some turtles and some golden trevally, as well as a few dolphins which came to play around our boat.
The next part of our cruise took us to the island of Simeulue, but before this we followed the coast of Sumatra. We were going to anchor facing the ocean, with no protection, to spend a night on the way, as on the GPS it seemed as if we would be able to enter a sound, but the coastline had been modified by human hands.  Seawalls had appeared instead, and access was now only possible for dinghies and the fishing boats.
At nightfall, a fishing boat approached us and gave us some prawns. They didn't want any money, just a little alcohol, which was perfect, as we had half a bottle of gin left – they were delighted, and so were we. All that remained was to shell our evening meal...
The next day, we were going to anchor in the well-protected bay in the south-west of Meulaboh, near the fishing port. And this turned out to be a good idea, as we spent a bad night, with several squalls of 35 knots of wind. 
Final stop:  Pulau Simeulue
Having bought our provisions in the town center, we set off in the middle of the morning for the 100-mile passage to Pulau Simeulue. There was still some wind remaining from the previous evening's bad weather, which we took maximum advantage of until midnight, when I was obliged to furl everything and start the engine, after having let the boat drift for a while so I could rest.
We finally arrived the next morning, but on the way, we had an extraordinary encounter. Mother Nature put a superb whale in our path.  A nice reward and above all, the privilege of life in a boat.
We stayed in the Sinabang Bay anchorage for 2 nights and 1 day. With time punctuated by the neighboring mosques, we were happy to weigh anchor and start sailing round the island via the south-east, heading for a wave called 'Thailand' I had heard about. But as there was no wind, we motored.
The anchorage close to the wave was pleasant.  It was in a sound which joined the south of the island; we could perhaps have passed through it rather than sailing all the way round, but the trip was worth the detour: an isolated rock, in a superb sea, and underwater life which would have my pals in Tahiti green with envy.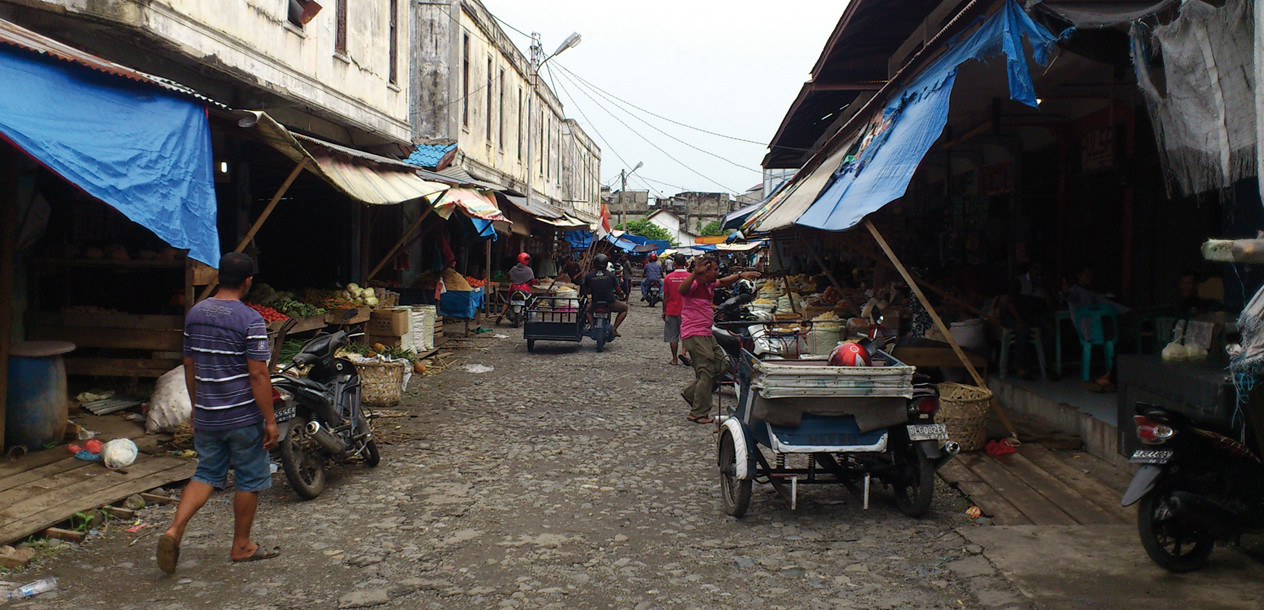 I surfed alone the next morning, and in the middle of the day, we decided to go to Bunsung Bay, in the south-east of Simeulue. No wind at first; we hoisted the sails a bit later as we gradually altered course to head west once we had rounded the area of shallows.
We spent a few more days between Bunsung Bay and the island of Tepah, where we found two nice waves, one of which was quite busy as some surf camps are based at this spot.
As the place has become a bit more touristy, scooters can be rented locally, which allows for some superb trips in the surrounding area. Life for the local inhabitants of Bunsung remains quite precarious and devoid of material wealth. Their homes are small wooden houses with an earth floor, and they live by growing fruit trees as well as copra (coconuts). The vegetation on the other hand is luxuriant. You are always welcomed with an enormous smile here, and it's this authenticity which forms the richness of the inhabitants of this part of the world.
We decided to set off again via the west of Simeulue for the end of our stay. A fairly laid-back passage, thanks to a squall which provided us with some wind. On the other hand there are no (or very few) anchorages, the coast is exposed to the swell and there are quite a few shoals; we had to be careful not to go surfing with the boat...
It was time to return already
We followed the same route as on the outward leg. A return trip with no difficulties: we carried out the formalities at PulauWeh, where we took advantage of an attractive anchorage and rented a scooter to get around the town. We preferred to wait for a good weather forecast, with a north-westerly air flow to sail back up to Phuket. As a result, it only took us two days, at seven to eight knots, under full sail.
As the Malacca Straits shipping lane is quite busy, it's best to cross it in daylight. Which is what we did, leaving the north-west coast of Sumatra at 7 am.
In conclusion, here are my feelings about this beautiful cruise, and I hope that some of you – surfers or otherwise – will come and discover this very beautiful part of the world.
On average, we had little wind but quite a lot of rain. We met very few tourists, but some very friendly locals. The cost of living is low, but it remains hard to get proper provisions. There are numerous mosques and...life (and waking up) is punctuated by the prayer times. There is quite simply no infrastructure for cruisers, but an authenticity which is very pleasant to experience these days, with some wild, heavenly places...
---
Our itinerary:
1st leg:  PulauWeh, with Sabang as the port of entry.
2nd leg: Lok-Nga to the south of Banda-Aceh.
3rd leg: Pulau Raya, along the south-west coast of Sumatra.
4th leg: End of trip on Pulau Simeulue.
A 36-day cruise covering around 1,000 miles.
What readers think
Post a comment