Chronicle of a voyage around the world
Tahiti and Moorea….enchanting twins
Published on 01 august 2014 at 0h00
The discovery of the Pacific Islands is a thrilling story. A story of which I never grow tired. I delved back into it with delight by setting sail for Polynesia on board our modern version of a two-hulled pirogue. Let's go back to the second half of the 18th century, and the dawn of a few new ideas….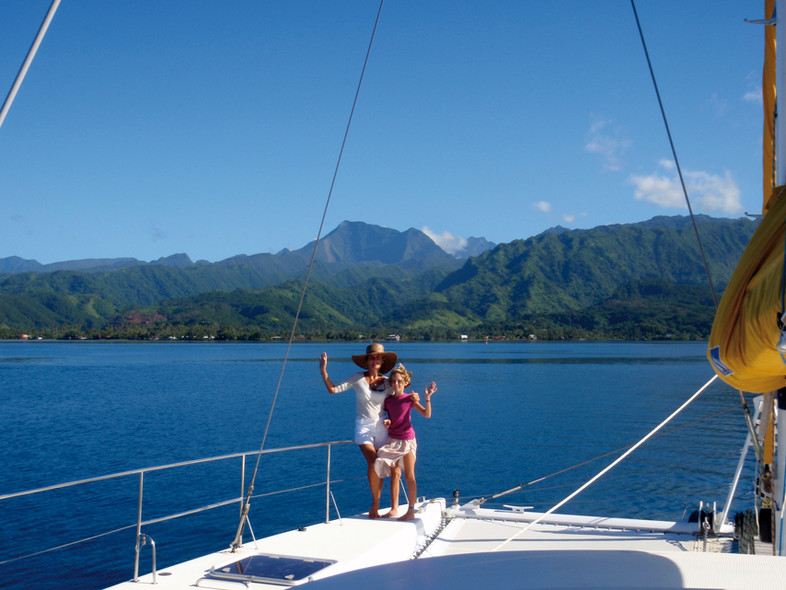 The myth of the South Sea Islands
Contrary to popular belief, the first contact between Europeans and Tahitians did not go exactly…perfectly! Even if the mutual fascination was very quickly apparent between the two civilizations. It had taken only two years (the voyages of Captains Wallis, Bougainville and Cook between 1767 and 1769) to create a charming myth which endures to this day: that of the gentleness of the South Sea Islands. The first westerner to discover the island of Otaheiti was the English navigator Samuel Wallis, on board the Dolphin on June 17th 1767.
The following day, the ship sailed along the coast of Mehetia (an islet to the east of Tahiti) and then on the 19th stopped south of the Taiarapu peninsula. They were greeted by thousands of Tahitians in their outrigger canoes. The Dolphin, which needed to re-victual with fresh water and fresh food, carried up along the west coast of Otaheiti on the lookout for a bay with a safe and accessible anchorage. Finally they came back to Tiarei to try and re-provision. The natives, who knew nothing of metal, showed a great interest ...
Become a member
Become a Multihulls World Community Member for free and get exclusive benefits
Become a member
What readers think
Tell us your opinion