Pacific Ocean
Thailand - Heading South to the islands!
Unfortunately, we often find the same pictures of Thailand: Phuket, James Bond Island, Chiang Mai, and elephants... But between Phuket and the small Malaysian island of Langkawi, the sailing becomes much more interesting and is well worth the detour. Many of the islands there are national parks; some sites are still well preserved despite all the fishermen and various boats that could damage the ecosystem. It's true that you have to pay for some of the mooring buoys - and it is sometimes surprisingly expensive - but they are often the nicest ones... Along the coast, eroded cliffs overhang the horizon. A majestic natural spectacle that you could never tire of.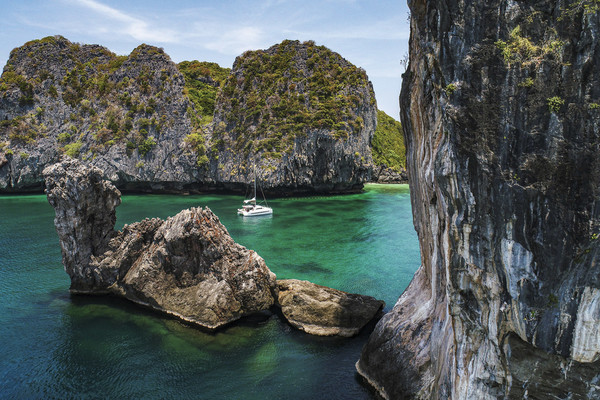 A small, quiet corner on the very touristy island of Ko Phi Phi… it is sometimes possible to be all alone in the best spots!

---
Positions
Here is a list of the prettiest and most interesting anchorages in the area to the south of Phuket:
Ko Lipe
6°32.154'N 99°16.363'E
Well, I say Ko Lipe, but it's not the really interesting area - unless you like restaurants and shops. Around it are Ko Butang, Ko Adang and Ko Rawi. It's a pure joy to sail between these islands, which are only 25 miles west of Langkawi.
Ko Rok Nok
7°12.862'N 99°4.006'E
With her sister island, they are like two little pearls! And with the translucent water on top, it's perfect for 2-3 magical days.
Ko Poda
7°58.557'N 98°48.638'E
Just ten miles from the entrance to Krabi is this magnificent island. There is a huge rock overlooking the water and a lovely white sandy beach. Not a bad way to spend the day.
Les îles Similan
8°34.149'N 97°38,658'E
A magnificent and wild archipelago – but very exposed to the monsoon. Access is not au-thorized from May to October.
Railey Beach
8°0.244'N 98°50.321'E
This is where you can see the immense eroded cliffs: an incredible natural wonder!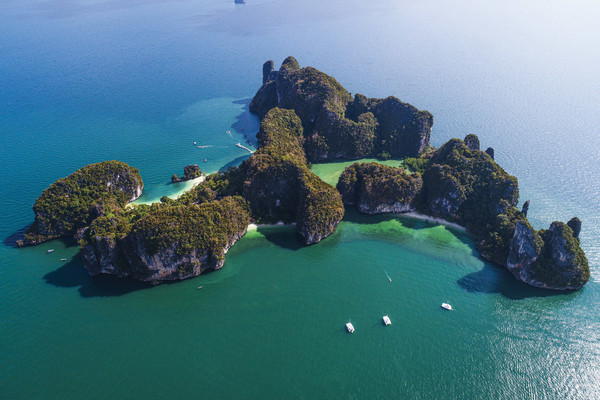 The island of Ko Hung hides a small saltwater lake.

There are many islands in this area so I cannot name them all.... Some like Ko Phi Phi are well-known, but too touristy for my taste. It is sometimes possible to quietly enjoy these picture postcard spots, but 100-foot (30 m) long boats and their 200 passengers thirsty for sun, music and alcohol can soon spoil the moment in your anchorage... 
---
Weather Check Météo
There are two seasons on the west coast of Thailand. The first one, from May to October, is the South-West season - it corresponds to the monsoon, so there is a lot of rain. The second is the North-East season: it runs from November to April and is dry. During the rainy season, it is impossible to anchor west of Phuket and in front of all the exposed islands. The swell can be too heavy, so it is more pleasant to stay in Phang-Nga Bay to shelter from the squalls.
From November to April, the sky is usually blue. Sailing is livelier with up to 20 knots of steady wind. From May onwards, the weather becomes more unreliable and it is more difficult to maintain good average speeds under sail with the alternating calms and squalls.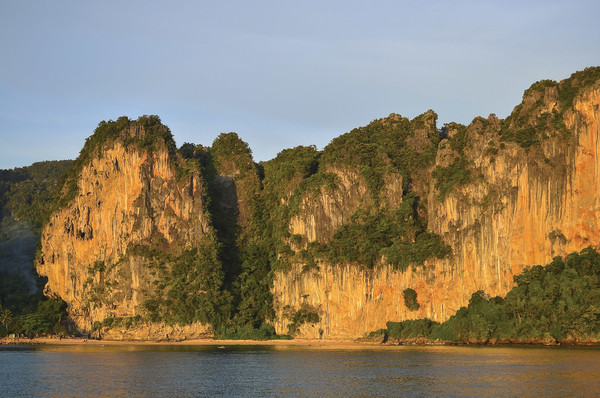 Green jungle and golden cliffs: Railey beach. A natural wonder!
What readers think
Post a comment