Pacific Ocean
The Chesterfields: The Magical Islands
Two years ago I returned from my first round the world trip with my parents, with the knowledge that I could never settle for ever on land. The sea had won my heart, as it had my father and mother after our amazing experience which had brought us so close together. Thanks to their desire, patience and courage – qualities which no one could deny that they have in bucketloads- we lived out a dream trip around the world, and they gave me the best childhood possible. I'll never be able to thank them enough… Although we are not always together now, but we are all still living out our maritime dreams. No doubt we will meet up one day in some idyllic anchorage…
I raised the mainsail and the halyards resonated on the mast. Alain, with whom I shall continue to sail the seas on Tec'Hadenn, indicated that he is ready. We prepared to slip the ropes of the mooring ball. Nouméa slowly drifted away.
Emeline and Nancy, the new owners of « Pirates.com », the catamaran on which I spent my childhood, sailed out with us. We say our last goodbyes. I was pretty emotional, with tears welling up in my eyes… I'm leaving my little New Caledonian social life.
The Uitoe pass lies ahead and then we will be out in open water heading for the islands. I make the most of the last few moments of internet connection to share a few photos and messages. Night is gradually falling, and New Caledonia is now just a mountainous silhouette.  
I hadn't forgotten the amazing skies that I had witnessed during my night watches, but what a treat it was to see the Milky way again through the sails, dotted with shooting stars. And then there is the blue neon glow of the plankton surrounding our hull.
The warm air brushed my face as the music escaped from my headphones. I felt once again as though I was being drawn into a whirlpool of adventure. Ideas bounced around in my head and I mulled over all my projects, which all seemed to come back to the sea. My motivation is always stronger at sea, and it just seems as though any dream is attainable.
My inspiration is back, and the words flow. Once again, I'm immersed in a voyage.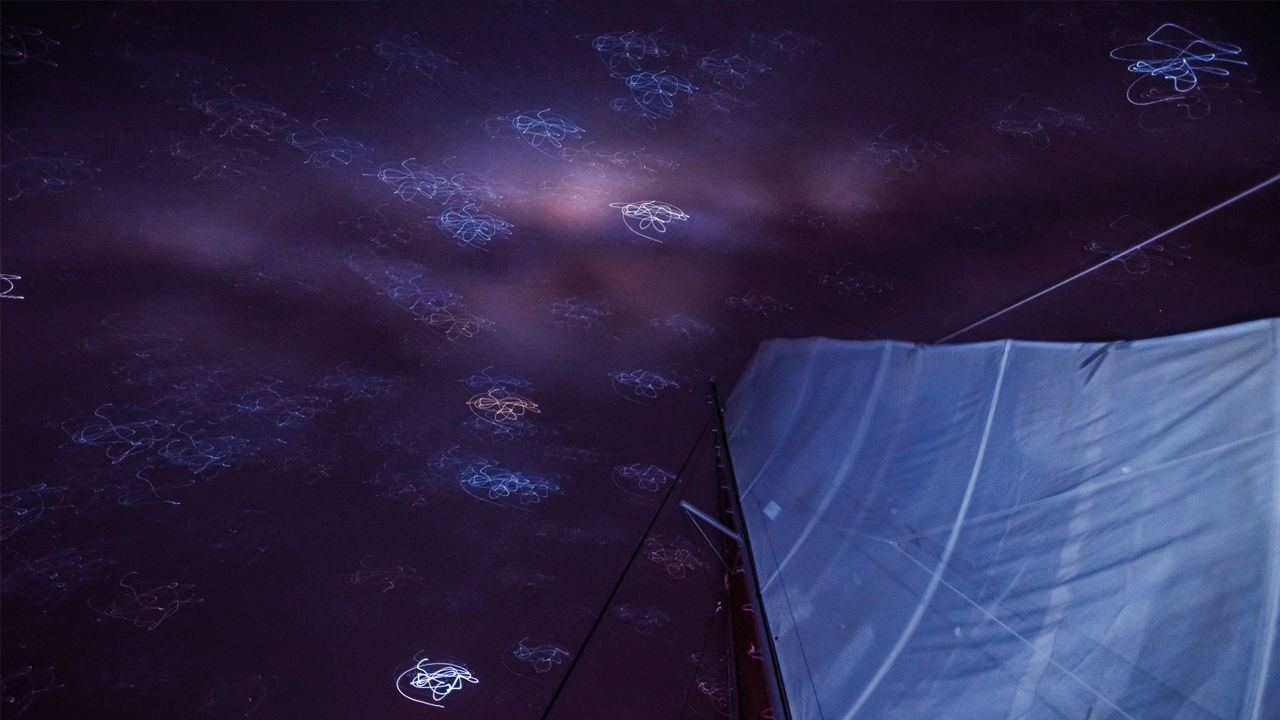 The wind was changeable, but generally behind us. We've covered half of our journey. We finished the rest of our meal, saying that it's time that we tried to tempt a few more fish with our bait. We had anticipated our future catch and had left plenty of space in the freezer. We had perhaps been a little optimistic… However, as if by magic, at that exact moment the reel started to make that familiar sound. I looked across at Alain: he had realized that it will be me again (and I must stress the word "again") who will win our little competition to see who can bring in the most fish, based upon weight and the quality of the flesh… Well you do need to find ways to pass the time at sea. "You haven't landed it yet" said Alain…  
The reel emptied more and more quickly. It obviously wasn't a sardine! This was confirmed when I saw the spectacular jumps made ...
Subscribe
Subscribe to Multihulls World and get exclusive benefits.
Subscribe
What readers think
Post a comment