Pacific Ocean
The Marquesas Islands: "The Wow Effect" on board the Suricat.
In my pre-sailing days, which now seem very distant, I worked in the tourism industry and in particular for super luxury 5 star plus hotels: the very top of the hotel sector in Polynesia. The two, very direct english words which summed up what we were trying to achieve when we were modifying or renovating these palaces were the "Wow Effect!", which the wealthy tourist taking their first steps on the hotel's marble floors needed to experience.
What have the Marquesas got to do with this? It's simple. Neither Starwood or Hilton or any other group could invent this place. Here is what that "Wow Effect" is all about. This group of islands more than a thousand nautical miles from any inhabited region, and every bay, landscape, waterfall, swim or encounter inspires the "Wow Effect."

Having made a long crossing, such as the Pacific, it was only natural for us to be somewhat emotional upon our arrival, but for us the icing on the cake was that what we found wasn't just any island or place. It was THE place. A Land of Men as they say, a wild land, a generous land, the Promised Land...
Of all the places that we had visited since the start of our journey, this was the most complete: the one where we found everything that we had been looking for. Mind you, we have to admit that the moorings weren't the best: in fact they were usually pretty uncomfortable, and reaching dry land often meant taking one's life in one's hands. I suppose there has to be a good reason to leave somewhere though. Otherwise as Jacques Brel said, "we'll end our days there..."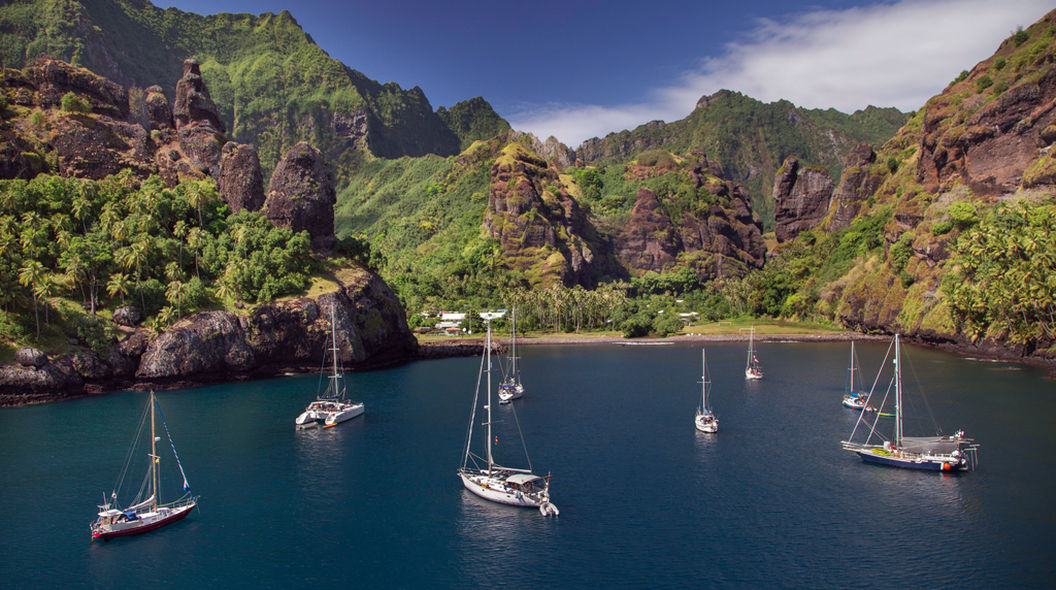 The Marquesas, A Land Of Men
This expression is used initially to underline the difficult nature of the conditions endured by the inhabitants of these lands, where the cliffs are as abrupt as they are majestic, where the sea is always lively, and where the strengthening Alizé can turn it into an enemy. Not to mention the isolation of these islands and the necessity to be self-sufficient which comes with it.
Only real Men, with a capital M have been and are still able to survive in such an intense environment. He needs to be virile, a hard worker, a pig-killer, a bareback horserider, a day or night fisherman, fearless, a sculpted and tatooed Maori and an "aito" (which in tahitian means strong, just like the indestructible tree which bears the same name.)
However, after a month and a half in situ, and after meeting so many of the local population, this expression lost some of its heroic and even macho sense, and gave way to a slightly different reality. This is a Man's Land because the population that we met opened up completely to us the visitors, despite their geographical isolation. What we saw was their generosity, their open-mindedness, their love of nature in the raw and the symbiosis which exists between that Nature and these men. They are the human incarnation of their islands: complete and ...
Subscribe
Subscribe to Multihulls World and get exclusive benefits.
Subscribe
What readers think
Post a comment