Technical
SAILS- Which sailcloth for the main and the genoa?
A multihull equipped with a rig will, in theory, spend many more hours under sail than under engine. The sail wardrobe is therefore an essential element; it is the wardrobe that will propel us without limit and offer us range for voyaging aboard our catamaran or trimaran. Sifting through the sails is, of course, a matter of looking at the fabrics that they're comprised of. The properties and qualities of the materials selected will determine the profile of the sail that best suits your program, your way of sailing and your budget. Multihulls in series production are generally equipped with Dacron sails as original equipment from the shipyard. This corresponds to the majority of the demand – and that of charter companies in particular - but many of us take great care in the choice of fabric to make sails that are more performing, whether in longevity, pleasure of use or speed. This is all the more important as the workloads on multihulls, with their greater righting moment, are about 20% higher than those on a monohull. An ideal weight of 10¼ oz/yard (450 gr/m²) for a 50-foot monohull will be well suited for a catamaran of just 40 feet. Within the multihull family, there are also differences: a beamy trimaran, with a lot of sail area and a carbon mast, will have much higher sail loads than a cruising catamaran of the same length.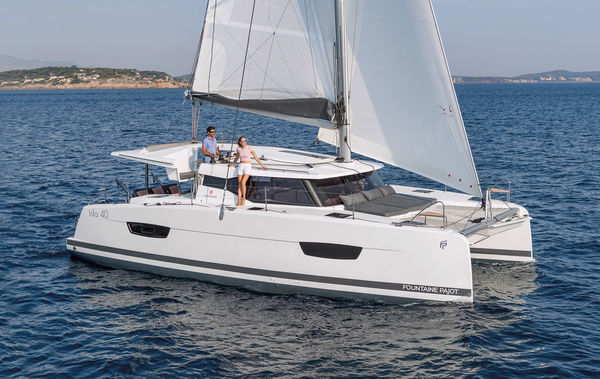 As standard, most production multihulls are equipped with a sail wardrobe in Dacron with a horizontal cut.
A consistent choice up to 40 feet, as long as the user is not too demanding.
Above 45 feet, you can switch to more sophisticated sailcloth such as high-tenacity Dacron in tri-radial cut.
THREE FAMILIES OF SAILCLOTH
To meet these very diverse constraints, there is a wide choice of materials available - their names are evocative of high technology, but how do you find your way around? Of course, you won't have the same needs depending on whether you are sailing around the world or offshore racing on a 55-foot boat or whether you are sailing for a few hours on board a 35-foot day boat to go picnicking in the islands. There are three main categories of fabrics - or rather composite materials, we should write, because sailcloth today is most often hybrid and composed of several elements: woven, laminates, or monobloc membranes. The price ratio between the most basic and the most sophisticated ranges from 1 to 4, which obviously justifies having defined its specifications before placing an order. The implementation and cutting are particularly complex tasks, which can influence the final quality of the sails - a master sailmaker will logically be your precious ally in helping you make the best choice.
WOVEN FABRICS
These are the most ancient type of… modern fabric. They consist of fibers interlaced at 90° to each other, which are called the weft in the width direction and the warp in the length direction. Since 1950, the cotton that made up the fibers has been replaced by high-tenacity polyester fiber, ...
Subscribe
Subscribe to Multihulls World and get exclusive benefits.
Subscribe
What readers think
Post a comment